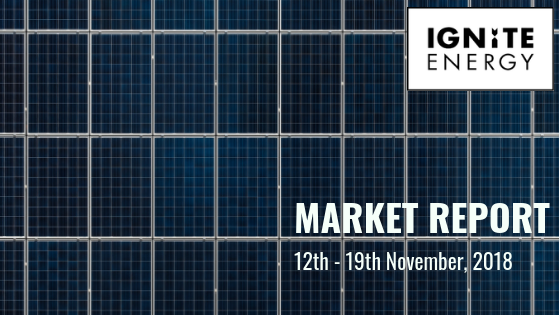 WEEKLY ENERGY MARKET REPORT: 12th – 18th NOVEMBER 2018
November 12, 2018
Ignite bring you the latest energy news across the UK and Europe. We have the expertise when it comes to translating energy industry consumption trends. Here's the latest news from the UK, Europe and the rest of the world.
Last week, the oil markets experienced a sideways movement but closed lower compared to a week ago. Oil Benchmark, Brent Crude hit its lowest point in six months at last Friday's close price of $70.18/bbl with intraday prices moving below $70 per barrel. During the previous week, the USA sanctions on Iranian oil exports were applied.
However, the USA granted exemptions to eight major buyers, hence oil supply did not seem to be much affected by those restrictions. On top of that, there were also news about a potential economic slowdown on the Chinese economy, (after China reported a surge in imports for October close to 32% compared to a year ago) thus moving oil prices even lower.
During the previous week, oil markets moved sideways even though the week on week movement shows a decline in prices. Brent Crude fell by 3.64% week on week and settled at $70.18/bbl on Friday. WTI moved downwards by 4.67% week on week and settled at $60.19/bbl on last Friday.
This morning saw oil markets moving upwards following Saudi Arabia's announcement of a supply cut in December. As of this morning, Brent Crude opened at $71.56/bbl, by 08.40am UK time, up by 1.97%, day on day. During the same period, WTI traded at $61.04/bbl, higher by 1.41% day on day.
The UK Energy Market Last Week
UK natural gas prices moved sideways during the previous week. A healthy renewable generation and strong wind supply have been offset by outages in Kollsnes gas plant and significant decreases in Norwegian flows.
UK electricity prices mirrored the gas price movement for one more week, supported also by a surge in carbon prices.
During the previous week, oil markets moved sideways and closed with a decline in prices. USA granted sanction exemptions to Iranian oil buyers and also Chinese imports surged leading to a Brent Crude oil close price of $70.18/bbl on Friday.
UK Natural Gas Prices
Last week the UK natural gas prices experienced a mixed movement. The gas system was well supplied for most days of the week. Also, a healthy renewable generation supported the gas system and wind generation was strong with an output of 10GW on last Friday.
However, the outage that occurred at Kollsnes gas processing plant, even though it was restored on Friday, along with a decrease in Norwegian flows have contributed to the gas prices closing higher week on week. Front season, Sum-19, closed at 56.15p/th, moving higher by 0.8% week on week. Win-19 closed at 64.97p/th, that is 1.1% up compared to a week ago.
As of this morning, the gas prices have opened higher compared to Friday's close due a high forecasted demand to a level of 240mcm following a weather outlook of colder than expected temperatures. Today, the front season, Sum-19 is higher by 4.00%, day on day, at 58.45p/th.
UK Electricity Prices
UK electricity prices followed the same trend as the gas price movement. They moved downwards in the beginning of the previous week but ended up closing higher compared to a week before due to changes in gas market and also because of the uplift in carbon prices above €19/tCO2e. Day-ahead closed at £59.70/MWh and month-ahead at 63.60/MWh, that is higher by 2.9% and 2.4% respectively, week on week. The front season contract, Sum-19, moved upwards by 2.1% to a level of £55.43/MWh and Win-19 increased by 2.1% to £61.58/MWh, from a week ago.
As of this morning, UK electricity prices opened higher compared to last close. The prices follow the trend set by gas and oil and also the rally in Carbon prices that exceeded €20/tCO2e as of today.
Sum-19 opened at £57.50/MWh, higher by 4.07% and Win-19 opened at £63.35/MWh, up by 3.43%.
Macroeconomics
The Office for National Statistics released the UK's GDP data that showed an increase of 0.6% QoQ, the second fastest growth rate since Q4 2016.
Optimism around a possible customs deal between the UK and the EU has led to the Pound gaining against the Euro. For most of last week, the Pound was trading above 1.14 per euro. However, it fell during Friday afternoon when the resignation of the Transport Minister was announced. It is trading today around 1.14 per euro.
The Dollar seems to be gaining ground against global currencies amid the USA mid-term election results. The Dollar today is at 0.84 per pound and 0.89 per euro.
In terms of the UK energy market, Ofgem has finalised the price cap level on energy bills that will benefit close to 11m customers, by saving them around £76 per year on average.
The weather outlook for the week ahead looks mild with high winds. In Europe, however, and particularly in Germany, temperatures are expected to drop.
What To Watch This Week
Cooler temperatures coming from continental Europe are expected to push prices upwards.
UK unemployment rates for September will be announced on Tuesday.
On Wednesday, the YoY UK inflation rate for October will be released. Forecasts suggest an inflation rate of 2.6%.
To find out more contact us to see how we can help your business reduce energy consumption.