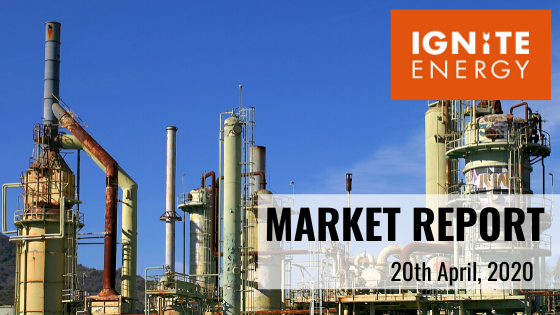 WEEKLY ENERGY MARKET REPORT: 20th April 2020
April 20, 2020
Ignite bring you the latest energy news across the UK and Europe. We track and analyse changes in the energy market to keep you informed and up to date. Here's the latest news from the UK, Europe and the rest of the world.
UK wholesale power and natural gas prices continued moving sideways for another week. Carbon prices provided some upside on the power curve while as of Thursday morning, EDF announced that there will be significant drops in nuclear output for 2020, thus adding further price support. Demand levels, however, are continuously revised lower as a result of the bullishness provided by Covid-19.
As we have seen over the last two weeks, there is still upside potential for power and natural gas contracts, despite the unprecedented low levels of demand. As more countries will start lifting lockdown measures in the near future, it will be interesting to see the market's reaction as economies will start getting back on track gradually.
In the wider commodity complex, Brent crude oil prices keep moving below $28/bbl, while the WTI (West Texas Intermediate) crude has fallen to historical lows and are currently trading at $15/bbl as the US oil inventory outlook overshadows any downwards pressure the OPEC+ cuts would have had on demand.
The UK energy market last week:
UK wholesale power prices continued moving sideways for another week. Prompt contracts dropped by 3.1% week on week, while curve contracts ticked up by 0.7% during the same period.
EDF announced last week that there will be reductions in the nuclear output due to the pandemic thus adding some firmness in curve contracts.
Natural gas prices slipped by 0.7% on average, on the curve contracts, during last week.
Demand for gas is expected to increase in the next days in order to make up for the expected drop in nuclear output.
UK Natural Gas prices:  
British wholesale natural gas prices are quite mixed during the last two weeks. Norwegian flows remain strong while the LNG outlook for April is not far from the comfortable levels seen in Q1 2020. A few oil and gas fields will be entering their yearly maintenance period next month and might provide some room for price support.
Month ahead settled on Friday at 15.25p/th on Friday, an 8.7% drop, week on week.
In terms of curve contracts, Win-20 settled at 34.04p/th, that is a 0.5% higher, week on week, while Sum-21 settled 2.2% lower weekly, at 30.22p/th.
UK Electricity Prices:
UK power prices mirrored the gas price movement however, the strong carbon complex and the potential drop in nuclear output added some extra upside in the power curve.
Month-ahead closed on Thursday at £26.20/MWh, that is 3.1% lower, week on week.
Win-20 contract rose by 1.3% week on week and settled at £42.03/MWh, while Sum-21 closed 0.6% higher, at £38.03/MWh.
Macroeconomics:
China's YoY GDP growth rate has fallen by 6.8% in Q1 2020, that is the greatest drop, and the first contraction, in the Chinese economy since records started nearly 20 years ago. This is another strong sign of the significant impact the Coronavirus pandemic has had so far in the global economy.
The US EIA (Energy Information Administration) published the weekly changes in US crude stocks on Wednesday. The inventory levels soared to 19.25 million barrels, that is far beyond the market expectations of 11.67 million barrels.
What to watch this week
Outlook: Fundamentals remain solid and comfortable while warmer days are expected from this week onwards.  In terms of the power generation mix, the expected drop in nuclear output for 2020, by almost 300 TWhs, will most likely result in increased gas fired generation reliance. Wind generation has started the week at 35% contribution to the overall generation mix and is expected to remain relatively strong for the rest of week.
Wednesday April 22: The US EIA (Energy Information Administration) is expected to publish the weekly changes in US crude stocks that occurred during the previous week.  Any change is most likely to affect oil prices.
Wednesday April 22: UK's YoY inflation rate will be announced on Wednesday. February's rate is 1.7% while market expectations suggest a 1.3% level for March.
Contact us to see how we can help your business reduce energy consumption.