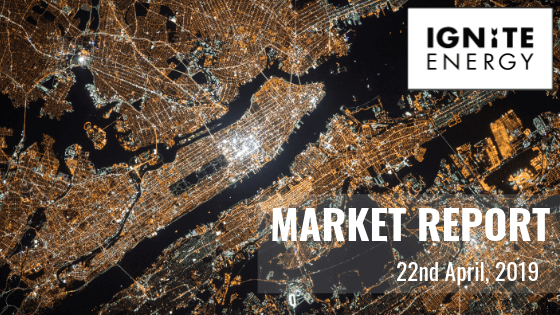 WEEKLY ENERGY MARKET REPORT: 22nd APRIL 2019
April 23, 2019
Ignite bring you the latest energy news across the UK and Europe. We track and analyse changes in the energy market to keep you informed and up to date. Here's the latest news from the UK, Europe and the rest of the world.
UK natural gas and power curve contracts slipped during the previous week while prompt prices experienced a greater downside movement. The warm weather outlook and the adequate Norwegian flows pushed prices lower despite levels of demand being above seasonal normal levels during most days.
In terms of the wider energy commodity complex, the President of the USA decided to lift the waivers on Iranian oil following the end on sanctions granted to South Korea, Turkey, Japan, China and India (based on FT). As a result, oil prices surged by more than $2.50/bbl from last Thursday, and as of this morning benchmark Brent Crude oil, has reached a five-month high at a price level of $74.48/bbl.
The Pound moved lower against the Euro during the last week and is currently trading at €1.154 amid a lack of Brexit news and low volatility.
Learn more about what we could do for your business now.
The UK energy market last week
UK power prices closed the week slightly lower and almost flat
despite the fact that the carbon permits traded close to the recent high levels of €27/t. Strong renewables on Monday and towards the end of the week added further pressure.
The oil benchmark, Brent Crude, reached a new 2019-high this morning at $74.48/bbl following Washington's decision to lift the waivers on oil exports to several countries including Iran.
Prices softened this morning as mild weather resulted in lower demand, around 30mcm below seasonal normal levels.
UK Natural Gas prices
British wholesale natural gas prices decreased by 1.00% on the front of the curve during the previous week. Steady flows from Norway mainly through Langeled kept the system well-supported.
Day-ahead closed at 33.10p/th, 10.30% lower from last week and month-ahead settled at 34.45p/th, 3.90% lower within-week.
In terms of curve contracts, Win-19 settled at 56.76p/th on last Thursday, that is a 0.80% lower, week on week, while Sum-20 dropped slightly by 0.20% during the same period and settled at 46.61p/th.
UK Electricity Prices
UK power prices mirrored the gas price movement thus softening on the back of the warm weather and the comfortable renewables generation towards the end of the week.
Day-ahead closed on Friday 2.60% lower on a weekly basis, at £43.60/MWh whereas month-ahead settled 2.80% lower, week-on-week, at £43.00/MWh.
Win-19 contract slipped by 0.10%, within-week, and settled at £59.60/MWh on Friday while Sum-20 moved lower by 0.80% before settling at £50.35/MWh on Friday.
Macroeconomics
The UK's actual annual inflation rate for March remained steady at 1.9% below the 2% of market expectations. Price increases for food and beverages slowed down while transportation costs increased.
The USA decided not to extend further the oil export sanctions granted to several economies while Saudi Arabia said they would fill the gap in production. Brent Crude oil reached a new high for this year and is currently trading at $74.30/bbl.
What to watch this week
Outlook: Markets opened softened today but there are some bullish signals for the period ahead. Norwegian imports will play a key role with many planned outages scheduled for the next weeks as a part of the yearly maintenances, but this should have already been priced in. Another factor to pay close attention to are the LNG flows. The most recent news on the LNG front show that Russian LNG flows are at maximum capacity in April and might reach the record levels of March. This should have an impact on TTF prices.
Friday April 26: The actual US GDP growth rate for Q1 2019 will be announced at 12.30pm UK time. The growth rate for Q4 2018 was 2.2% and below market expectations. The lower percentage was attributed to personal consumption which rose at a much lower pace that the market anticipated.
Contact us to see how we can help your business reduce energy consumption.