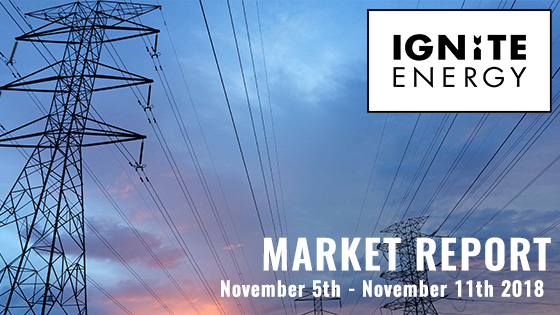 WEEKLY ENERGY MARKET REPORT: 5TH – 11TH NOVEMBER 2018
November 5, 2018
Weekly Energy Market Report
Ignite bring you the latest energy news across the UK and Europe.
Political forces were the main driver of oil price movement last week.  During the previous week, oil prices experienced bearish momentum, with Brent Crude falling from $77.62/bbl to $72.83/bbl, that is a 6.17% drop week on week. The price movement in WTI oil was almost identical, in percentage terms, to that of Brent Crude falling almost 6.58% week on week, from $67.59/bbl to $63.14/bbl.
This trend is likely to continue during this week. As of Monday morning, 5thof November, Iran's President stated that "Iran will continue to sell its oil despite US sanctions", according to Reuters. Sanctions were due to start as of this morning.  The news comes after the USA mentioned last Friday that they will allow Iranian oil exports to 8 countries, only temporarily though. Hence, it can be said that political tensions are an important reason for oil price movement over the last couple of weeks.
The UK energy market last week:
Last week opened with increased domestic demand and colder weather temperatures but an increase in wind generation and in LNG sendouts moved UK natural gas prices downwards.5 LNG tankers are expected to arrive in the UK in the next week.
UK electricity prices mirrored the gas price movement for another week and continue trading lower as of Monday morning.
Brent Crude opened lower today, following last week's bearish momentum and is currently trading at $72.69/bbl, a drop of almost 6% from last Monday.Iran's president stated earlier this morning that "Iran will continue exports despite US sanctions", thus pushing oil prices further down.
UK Natural Gas prices:  
Last week gas supply exceeded domestic and industrial demand, hence prices continued falling. Front season – Sum-19 prices dropped by 5.3%week on week and closed at 56.34p/th on Friday.  Win-19 fell by 4.2% at 64.91p/th during the same period.  Similar movement was observed on spot prices where day-ahead closed at 62.25p/th, 4.4% down week on week, whereas this morning it opened even lower at 59.75p/th, 4.02% lower day on day.  Month ahead prices moved sideways and closed with a slight uplift of 0.5% at 67.00p/th compared to last week.
Mild weather temperatures contributed to the bearish price movement in natural gas across the European Continent.  The weather outlook was above seasonal norms and will most likely continue in the same direction for the most part of the week ahead.
As of this morning the UK gas system is slightly oversupplied by 2.3mcm according to National Grid's data. Also, 5 LNG tankers are expected to arrive in the UK in the next weeks and wind generation is expected to rise by 6 GW tomorrow compared to today's 4GW generation.
UK Electricity Prices:
UK electricity prices mirrored the gas price movement for another week. Spot price (day ahead) closed at £60.50/MWh that is 8.7% down from last Monday and is currently trading at £58.00/MWh.  Month ahead changed by 2.5% in the same direction closing at £63.50/MWh on Friday. Sum-19 declined by 2.8% and Win-19 by 1.9%, closing at £54.90/MWh and £60.69/MWh respectively.
Electricity prices continue falling amid weak oil and coal prices, supported by weak UK natural gas prices.
 Macroeconomics:
The pound gained against the euro and is currently trading at 1.1427 euros with the main driver being the news of a potential customs deal between the UK and the EU. UK services PMI data is expected at 10.30am UK time this morning. During October, the index fell by 1.7 points from September and it also did not meet market expectations by 1.1 points. According to HIS Market Economics, the key points that signalled that drop in the index were the decline in business confidence to its lowest level since July 2016 and the slow expansion in factory output since last March. Octoberwas the month with the highest wage growth in nine years in the USA. According to the US Labour Department, the annual wage growth rate was 3.1% on October. Although FED's interest rates are stable at 2% to 2.25%, according to BBC there are many economists that suggest a rate rise is not impossible before the end of the year.
 What to watch this week:
UK services PMI data is expected at 10.30am UK time this morning.
USA mid-term elections will take place tomorrow, 6thNovember 2018.
To find out more contact us to see how we can help your business reduce energy consumption.