"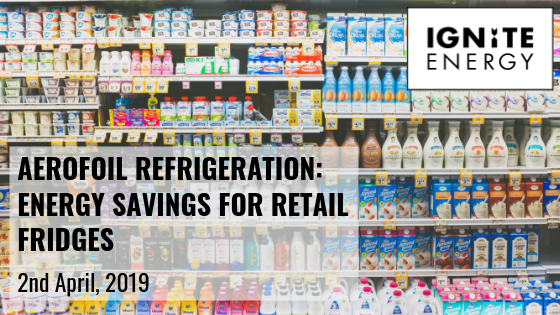 Aerofoil refrigeration: Energy savings for retail fridges
April 2, 2019
Ignite Energy has partnered with leading high street WH Smith and travel retailer SSP to fit new energy efficiency technology to their display fridges in more than 500 stores.
In adopting Aerofoil Energy's market-leading fridge shelf-edge technology (SET), WH Smith and SSP both stand to make significant energy and carbon emissions savings. They will also hugely improve the retail experience for their customers.
What is Aerofoil refrigeration technology?
Aerofoil, from Aerofoil Energy, is cutting edge technology fitted to fridge shelves in open front retail chillers.
Aerofoil SET offers energy efficient refrigeration for retailers that use open fronted refrigerators. Influenced by Formula One aerodynamics from Williams Advanced Engineering (part of the Williams Group that includes the Formula One team), the technology helps stop cold air escaping from open fronted refrigerators.
"We are delighted that WHSmith has chosen Aerofoil to capitalise on the substantial benefits that our technology will bring to its retail estate. Our customers enjoy savings of up to 30% on refrigeration energy costs through this straightforward, cost-effective and retrofittable solution." Paul McAndrew, Aerofoil Energy Ltd CEO
Contact us today to learn more about Aerofoil SET and how we could help your business make significant energy savings.
Aerofoil technology: How does it work?
Open-fronted refrigerators are a large consumer of power for grocers and other food retailers. The Aerofoil guides turbulent cold air down the fridge more efficiently, meaning substantially less cold air is lost from the cabinet.
Shelf edge technology has taken inspiration from Formula One wing design to use aerodynamics to stabilise the cold air that runs from the top of a fridge down the front, acting as a curtain. This stops it from travelling out of the fridge, leading to better energy efficiency and less impact on the store's overall temperature.
Why is Aerofoil technology more Energy Efficient?
Businesses have been searching for ways to improve retail refrigeration energy efficiency for a long time. Aerofoil refrigeration technology provides a solution.
Aerofoil shelf-edge-technology helps to save refrigeration energy in two ways:
SET keeps cold air in the chiller. Less air escapes meaning that less cold air is required to keep the fridge cold.
As there is less cold air escaping, shop aisles don't need to be heated.
Results from existing client adoption of Aerofoils suggest that retail brand SSP stands to save up to 30% on its own refrigeration energy costs.
WHS and SSP could make a combined saving of more than £700k through the installation of Aerofoil. Additional benefits include reduced air conditioning usage.
Added benefits of Aerofoil shelf edge technology
Energy savings from retail refrigeration offer many benefits. They include:
Many retailers worry that using doors on open fronted refrigerators discourage consumers as the doors act as a barrier between themselves and the products. Installing Aerofoil SET technology delivers the same energy savings as a refrigerator with doors but allows open access to products inside.
Carbon emissions are decreased. Aerofoil tech could potentially deliver annual savings of the equivalent of a month's worth of domestic CO2 emissions from a city the size of Manchester.
Product tests in the US show an increased shelf life of produce, helping to reduce food waste.
"Shelf Edge Technology, including Aerofoil, gives us a new opportunity to achieve excellent savings for our customers. We've seen fantastic results so far and hope to see the product adopted by all retailers that use refrigeration" David Higgins, Ignite Energy Director
Energy Saving Project development, management and implementation
Ignite help our clients save energy through our on-site projects work. In order to make energy a controlled and accounted for cost across your estate, an effective strategy based on the analysis of energy data is crucial.
Our experience and expertise allow us to identify where energy can be saved and reduce your business energy costs quickly and effectively. Aerofoil SET is just one of the latest in a long line of innovative energy-saving projects that we have implemented for our clients.
Through rigorous attention to reported numbers and an understanding of your business's unique challenges, we can find the best energy saving solution for you.
If you have a multi-site property portfolio of stores that could benefit from installing Aerofoil SET, get in touch with us today.
Aerofoil SET is just one of many innovative energy-saving projects that Ignite have developed and installed for our clients. It helps our customers save millions of pounds on their energy spend.