"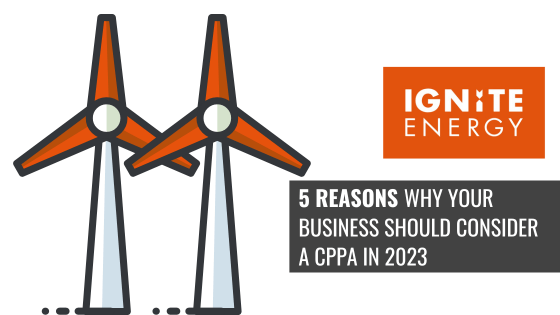 5 Reasons why your business should consider a CPPA in 2023
February 16, 2021
Corporate Power Purchase Agreements (CPPA) are rising in popularity for large businesses across the UK. But what exactly are they? And how can they benefit your business in 2023 and beyond?
In this article, we'll highlight everything you need to know about CPPAs, including how they work, the options available, and how they can help drive your business forward.
What is a Corporate Power Agreement (CPPA)?
A Corporate Power Purchase Agreement, also known as a CPPA or PPA, is an energy contract for businesses who want to purchase renewable electricity directly from a specific producer. They allow you to buy your green energy directly from the source. This in turn grants you and the producer flexibility to fix the price you pay for that energy for a specific period of time.
These types of energy agreements are on the rise. Over the last two years, CPPAs have hit record Gigawatt volumes, and they're set to keep growing in 2023.
However, many businesses are still not taking advantage of the benefits that these energy contracts present – both from a commercial and an environmental point of view. Let's explore what some of the CPPA benefits are in more detail.
5 key benefits of corporate power purchase agreements
CPPAs provide fixed energy costs for long periods of time
Most Corporate Power Purchase Agreements set out how much electricity needs to be supplied, for a fixed price over a certain amount of time, normally between five and 20 years. This long term contract means that you'll be able to count on fixed energy costs for the duration of your contract. This is substantially longer than a typical fixed contract and provides certainty, whilst investing in renewable energy.
For organisations, this makes it significantly easier to plan and forecast and inform wider business decisions, as your energy costs won't fluctuate during the duration of your contract.
You can create a custom CPPA for your business needs
As they're generally private, Corporate Power Purchase Agreement contracts allow you and your chosen energy producer to set up tailored agreements to suit your needs. This includes everything from energy price and quantity to providing the freedom to choose the type of contract you want to engage in.
There are many different types of CPPA contract types on the market, each suiting different business needs and resources. These types of contracts include:
Sleeved CPPA contract
This is when an intermediary utility company manages the transfer of money and energy to and from the renewable energy (RE) provider on your behalf. The utility company transfers the energy directly from the RE project, "sleeving" it to you, the buyer. They will take a fee for doing this.
Virtual CPPA contract
A Virtual Corporate Power Purchase Agreement is a contract structure that lets you purchase a project's renewable energy for a pre-agreed price. In this agreement, the utility-scale solar project receives the market price at the time the energy is sold, regardless of how it might change in the future.
Cross-border CPPA
A cross-border Corporate Power Purchase Agreement is a contract between a RE producer that is based in another country or region to your business. These contracts work the same as any other CPPA but with the added complication of cross-border price differences and differing regulatory frameworks.
Multi-buyer CPPA
Multi -buyer CPPAS structures allow more than one corporate buyer to support a RE project, either by providing various parallel PPAs with different businesses, or by creating a single buying contract that multiple corporate buyers can participate in.
Private-wire CPPA
Private-wire CPPA arrangements allow businesses to move renewable power directly from the provider's generator to your business. This cuts the costs of having an interim utilities provider, making the Corporate Power Purchase Agreement even less of a financial burden.
CPPAs help make your business more sustainable
As Corporate Power Purchase Agreements only ever deal in green energy, you'll be taking a step towards reducing your company's fossil fuel consumption. This is more and more important from a sustainability point of view, especially as many businesses are starting to set targets around carbon neutrality. You are making a real difference too, because your investment in green energy genuinely results in new capacity being brought online. Ignite work with organisations to help them on their journey towards net zero and CPPAs can form part of that strategy.
Find out more about our full range of renewable energy procurement services.
CPPAs add tangibility to your corporate responsibility
More and more consumers are expecting bigger companies to be transparent about their impact on the environment and what action they are taking to reduce it. By linking your energy supply to a specific green energy producer, your sustainability efforts become tangible – something that can help you demonstrate your steps towards eco-friendliness. In turn, this can help with your marketing efforts, increasing your appeal to a wide range of consumers who want to engage with green businesses.
It's this green element of a Corporate Power Purchase Agreement that can't be rivalled by a contract with a standard energy supplier, as they can't guarantee that all your energy will be green.
CPPAs help you support renewable energy projects
Renewable energy projects have benefited from government support over the last few decades, but as solar and wind energy has become lower-cost operations, government subsidies for these for energy developers are no longer as common.
Power purchase agreements have started to fill the gap left by the lack of government funding. Private energy providers are able to sell their energy directly, providing these projects with a stable, long-term income stream for the developers. Essentially it allows them to continue to develop with less financial stress. Find out more about power purchase agreements and additionality.
CPPAs differ from traditional renewable supply contracts as they result in new renewable capacity being brought online.
Achieve Deeper Green with PPAs
By securing Power Purchase Agreements, you are in essence achieving deeper green energy. The term deeper green is becoming increasingly popular amongst businesses looking to do as much as possible to have a real world impact on slowing climate change. It's a concept that refers to acquiring energy in a truly green way, by actually creating more capacity on the grid via CPPAs or generating your own energy onsite.
Get help setting up a CPPA agreement today
Setting up a Corporate Power Purchase Agreement can be a complex process that requires industry expertise, a reliable network and deep knowledge of the energy market. Luckily, when it comes to sourcing affordable local renewable energy, Ignite are here to help.
At Ignite, our energy experts can help you assess your businesses' energy needs and find the right CPPA structure for you. Get in touch with us today, and we'll start working with you to find the right CPPA solution for your business.
Email us: enquiries@igniteenergy.co.uk
Call us: 0333 023 2222.