"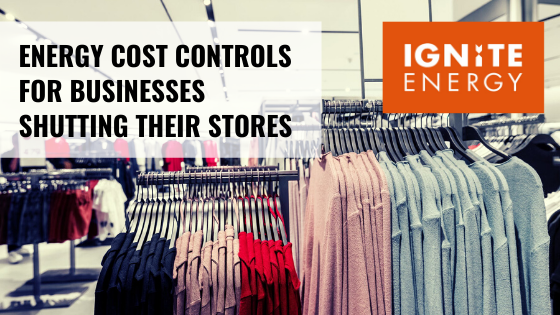 Energy cost control for businesses shutting their stores due to Covid-19
March 25, 2020
Many retailers and other "non-essential" businesses have closed doors due to Covid-19. In these difficult times, cost control becomes a major priority. It's more important than ever for businesses to take control of their energy and cut costs to help them weather this storm.
At Ignite Energy, we can help. We know that many businesses with a physical presence are already adapting and making plans to ensure their survival. We are well-positioned to assist multi-site businesses by ensuring your energy costs are measured and controlled even when your stores are closed.
Ignite already partner with some of the UK's biggest retailers like John Lewis Partnership, WH Smith and Halfords. We have experience monitoring and managing their energy usage across a large number of stores. More importantly, we have a proven track record of making sure they only use the energy they need to, whether they are open or closed.
Speak to us today 
Ignite are here to make sure your energy costs are kept to a minimum through these uncertain and difficult times. Contact us today on 0333 023 2222 to find out how we can support you.
Read more on cost reduction opportunities for retailers and how we can help retail park business cut energy costs.