"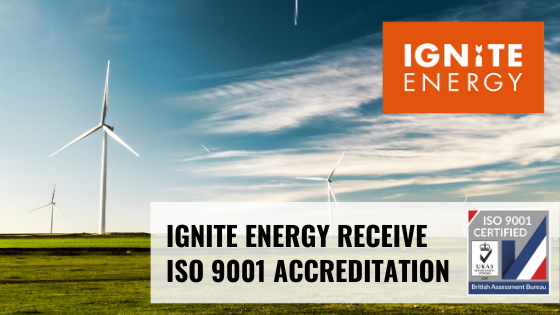 Ignite Energy receive ISO 9001 Accreditation
March 13, 2020
At Ignite Energy, maintaining the quality of the service we provide is vitally important to us as an organisation. It is at the heart of everything we do: from our relationships with our clients to the services and projects we deliver. This emphasis on quality means we are constantly looking at ways to improve and surpass all expectations to remain industry-leaders in energy management. Receiving the ISO 9001 accreditation is another step in this journey. 
What is ISO 9001?
ISO 9001 is a collection of global quality standards designed for businesses that want to improve the quality of their services and what they deliver for their clients. 
It was first published in 1987 by the International Organization for Standardization (ISO) – an international non-governmental organisation with a membership of 164 national standards bodies. The standards are regularly updated to ensure that it matches the requirements of a rapidly evolving business landscape. 
ISO 9001 covers various aspects of quality management via a range of ISO's most respected standards. In order to receive ISO 9001 accreditation, an organisation must meet specific criteria around its quality management system. This system is based on seven quality management principles that aim to improve efficiency, consistency and client satisfaction.
You can read more about ISO 9001 accreditation here.
Why Ignite care so much about Quality Management
At Ignite we pride ourselves on delivering an unmatched quality of service across all areas of our business. We put our customers first and their satisfaction is paramount. 
We work best when we can integrate with your business – this lays the foundations for us to achieve your long term energy goals and overall success. ISO 9001 gives us more tools to deliver on this as well as a global benchmark to judge ourselves against.  
Quality of service is what sets us apart from our competitors and we do all we can to maintain the level of service that our clients expect. 
Achieving ISO 9001 is a fantastic accomplishment, and reinforces the level of care, diligence and scrutiny we apply to all the work we carry out for our customers. Our existing clients can be assured that we have a quality management system which is regularly audited externally, and ISO 9001 will help us articulate to prospective new customers how seriously we take the quality of our service delivery.

Ben Higgins, Director, Ignite Energy
What our ISO 9001 accreditation means to you?
ISO 9001 represents Ignite's ongoing commitment to quality management. It provides our clients with complete reassurance that they are benefiting from the highest quality service. 
At Ignite, we have our own internal exacting standards of quality but it has been beneficial to see how this aligns with globally recognised standards. The process has helped us define what clients expect from us and to increase their satisfaction. We now use ISO 9001 as a tool to deliver continuous improvement in our processes and services to benefit our clients. 
The ISO 9001 standard is based on a number of quality management principles. All of these have a strong customer focus – something that is essential to us. ISO 9001 has provided a framework that guarantees that our clients benefit from consistent, market-leading energy management services and projects. It is a way of ensuring that we continue to have a transformational impact on the businesses we work with and can help them achieve their long term energy goals.  
Work with Ignite Energy
If you want to find out more about the energy management services that we provide for large businesses then contact us today on 0333 023 2222. We are more than happy to talk you through what we do and how we guarantee quality across all of our services and energy-saving projects. Ignite Energy delivers an unrivalled quality of service and drive change in complex multi-site businesses.