"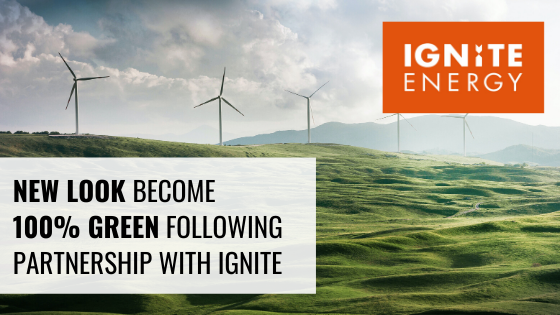 New Look – 100% Green
April 29, 2020
Using energy from renewable sources is becoming increasingly important for both businesses and the environment. Tackling climate change is possibly the biggest challenge of our time and businesses play a key part in reducing our impact on the environment as they are often high energy users.
For organisations, renewable energy offers a number of benefits including – longer-term price stability, improving environmental credentials, and future-proofing a business in an ever-changing and more sustainably-focused power market.
Ignite Energy have been working with fashion retailer New Look to help them move to 100% green energy, dramatically reducing their impact on the environment and climate change.
The first global fashion retailer to achieve carbon neutral standards
Ignite have also helped New Look to become, at the end of 2019, the first global fashion retailer in the World to achieve both the Carbon Neutral Gold Standard and UN Climate Neutral Now Participation.
On New Look's behalf, Ignite have procured REGO-backed energy for the majority of their estate, combined with Carbon Offsetting for a small number of sites that are on Landlord Recharging arrangements, so cannot be guaranteed as coming from renewable sources.
REGO-backed energy ensures that there is enough supply in the generation mix to cover consumption of the amount purchased. This ensures a business's consumption is offset by renewable generation.
Ignite Energy – Helping Your Business Become More Sustainable
For more information on Green Energy and how Ignite Energy can help your business to become more sustainable visit – Renewable Energy Procurement for Businesses, read how we can help you with a Net Zero strategy or contact us on 0333 023 2222 / enquiries@igniteenergy.co.uk.