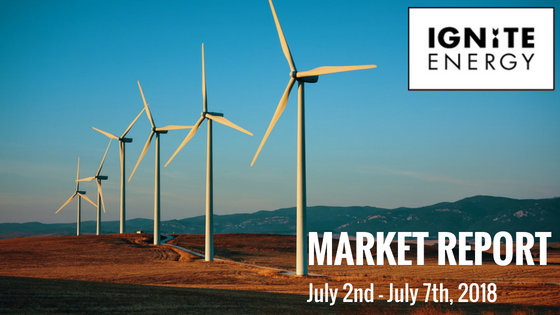 Energy Market Report 2nd – 7th July, 2018
July 9, 2018
Weekly Energy Market Report
Week 27: 2nd – 7th June 2018
Ignite bring you the latest energy news across the UK and Europe. We translate the market trends so you don't have to.
Last week, nat gas prices moved up week on week by about 3% on average. The heatwave spreading across the UK, contributed to rising gas demand, while geopolitical decisions weighted on the far curve. The UK power curve was supported by rising gas prices and moved up approximately 2.8% week on week.  While the gas longer dated contracts, such as Win19 and Win-20 are priced at a similar level, power contracts are much cheaper at the far end. This means that longer dated power contracts such as Win-19 and Win-20 are cheaper than Win -18.
The UK Energy Market Last Week
UK electricity prices moved up firmly across the curve, amid rising nat gas, oil and coal prices.
Brent Crude was rallying most of last week, after the president of the U.S aimed at cutting Iranian oil out of global markets.
Gas prices continued rising most of last week on the back of rising geopolitical tension between the U.S and Iran.
For more in-depth analysis on the UK energy market visit https://www.igniteenergy.co.uk/updates/.
 UK Electricity Prices
UK electricity prices were quite firm most of last week, whilst a good wind generation and healthy production out of the solar systems pushed day ahead prices down. The month ahead contract continued rising amid a bullish pressure from the front nat gas curve. Day ahead settled at £53.25/MWh, down by 2.1%. Month ahead closed Friday's trading session at £54.00/MWh, up by 3% week on week.
Further dated contracts remain strongly correlated with Gas prices. The rising cost of seasonal gas contracts was translated into rallies across the UK forward curve. In addition, rising demand for coal in Europe and Asia supported rising prices of this global benchmark. As a matter of fact, Win-18 closed Friday's trading session at £61.27/MWh, 2.3% week on week, while Win-19 was trading at £56.03/MWh, up 2.6%. Summer contracts, Sum-19 and Sum-20 were trading at £50.07/MWh (up 2.9%) and £45.90/MWh (up 3.4%) respectively.
UK Natural Gas Prices
UK natural gas prices witnessed a significant rally week on week, with particular attention to Sum-19 which moved over 4% week on week. The heatwave spreading across the country supported a rising demand for gas. Day ahead moved up by 2.4% week on week and finished the trading session on Friday at 53.70p/th, while month ahead moved up by 1.8% and closed at 53.50p/th.
Forward contracts were also trading higher amid rising crude oil prices.  The president of the U.S announced that his country will be looking to enhance sanctions against Iran. The ultimate goal would be to cut out Iran as a player in the global crude oil market. At the same time, Saudi Arabia is looking to boost their oil production to the global markets. The coalition between Saudi Arabia and the U.S may have a steering impact on the global crude oil supply/demand. As a result, Win-18 natural gas prices moved up by 2.9% week on week, while Sum-19 gas contracts was up by 4.3%. Further dated contracts Win-19 and Sum-20 moved up by 3.7% and 3.8% respectively.
Macroeconomics
UK Manufacturing growth was reported as stronger than expected. The IHS PMI Manufacturing gauge (PMIs) indicated 54.3. Earlier last week UK GDP data was published indicating 0.2% up quarter on quarter, the main reason behind this was a net trade and export. Recent news on lifting a ban on British meat to China may contribute to further increases in GDP.
What To Watch This Week
The hot weather is expected to stay for the rest of the week, as a result we would expect the nat gas prompt market to continue rallying.
The UK Electricity curve may also record another increase week on week, as it is highly correlated to the nag gas curve.
UK Brent Crude prices should stabilise this week after the firm upwards trend recorded last week.
The European Union will publish unemployment rates for May later on Monday, the US non-farm payroll will be published on Friday.
To find out more contact us to see how we can help your business reduce energy consumption.
https://www.igniteenergy.co.uk/contact-us/