"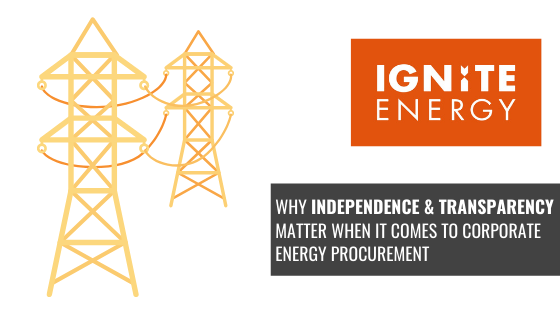 Why independence & transparency matter when it comes to corporate energy procurement
January 25, 2021
Ignite Energy have a unique approach to energy procurement. We deliver significant value to your business by taking an active, independent and transparent approach to your procurement.
For too long energy procurement has been seen as a complex and opaque world. Ignite are the antithesis of this – you can trust us to manage your energy procurement in an honest and open way, with your interests always put first.  
The current economic climate means that you need to be taking active steps to secure cost-effective energy matched to your needs. Don't settle for less – opt for a procurement partner that understands your long term goals and works tirelessly and transparently to get you there.   
Seven things that truly matter when it comes to energy procurement
Saving money matters
Cost-cutting is a priority for many large businesses, especially in the current climate. Energy is always a significant outgoing for multi-site organisations and you want to be certain that you are paying only as much as you need to.
Ignite work closely with our clients to save them money. This all starts with the supply side and procurement. We share proactive recommendations on how to secure energy matched to your needs. We can then look at demand reduction through our innovative efficiency projects.
With the ongoing impact of COVID and Brexit, it is critical to reduce expenditure and ensure all costs are accounted for and controlled. Any savings you can make now will pay dividends going forward into an uncertain future. As well as securing low-cost energy, we make sure that you pay the correct rates throughout your contract. Read more on our commercial bill validation service as well as our retrospective energy bill validation offering.
None of what we're about to say about independence and transparency matter unless we're making a difference to your bottom line. Ignite will continually demonstrate our expertise in sourcing energy for you at the best prices.
Independence matters
What does independence actually mean when it comes to energy procurement? It means more than you might think. Some energy brokers give preferential treatment to particular energy suppliers. They have their preferred suppliers and financial arrangements that make this worth their while. It's why some third party intermediaries (TPI's) and energy brokers have a reputation for operating against the best interests of their clients.
Independence means that Ignite genuinely procures you the best value energy, from a supplier that meets your requirements. There is no preferential treatment – we work with all suppliers on their relative merits to client needs. Simply and clearly, we identify your procurement needs and find the best-fit supply contract for your business.
When it comes to something as important and high value as energy procurement, you need a neutral voice to provide insight. We work closely with you to support and assist you in every way we can so business stakeholders understand that they are getting the best value on their energy.
Transparency matters
Energy procurement is often wrapped in unnecessary layers of complexity, where unclear fees and contractual clauses are not explained and jargon gets in the way of the simple truth. That's why transparency and fairness are core to our energy procurement service.
Ignite form genuine relationships with our clients, based on in-depth knowledge of your business and mutual trust. And it's why we've never lost a client through underperformance in over a decade of operating. We provide complete peace of mind that you're not paying more than you need to for your energy and that you know exactly what you are paying for around our procurement service.
We speak your language and provide bespoke market intelligence and reports based on exactly what you want to see. And whether it's finance directors, energy managers, or the board, we pride ourselves on clear and jargon-free communication. With buy-in from the top, we can help generate maximum savings and inspire transformational change in your organisation.
Experience & Quality Matters
When it comes to energy procurement, you want industry experience, expert market insights and quality on your side. Our Energy Procurement team have been trading in the UK and European energy markets for many years. They have acquired a wealth of experience in commercial energy procurement for multi-site businesses across a wide range of sectors.
When it comes to energy market insights and intelligence, we use real-time financial market information and track all tradable commodities. Our team then analyse this for you and share our insights in an easily digestible format. By having the most up-to-date data, latest prices and trends in international energy markets, we are able to offer you the best procurement service. View our energy market insights for a taste of what we deliver.
Extensive industry experience and detailed market knowledge means you can trust our team implicitly to make the right decisions.
At Ignite, we ensure that experience and expertise are backed up with exceptional customer service. With a dedicated account manager, we guarantee personal attention to your needs. There's always someone there to answer your questions.
We pride ourselves on delivering an unmatched quality of service across all areas of our business. Ignite put customer satisfaction first. Our ISO 9001 accreditation provides you with further reassurance that we deliver the highest quality service. It provides a framework that ensures that you will always benefit from market-leading energy management services.
Strategy Matters
A procurement strategy tailored to your unique business needs and plans is essential. Ignite will work with you on a proactive procurement strategy that is optimised for achieving the best value while considering your businesses individual appetite for risk. We will always select the best energy supply contract for your business.
If budget certainty throughout the financial year is a priority, a fixed procurement solution might work for you. This option means you'll be fully aware of costs for the next budgeting period.
Ignite also offers a flexible purchasing agreement where our expert team proactively tracks the wholesale energy market and advises you when is the best time to purchase a portion of energy. With a good energy risk management strategy in place, this proactive energy purchasing option provides budget certainty and means you achieve the spend you want.
When it comes to risk management, we can utilise trading and hedging strategies. We also regularly develop new tools that allow us to identify risk and protect you from it in times of high volatility. When combined with our insights into global markets, we are able to confidently mitigate risks around changes in the international energy markets.
End-to-end procurement processes matter
Ignite offer an end-to-end procurement service. This means you will benefit from our knowledge and insights through every stage of procurement and on an ongoing basis. We manage procurement opportunities providing impartial commercial advice, controlling your budgets and effectively managing risk amongst the energy markets.
Our commercial energy procurement services include the following:
Fix and flexible procurement in the UK and continental Europe
Water procurement
Pan European Market Intelligence
Budget Planning
Contract and Tariff Optimisation
Portfolio Reporting
Analysis of non-commodity related part of utility bills
Triad management
Renewable energy procurement including CPPA's
Renewable energy procurement matters
In today's world we all need to be doing our bit for the environment. For large multi-site businesses with high energy demands, doing your bit requires setting and achieving meaningful sustainability targets. That's why Ignite offers renewable energy procurement for your business.
We can find you the best green contracts for your energy as well as assist with carbon offsetting. Procuring commercial renewable energy is just one aspect of making your organisation greener. Ignite are experienced at partnering with businesses as they embark on their journey towards carbon neutrality. We can support you with power purchase agreements to provide certainty around energy costs long into the future.
Take a look at our work with New Look who we partnered with to help them become the first global fashion retailer to achieve both the Carbon Neutral Gold Standard and UN Climate Neutral Now Participation.
Ignite Energy – Putting Your Needs First
At Ignite, we bring quality, transparency and expertise to energy procurement. If you're not getting the best service from your broker then speak to us to discuss our energy procurement services in more detail.
Speak to us on 0333 023 2222 or email us at enquiries@igniteenergy.co.uk
Are you going out to tender for energy management services and want to know the difference we can make? Speak to one of our team today.