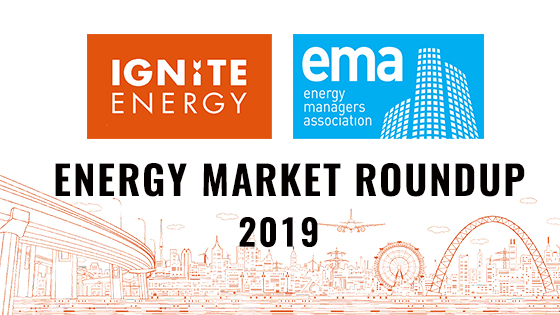 2019 ENERGY MARKET ROUNDUP by Ignite Energy and the EMA
January 29, 2020
Ignite Energy bring you a roundup of the energy markets for 2019, providing expert analysis and commentary on developments in the market over the past year.
Ignite are working with the EMA to provide their members and followers with an insight into how energy prices have been changing throughout the year and the factors that have contributed to fluctuations in the markets.
Introduction
2019 has been marked as a considerably bearish year for the wholesale energy markets in the UK.  The wholesale natural gas energy market moved almost 20% lower, on average, on the curve contracts, compared to the previous year. Power contracts moved 8% lower on average against 2018 prices. Prompt contracts dropped by nearly 40% on an annual basis thus signifying a fundamental shift in energy wholesale prices. In particular, month ahead natural gas contracts are currently priced around 37.80p/th whereas a year ago the equivalent price was above 67p/th.
The falling prices were a result of a significant change in key fundamental drivers: –
Relatively mild winter weather compared to last year
Strong Renewable output
Tightening of the European Carbon market
Reduced levels of global demand
Record levels of US crude oil production
The influx of LNG (Liquified Natural Gas) in North-West Europe
Replenishment of European gas storage facilities
Key fundamental drivers in 2019
The overall energy markets experienced a downwards movement with a few occasional spikes. Those spikes were seen as a short term, traumatic response to changes in fundamentals.
The first spike occurred just before April-19 and revealed the high sensitivity of UK electricity prices to European Union carbon prices. The Market Stability reform, which aimed to withdraw a surplus of carbon permits, was introduced in January 2019 and took effect in April-19. The European Union Allowance price rose as high as €29.81/MWh, having an immediate effect on UK energy prices. EUA CO2 emissions which electricity generators have to take into account dropped subsequently, as the short-term spike was offset by healthy gas for power supplies and strong renewable generation.
The second significant spike occurred in late July. Winter electricity prices catapulted over £60/MWh. An extremely dry and hot summer in continental Europe, rising tensions in the Middle East and rising electricity prices in Germany all joined forces and pushed gas, electricity, oil and carbon prices up across Europe. UK energy market prices were not neutral to these fundamentals and moved up almost 12% within less than 2 weeks.
The final double strike happened in September. Within 2 weeks, prices moved up by more than 10%. Nuclear outages in France coupled with the announcement of the shutdown of the Groningen gas field was followed by the attack on an oil processing plant in Saudi Arabia. The combination of those events left a footprint on gas and electricity prices in the UK. However, the price rally was quickly suppressed by healthy renewables generation.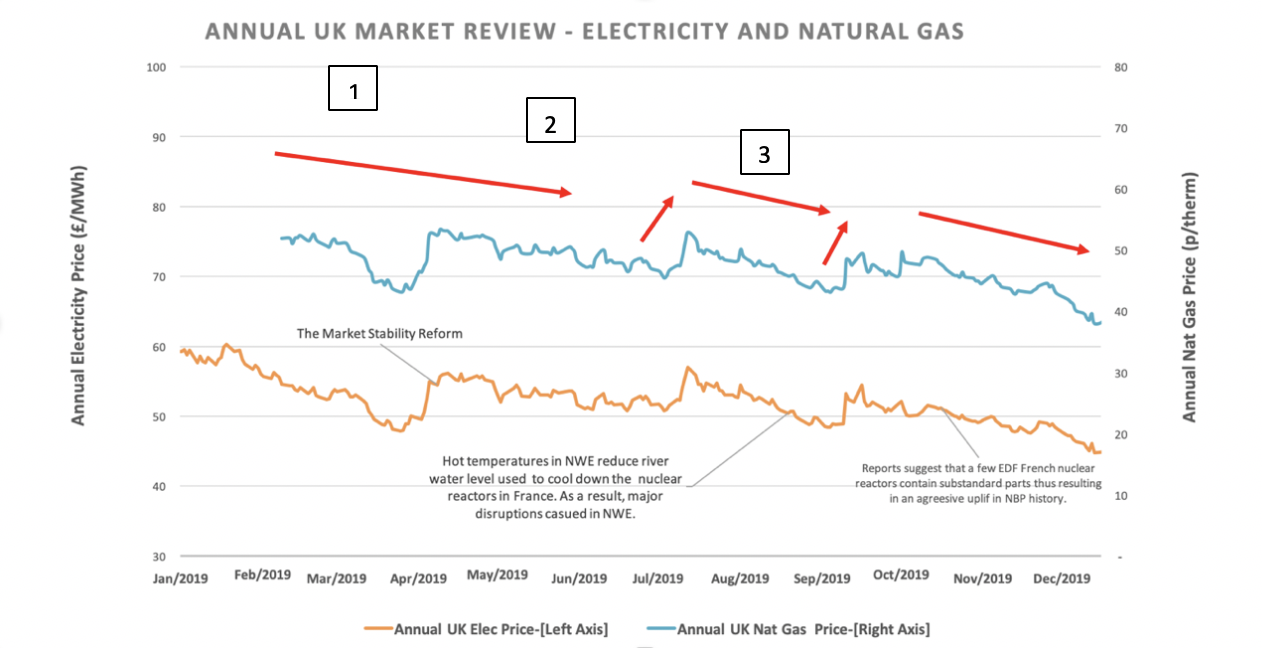 Chart provided by Ignite Energy, Source: Reuters
UK Natural Gas Prices
Sharp declines in oil prices and global stock markets in Q4 2018 were flagging the risk of a weaker economic outlook. Fears of a new recession were spreading across the financial markets. However, no recession was officially declared and now the global economy has entered into its 11th year of economic expansion. Overall global demand for gas and other commodities was diminishing. As a result, European markets were flooded with a glut of LNG.
At the end of Jan-19, UK gas prices were falling, despite freezing cold weather. Prices tumbled, reaching a 6-month low. Strong flows from Norway, alongside a surge in imports from Holland and Belgium as well as high send-out rates of LNG and healthy LNG supplies which reached over 4 billion cubic meters in Q1'19 created a comfortable cushion for the gas market. Gas month ahead prices dropped by over 40% by the end of Q1'19, whereas the front season (Summer-19) declined by more than 11%. The further contracts edged less than 6%.
The next 2 quarters (Q2'19 and Q3'19) revealed the volatile nature of gas prices in the UK. Declines in price were not pronounced as sharply as in the first quarter of the year, despite 19 LNG cargoes arriving in the UK in Q2'19.
Extremely hot weather in Continental Europe made its stamp on price dynamics in the UK. With declining levels of rivers, Europe had limited access to coal imports. The main source of energy was gas, imported from Norway. An annual maintenance period in Norway's gas fields coupled with a few unplanned outages seriously limited European gas supplies in August.
As a matter of fact, gas prices edged higher across the curve in early August. However, gains were lost throughout the month as pipeline flows quickly ramped up before the end of Q3 of 2019.
In September, markets saw one of the most aggressive within-day spikes in NBP history. One reason for the spike was the announcement from the Dutch government that the largest onshore gas field in Europe, the Groningen natural gas field, will stop operating by 2022, 8 years earlier than expected.
At the same time, the European Court of Justice limited Russia's routes to European gas markets. The court reduced the capacity reserved for Russia to ship gas through the Opal pipeline to Western Europe. Nonetheless, the spike in prices appeared to be a short-term bullish signal and prices managed to retreat later on as strong fundamentals persisted and minimised the risk. The bearish momentum continued to Q4 2019. Gas prices edged lower again, with month ahead and season ahead (Summer 20) losing more than 15% and 23% respectively. Rainy and mild weather in Q4'19 eased off demand for gas. LNG flows surged and reached new highs in November with 23 tankers reaching UK shores, while 26 LNG cargoes arrived in December.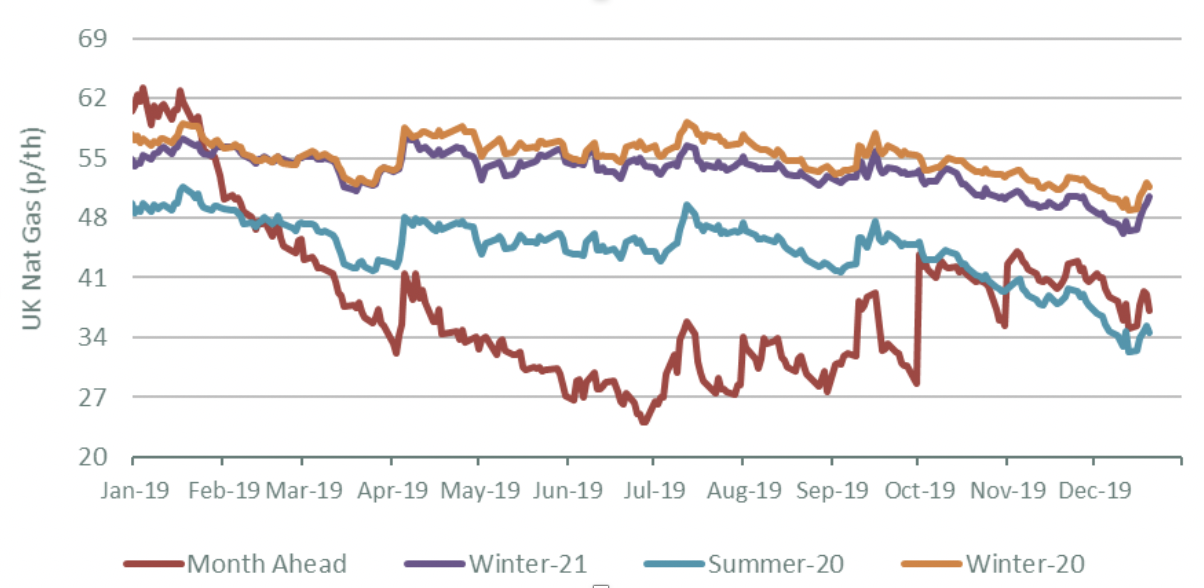 Chart provided by Ignite Energy, Source: Reuters
UK Electricity Prices
The wholesale power market experienced a volatile period during Q1 2019 as low renewables generation meant that the power generation mix had to rely more on gas for power generation. Sporadic drops in temperatures and wind levels have caused short-term prices to jerk higher at times. Nevertheless, month ahead closed January with 13% loss and season ahead (Summer-19) reached a five-and-a-half-month low. Prices tumbled from £61/MWh to £52/MWh. In February and March, the bearish momentum escalated and electricity prices dropped further. Month Ahead lost 36% in value between 1st Jan and 1st April. Tumbling EUA prices and a strengthening pound, alongside the weakness in short-term markets, helped offset the influence of the oil rally.
In the first week of Q2'19, the UK electricity prices rallied sharply across the curve. The cocktail of bullish fundamentals drove prices up. This included well above-normal demand, unscheduled outages squeezing Norwegian gas supply and a surge in the price of emissions allowances (EUAs), which hit an 11-year high. It is generally believed that the introduction of Market Stability Reserves had a material impact on EUAs prices and at the same time on electricity prices in the UK.
The Market Stability Reserve is a carbon permits regulation mechanism. It aims to withdraw surplus of carbon allowances trading in the European Carbon Market. With the rising energy efficiency of European economies, countries need less Carbon allowance. The mechanism aims to find a balance between supply and demand of EAUs.
Electricity prices zigzagged over Q2'19. The high volatility was particularly visible in month ahead prices. The combination of rising and falling oil prices amid instability in the Middle East, the USA-China trade war, rising and falling carbon prices and finally unplanned gas outages, contributed largely to instability in power prices. The biggest losses were recorded in August-19. Electricity prices tumbled over 10% on the back healthy supply and softer global energy sentiment.
Even a power blackout on 9th August, where one gas-fired plant and one wind farm suddenly dropped off the grid, leaving a million homes without electricity for an hour, had little impact on the market.
However, all losses recorded were almost wiped out on the 9th of September. Prices soared on the back of EDF's report that some of its French nuclear reactors might contain substandard parts. France is the biggest nuclear power generator in Europe with 58 nuclear reactors operating in the country (for perspective, only 15 nuclear reactors operate in the UK). Disruption of nuclear generation in France had a material impact on neighbouring countries, including the UK. As a result, the front-summer contract jumped by more than 6% within-day, consolidating around £46/MWh.
The spike didn't last long, and prices were back to normal within a week. A week after, a drone attack effectively destroyed the world's largest oil processing plant in Saudi Arabia. Brent Crude saw one of its biggest-ever single-day jumps (up $12/barrel, or 20%) but electricity prices extended their gains to 5% a few hours later. Coal prices and EUAs also bolstered at the same time, with carbon prices reaching €27/Tonne. Coal prices moved from around $63.5/tonne to $71/tonne.
Nonetheless, healthy renewables generation and strong levels of supply combined with a gloomy global economic outlook balanced out the temporary price spikes that occurred in September.
After the dramatic double hit in September, forward gas and power prices continued edging lower. At the beginning of winter, gas storages across Europe were heavily replenished. In the UK, the storage system was full to 80% of capacity. The mild and windy weather conditions pushed renewable generation to 30-40% of generation mix. The UK generation system was less reliant on gas supply at last. With record-high LNG supplies, UK power prices tumbled another 2.4% on average. Coal and EUA prices also dropped, as coal deposits across Europe reached a seven-year high reportedly. Most traders were betting on the continuity of the bearish momentum with high confidence.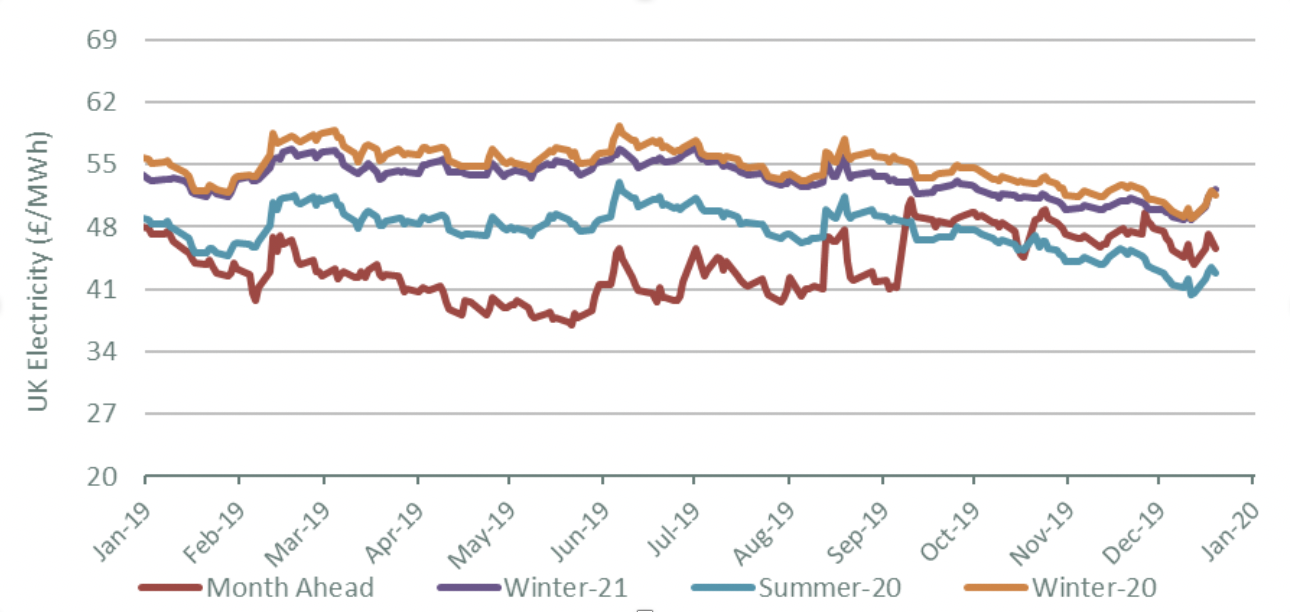 Chart provided by Ignite Energy, Source: Reuters
Crude Oil
Oil becomes less relevant when it comes to the UK gas and electricity markets. On a number of occasions, a rally in oil prices had no impact on the electricity prices. This was particularly visible during Q4'19. However, oil still plays an important role worldwide and often has a marginal effect. In the absence of any strong fundamental drivers, sentiment derived from oil prices weighed on gas and electricity prices in the UK.
Thus, it is important to mention key oil facts from 2019.  Special attention should be given to OPEC (Organization of Petroleum Exporting Countries).
In January 2019, Qatar announced the end of the relationship with the cartel and withdraw his membership from OPEC. The decision was seen as a response to an ongoing boycott by Saudi Arabia, the United Arab Emirates and other countries.
On 29th June 2019 Russia and OPEC agreed global oil production cuts would be extended by 6-9 months, (Russia and OPEC formulated effectively a new structure called OPEC+). They decided to reduce the oil supplies by 1.2m bpd in 2019. In early December, OPEC+ decided on additional cuts. As a result, Brent crude prices rose by more than 2% after the announcement, before settling at $64.40/bbl on that day.
Any long-lasting impact from the additional cuts remains yet to be seen but most recent forecasts suggest the market is already oversupplied for Q1 2020 and the impact would probably be less drastic than was originally anticipated.
On the other hand, US crude oil inventories remain at record high levels as we see a gradual build-up in crude stocks from week to week. The following graphic illustrates the weekly change in US crude oil stocks and the relative price change of WTI (West Texas Intermediate) Crude oil.  As can be observed, crude stocks increased over the year, then dropped during summer and then bounced back up until the end of the year.  Normally, prices soften on the back of a positive build upon inventories and increase when the level of stock drops.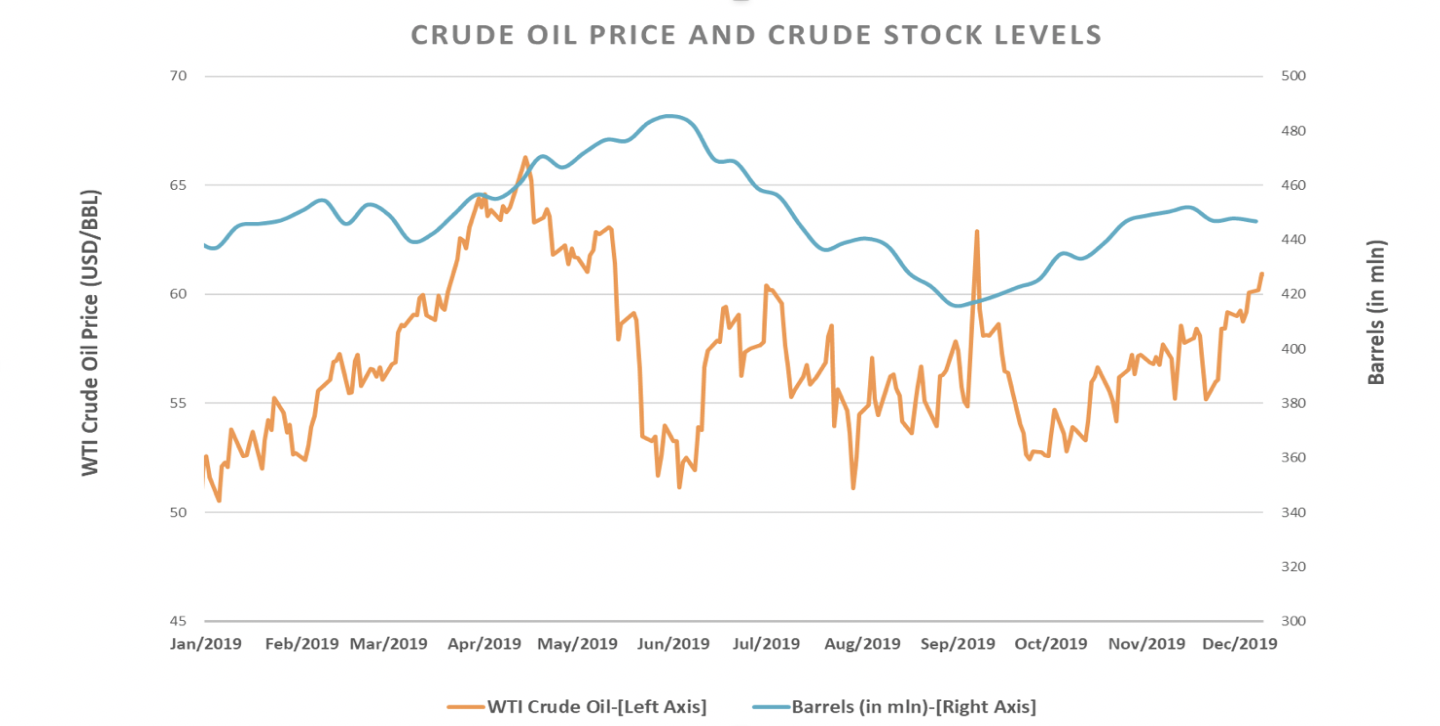 Chart provided by Ignite Energy, Source: Reuters
Global Macroeconomics
The global macroeconomic landscape has been driven by the trade status of the world's largest economies, the USA and China. The relationship between the two countries has been tumultuous in 2019. The slightest sign of optimism during the trade negotiations had been instantly priced in and perceived by the markets as a bullish factor until one of the two sides changed its stance and conversations returned to zero. The latest developments, however, point towards a positive outcome.
As announced on 13th of December, a "phase one" agreement, that aims to reduce some US tariffs in exchange for increased Chinese purchases of US farm goods and agricultural products, has been reached. However, as ING Economics stated, there needs to be more clarity on the actual details of the deal as the list of goods and products included in the agreement is not very clear yet.
Energy report summary
Comparing electricity prices at the beginning and the end of the year, we see a significant drop in price. Gas and electricity prices dropped over 20% and 15% respectively. However, throughout the year, we observed a number of situations where prices were very volatile and spiked occasionally over 5%.  Ironically most of those rallies happened during summer months. Historically, those months were considered as the time where prices were generally falling steadily. By contrast to Summer months, the biggest losses in price were seen during winter months of 2019. Q1'19 & Q4'19 recorded the biggest loses in prices.
Finally, we noticed a change in the electricity curve direction. Although the year started with a backwardation trend which was quite visible at the beginning of January 2019, shortly afterwards it shifted to contango. Backwardation and Contango describe the curve of market prices. Unlike Contango, backwardation is a situation where the far curve is much cheaper than the front one. The change was driven by uncertainty around global commodities and economic outlook that weighted on the far curve and healthy renewables weighted on the front curve.
Contact us to see how we can help your business reduce energy consumption.