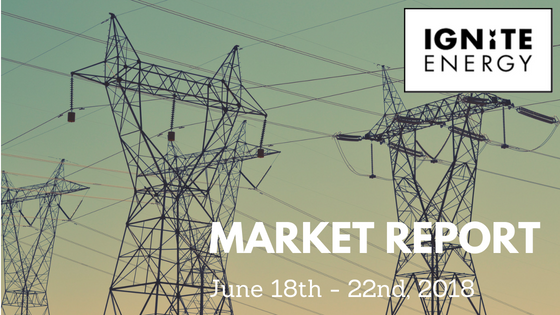 Energy Market Report 11th – 15th June, 2018
June 22, 2018
Weekly Energy Market Report
Week 24: 11th – 15th June 2018
Ignite bring you the latest energy news across the UK and Europe. This week has seen several metrics shift significantly towards a downward trend in Electricity and Gas prices for retailers. Improving weather conditions eased off domestic gas demand. The energy world is expecting Russia and OPEC countries to relax the oil production curb and increase a global stock of oils. The meeting is going to take place 22nd June in Vienna.
The UK Energy Market This Week:
UK electricity prices have slipped throughout last week, while natural gas prices stayed at a consistent level.
Healthy wind generation reduce a reliance on expensive gas and coal prices
The next OPEC meeting 22nd June is expected to bring a fresh change in the dynamics of global oil inventories. The relaxation of oil production regulations will increase a global supply of oil and weigh on global oil prices.
For more in-depth analysis on the UK energy market visit https://www.igniteenergy.co.uk/updates/.
We monitor energy resources and usage across the UK regularly through-out the week to deliver you the best value.
UK Electricity Prices This Week:
UK electricity prices were trading lower over the last week. Contract for a short-term delivery such as the day ahead and month ahead slipped 0.5% and 0.2% week on week respectively. Healthy wind generation offset demand for gas, while domestic consumption dropped. Further out the of curve, UK electricity prices also continued falling on the back of geopolitical stability. Stability was achieved after the U.S reached a resolution with North Korea and the situation in the Middle-East improved in the last a couple of weeks.
Win-18 prices lost 0.6% week on week, while further dated contracts dropped more than 2%. For instance, Sum-19 lost 2.2%, while Sum-20 2.3% week on week. Long term contracts have been trading lower throughout June. Gas prices were trading sideways while European coal contracts were trading higher week on week. European coal contracts for a delivery of December 19 closed the last week at $88.60/T.
 UK Natural Gas Prices This Week:  UK natural gas prices were trading last week with mixed directions. Day ahead prices were softening amongst a healthy gas supply from LNG arrivals and lower domestic demand. Day ahead lost 2% week on week.
Month ahead and the front Winter -18 gained 1.3% and 1.7% respectively. While the day ahead contract was trading lower, month ahead prices were going up, as more gas was injected into middle range storage.  On the curve, season contracts are trading lower, as Saudi Arabia and Russia are likely to agree higher oil production during the OPEC meeting on 22nd June.
Macroeconomics: European stocks were trading lower on Monday, amid worries that new Chinese tariffs on imported good from the US will have an impact on the European markets. Meanwhile, HIS Marking published a survey indicating that UK household finance improved in June. More and more households worldwide have cash surplus which has been also noticed during a survey by Visa on consumer spending.
UK Energy News Recap
UK Gas and electricity prices retreated from very high level, providing hope that the steep upward movement is going to be stopped very soon.
The energy world is expecting a change in the oil supply/demand dynamics after the OPEC meeting on 22nd June 2018.
Consumer spending improved globally, which was reflected in recent economic surveys conducted by HIS Markit and Visa.
To find out more contact us to see how we can help your business reduce energy consumption.