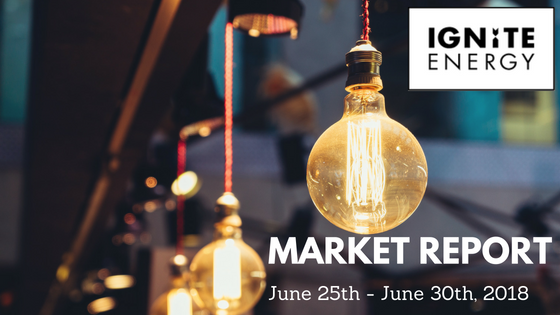 Energy Market Report 25 – 30th June, 2018
June 25, 2018
Weekly Energy Market Report Week 26:
25th – 30th June, 2018
Ignite bring you the latest energy news across the UK and Europe.
In the last week, natural gas price movement reconfirmed a change in the curve direction. The curve has been moving from a steep backwardation (the backwardation is a curve direction, where longer dated contracts are trading cheaper than the front curve contracts) to more stabilised position (the stabilise curve direction is where the front and long dated contracts are trading at the same price level). Conversely, the UK power contract curve is still in deep backwardation.
The UK energy market last week:
UK electricity prices witnessed limited activity last week, trading sideways without any specific direction.
Healthy gas supplies from Norway weighed on the UK gas prices, leaving the demand system well supplied.
OPEC and Russia decided to increase an oil output which was a bearish signal for oil markets. Brent Crude has been trading 1.24% lower on Monday on Friday's close.
For more in-depth analysis on the UK energy market visit https://www.igniteenergy.co.uk/updates/.
UK Electricity Prices last week:
The UK Electricity curve was trading sideways over the last week. Eventually, month ahead closed the last week at £52.90/MWh, 1.8% lower than a week before. Healthy power production provided a strong renewable input into the power generation mix. Healthy gas flows from Norway also contributed to lower month ahead prices, while day ahead prices closed the last week at £54.40/MWh, marginally higher (0.3%) than a week before.
Further dated contracts, such as Win-18 was trading lower week on week. The front elec seasonal contract was strongly correlated with its gas counterpart. Expectations of falling oil prices were translated into bearish sentiment which weighted on the front electricity curve. Win-18 closed Friday at £59.99/MWh, 0.7% lower than a week before. Win-19 and Sum-20 were trading higher, 0.1% up on average amid strong bullish sentiment from the coal market.
UK Natural Gas prices last week:  
UK natural gas prices were falling for the large part of the week. Day ahead prices soften amongst a healthy gas supply from Norway and UK Continental Shelf (UKCS). Day ahead and month ahead finished at 53.35 and 53.70p/th respectively, which was down about 3.5% week on week.
Forward contracts were also trading lower, amid falling crude oil prices. Winter -18 lost 1.7% and closed last week at 62.30p/th, while Summer-19 was down by 0.5% at 48.45p/th.
Macroeconomics:
The European Union launched tariffs on imported goods from the U.S. The fresh set of tariffs have been imposed on goods such as bourbon whiskey, motorcycles and orange juice worth £2.4bil. The sanctions from the EU are a response from Europe to the U.S charges imposed on imported good from EU earlier this year.  In the UK, Siemens urged Parliament to stay in the EU Customs Union, otherwise most of its operations could be relocated away from Britain to other countries.
What To Watch This Week
Temperatures are expected to be above seasonal temperatures norms. We would expect the front curve to be trading higher this week amid rising electricity demand driven by power stations requiring additional cooling.
Falling oil prices may bring more bearish momentum on the gas curve this week. UK gas prices should continue falling throughout the curve
On Thursday Gfk consumer confidence for Germany – the biggest economy in Europe is going to be published as well as the fresh set of data on US GDP growth.
On Friday, Gfk consumer confidence index for the UK is going to be released as well as the UK GDP growth year on year and quarter on quarter.
To find out more contact us to see how we can help your business reduce energy consumption.