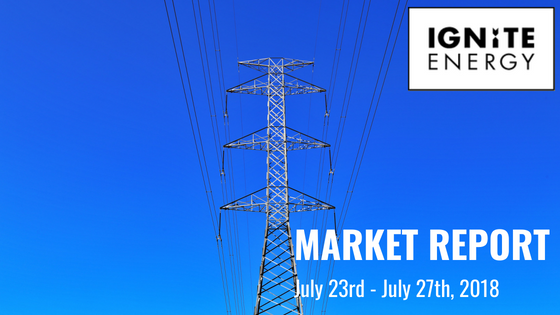 Energy Market Report 23rd – 27th July, 2018
July 24, 2018
Weekly Energy Market Report
Week 30: 23rd – 27th July 2018
Ignite bring you the latest energy news across the UK and Europe. Let's take a look at the latest news and numbers that affect the energy market at home and abroad.
The UK electricity winter contracts such as Win-18 and Win-19 were trading lower at the beginning of last week, subsequently prices recovered losses at the end of last week. The seasonal electricity contracts for a near delivery term, such as Win-18 and Sum-19 are priced at a premium in a comparison to longer dated contracts such as Sum-19 and Win-20. This situation is called backwardation.
Natural gas contracts followed the similar pattern to the electricity curve. Win-18 gas contracts were trading lower at the beginning of the last week, then prices recovered losses by the end of Friday. The natural gas curve direction remains largely unchanged week on week.
The UK energy market last week
UK Natural gas prices were trading lower at the beginning of last week, amid falling oil prices.
The UK gas demand system was well supplied with healthy flows from Norway.
UK electricity prices largely mirrored the movement of nat gas.
A weak electricity generation from wind was compensate by higher "gas for power demand".
The global economy is still facing tension between the U.S and China and new tariffs on goods imported to the US from China are expected.
For more in-depth analysis on the UK energy market visit https://www.igniteenergy.co.uk/updates/.
 UK Electricity Prices
UK electricity prices for delivery for the next month moved up by 1.5% week on week. Month ahead settled at £56.35/MWh, while day ahead went down by 2.5% and consolidated around £57.75/MWh. The UK electricity curve was trading lower early last week, amid falling gas prices fuelled by a healthy supply from Norway.
Renewable generation continued to be limited by falling wind generation output and limited output from solar generation. The electricity seasonal contracts mirrored their gas counterparts. The UK electricity Win-18 closed the week at £61.77/MWh, up 1.5% week on week. Longer dated contracts also finished the trading week with rising prices. Sum-19 settled at £50.78/MWh (0.8% up), Win-19 was settled at £56.87/MWh (0.8% up).
UK Natural Gas prices
The day ahead gas contract remains largely unchanged week on week. The day ahead settled at 57.40p/th on Friday, whilst month ahead was up by 2.0% and closed at 58.00p/th. The front winter contract (Win-18) finished at 63.30p/th, up by 0.3% week on week, while Win-19 remained largely unchanged and settled at 58.17p/th.
The last trading week opened with a bearish price sentiment, after the Brent Crude price tanked amid a healthy oil export from Libya and Iraq. Some traders speculated that the US President was planning to use the US oil reserve to drop oil prices. However, the oil price sentiment changed from Wednesday and UK gas prices across the curve started recovering. Saudi Arabia announced that it is unlikely to increase oil output in August, giving the bullish signal to the UK gas price curve.
Macroeconomics
The British currency slumped last week to GBP/USD = 1.3, after Theresa May struggled to push her UK-EU trade deal through Parliament. Sterling lost over 11% after EU referendum and has not recovered since. The current price level is still about 12% below pre-referendum. The weak currency tends to attract rising inflation. However, according to the latest macroeconomic statistics, inflation has not changed year on year and it is currently at 2.4%. The unemployment rate is at 4.2% unchanged.
what to watch this week
Tightening global oil production may bring another bullish wave to gas and electricity prices.
UK gas and electricity prices are expected to move sideways at the beginning of this week and close higher amid rising demand for gas and power and bullish support from oil markets.
The European Consumer Confidence Index is going to be published today, indicating the overall sentiment across European business. The previous reading was at -0.5 index points.
To find out more, contact us to see how we can help your business reduce energy costs.