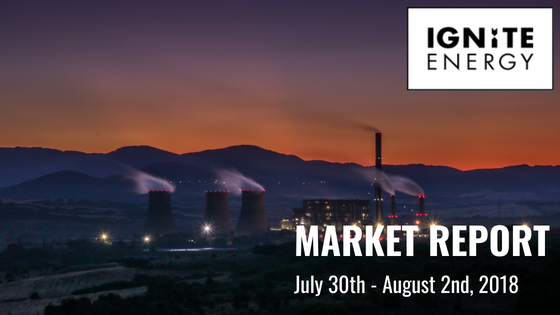 Energy Market Report 30th – 2nd August, 2018
July 30, 2018
Weekly Energy Market Report
Week 31: 30th – 2nd August 2018
Ignite bring you the latest energy news across the UK and Europe. Let's take a look at the latest news and numbers that affect the energy market at home and abroad.
UK electricity prices strengthened in the middle of the last week, taking direction from European counterparts. Extremely hot weather across Europe resulted in additional power demand and lower water reservoirs. These two elements have a large impact on power stations ability to cool. As a result, the front electricity curve prices strengthened across European power markets. The electricity curve is still in backwardation, so long-term contracts are more cost effective than the short-term ones. Unfortunately, the overall cost of wholesale energy is on the way up again, due to the weather conditions.
The UK Energy Market Last Week
The UK Natural seasonal gas prices were trading higher last week.
UK gas demand continues to be above seasonal normal levels
UK electricity prices largely mirrored the movement of natural gas.
Weak electricity generation from wind was compensate by higher "gas for power demand".
US economic growth hit its fastest rate since 2014 according to BBC News.
For more in-depth analysis on the UK energy market visit https://www.igniteenergy.co.uk/updates/.
UK Electricity Prices
Long term UK electricity contracts strengthened week on week. Win-19 was trading higher by 0.4% and settled at £57.24/MWh on Friday, Sum-20 closed at £46.99/MWh, up by 1%. Win-19 and Sum-20 are currently about £12.93/MWh and £10.44/MWh respectively trading higher than the same time last year.
The strengthening of long-term contracts was a result of the power generation mix becoming more expensive. Rising prices of coal and the cost of running nuclear power stations weighted on prices. The front curve contracts such as Win-18 and Sum-19 didn't record such rises. Those contracts were rather trading in the narrow range bound of £0.25-£0.5/MWh. Win-18 settled at £61.90/MWh and Sum-19 was at £51.04/MWh on Friday.  Month ahead settled at £56.78/MWh, while day ahead went down by 6.3% and consolidated around £54.59/MWh. Renewable generation strengthened with wind generation and solar output rising at the end of the last week.
 UK Natural Gas Prices 
The day ahead gas contract closed Friday's session lower week on week. Day ahead settled at 57.75p/th on Friday, and month ahead was down by 1.3% and closed at 57.25p/th. The front winter contract (Win-18) finished at 63.76p/th, up by 0.2% week on week, while Win-19 was at 59.06p/th, up by 0.7%. Gas prices were quite volatile last week.
A few unplanned outages and rising demand for power contributed to strengthening of front curve contracts. However, all gains were lost at the end of the last week. The heatwave spreading across Europe resulted in more gas being exported to Belgium and France. UK gas was used to generate electricity to meet demand, as some nuclear power stations had to reduce the output.
Brent Crude prices also moved up week on week. Since Brent crude has dropped to $72.90/bbl, it has been gradually rising. Last week the EIA (the U.S. Energy Information Administration) reported higher oil stocks than expected. This information came quite unexpectedly and had a bullish impact on the U.S. oil prices. Brent Crude mirrored the price movement.
Macroeconomics
The U.S. gross domestic product (GDP) recorded 4.1% growth year on year. The strengthening in GDP was driven by rising exports of the U.S goods and rising consumer spending. Many macroeconomists didn't expect such effect, after the U.S. president imposed the trade tariffs on many goods from China and EU.
What To Watch This Week
A new heatwave is expected to spread across European markets. As a result, we would expect to see tightening supply/demand balance across many European gas markets and rising prices.
Electricity prices will move higher, amid rising gas, coal and oil prices.
The Jul '18 UK Consumer Confidence Index is due tomorrow (Tuesday 31st July 2018). This indicator measures the level of optimism that consumers have about the performance of the economy in the next 12 months.
To find out more contact us to see how we can help your business reduce energy consumption.