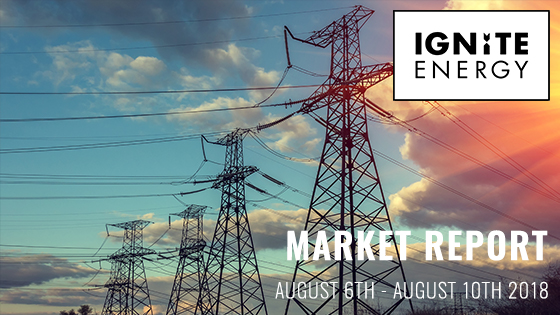 Energy Market Report 6th – 10th August, 2018
August 6, 2018
Weekly Energy Market Report
Week 32: 6th – 10th August 2018
Ignite bring you the latest energy news across the UK and Europe. Let's take a look at the latest news and numbers that affect the energy market at home and abroad.
UK electricity was trading quite firmly last week. The price movements have mirrored direction in the gas and oil markets as well as renewable output from wind.
Electricity contracts were trading higher, despite the fact that generation was boosted by higher production from renewables. By the end of the last week, demand gas for power was boosted, as wind generation was reduced. Seasonal electricity contracts were trading in a thin rangebound of £0.5/MWh, whereas gas contracts were oscillating within the range of 1p/th.
The UK Energy Market Last Week
UK seasonal gas prices were trading sideways last week, closing Friday's session around last Monday's price.
UK gas demand continues to be above seasonal normal levels driven by hot weather and a need of gas for power.
A healthy electricity generation from wind at the beginning of last week was balanced by falling wind generation on Friday.
The Bank of England decided to increase interest rates for the first time in the last 10 years.
For more in-depth analysis on the UK energy market visit https://www.igniteenergy.co.uk/updates/.
UK Electricity Prices
Long term UK electricity contracts strengthened week on week. Win-19 was trading higher by 0.6% and settled at £57.80/MWh on Friday, Sum-20 closed at £47.80/MWh, up by 1%. Win-19 and Sum-20 are currently about £12.92/MWh and £10.61/MWh respectively, trading higher than the same time last year. The strengthening of long-term contracts was driven by the weakening of the British Pound. The front curve contracts such as Win-18 and Sum-19 were trading in the narrow range bound of £0.25-0.5/MWh. Win-18 settled at £62.41/MWh and Sum-19 was at £51.71/MWh on Friday.  Overall, the bullish sentiment continues spreading across seasonal contracts. Week on week prices are rising with the biggest gains at the far curve.
Month ahead settled at £59.05/MWh, while day ahead went down by 3.7% and consolidated around £58.60/MWh. Renewable generation strengthened with wind generation and solar output rising at the beginning of the last week.
 UK Natural Gas Prices 
Day ahead gas contract prices changed marginally week on week. The day ahead settled at 59.00p/th (up by 0.1% week on week) on Friday, and month ahead was up by 0.8% and closed at 58.90p/th. The front winter contract (Win-18) finished at 64.12p/th, up by 0.5% week on week, while Win-19 was at 59.17p/th, up by 0.2%. Seasonal contracts were trading less nervously than a week before, as Brent Crude prices were trading lower and flows into the system from the Norway and the North Sea were steady.
Brent Crude prices were trading lower after the US inventories draw was bigger than expected. The U.S President announced a change in the emission rules on cars, which may result in higher fuel consumption going forward.
Macroeconomics
The Bank of England has raised interest rates from 0.5% to 0.75%, the first time for the last 10 years. Further gradual increase is expected. An increase of interest rates didn't help the falling pound. The British currency recorded a 10-month low on Monday. It is currently trading 13% below the level before the EU referendum. The falling value of the British currency will result in rising inflation and a higher cost of living.
What To Watch This Week
A new heatwave is expected to spread across European markets. As a result, we would expect to see a tightening supply/demand balance across many European gas markets and rising prices.
Electricity prices will continue rising week on week.
UK GDP growth will be published on Friday
To find out more, contact us to see how we can help your business reduce energy costs.