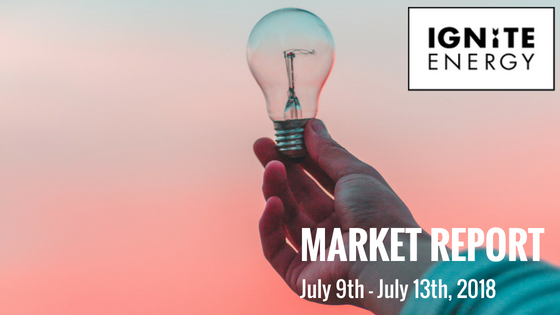 Energy Market Report 9th – 13th July, 2018
July 9, 2018
Weekly Energy Market Report
Week 28: 9th – 13th July 2018
Ignite bring you the latest energy news across the UK and Europe.
Despite some bearish movements this week, especially in the early trading hours, the undelaying price direction remained bullish. The front season prices (Win-18) were trading sideways last week. While we are observing a stabilisation on the front curve, the far curve contracts are quite volatile. Uncertainty around the global trading arrangement between the U.S, China and Europe had adverse effects on commodity prices in the UK.
The UK energy market last week
UK electricity prices for near delivery moved up significantly, amid rising electricity demand. The heatwave spreading across the country affected day ahead and month ahead contracts, while a lack of direction from global commodities such as crude oil and coal had little effect on the front season Win-18.
Gas prices for near delivery continued rising most of last week, due to rising gas demand caused by the abnormally high temperatures.
Brent Crude Oil prices' bullish momentum has been reduced by rising production from Saudi Arabia and limited trading activity due to Independence Day in the U.S.
For more in-depth analysis on the UK energy market visit https://www.igniteenergy.co.uk/updates/.
UK Electricity Prices
UK electricity prices for near delivery moved up by almost 5% on average. Month ahead moved up by 2.8% and settled at £56.56/MWh, while day ahead went up by 6.5% and consolidated around £57.15/MWh. Extremely hot weather across the UK caused additional cooling demand for Power Stations. Renewable generation, in particular wind, was low, as you could imagine for the nice sunny days we have been having.
Solar generation output was not strong enough to offset rising demand for power. While the front curve was rallying, the front winter contracts witnessed limited activity. UK Electricity Win-18 opened and closed the week almost at the same price of £61.75/MWh. Longer dated contracts moved up slightly. Sum-19 was trading on Friday at £50.71/MWh (0.4% up), Win-19 was settled at £56.77/MWh. The modest bullish movement on the far curve was driven by rising gas prices and the indecisiveness of oil and coal prices.
UK Natural Gas prices
Unlike, the power curve, natural gas prices moved up significantly last week. The day ahead gas contract moved up by 5.2% and settled at 58.50p/th on Friday, whilst month ahead was up by 3.2% and closed at 58.60 p/th. As air conditioning demand increased throughout Europe, the level of European gas available for immediate delivery lowered over the last 7 days. The UK exported almost 50 million cubic meters to Belgium. Despite healthy supply from Norway and the UK gas demand system being fairly well balanced, prices rallied more than they did a week before.
Longer dated contracts were also trading higher. Win-18 settled at 65.00p/th ( up by 0.3%) while sum-19 was at 51.75p/th ( 1.2% up). The upward movement of the far curve was driven by oil prices and geopolitics. Brent Crude was driven in the range bound between $77-78/bbl. The US President urged Saudi Arabia and Russia to increase oil output, from the other side he strives to limit activity of Iran and Venezuela. A political influence in the oil market became very transparent over the last couple of months.
Macroeconomics
The US tariffs on Chinese goods came into effect and had an adverse impact on Russia too. The trade war was initiated by the US, by imposing export tariffs on China, is gaining momentum. Russia logged another complaint with the World Trade Organisation (WTO) because of the US tariffs on steel. Elsewhere, the US economy is growing. Non-farm payroll – an index of employment in the US, recorded an additional 231,000 jobs last month. The highest gains in employment were recorded in the manufacturing sector.
What To Watch This Week
With the dry and warm weather continuing, we would expect UK gas and electricity prices to also continue rallying this week. The biggest gains are expected to be recorded at the prompt curve and possibly the front season Win-18.
Brent Crude prices will continue trading in the rangebound of $77-79/bbl
The UK monthly GDP figures are going to be released on Tuesday and US inflation data will be published on Thursday.
To find out more contact us to see how we can help your business reduce energy consumption.