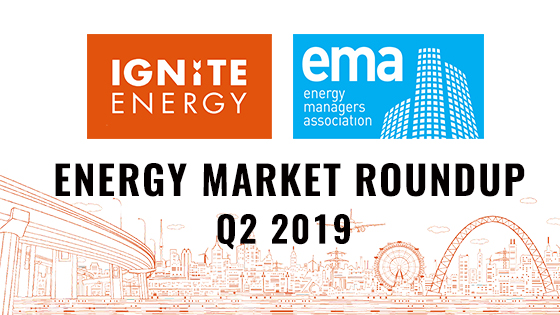 Energy Market Roundup, Q2, 2019
July 2, 2019
Ignite Energy brings you a roundup of the energy markets for Q2 2019, providing expert analysis and commentary on developments in the market over the past three months.
Ignite are working with the EMA to provide their members and followers with an insight into how energy prices have been changing throughout the year and the factors that have contributed to fluctuations in the markets. These reports will be published quarterly, with an annual roundup at the end of Q4.
Introduction
UK Electricity price movements are shaped by many complex drivers. With the transition to a greener economy, electrification of vehicles and the development of technologies based on artificial intelligence, energy economics will become even more complex. While new technologies are shaping a new landscape for future generations, energy markets are still principally driven by key fundamentals such as –
Supply and demand
Natural gas prices
Renewable production
Global commodities such as crude oil, LNG Carbon and Coal
Economics and Global Politics
Development of policies and legislation
Within this quarterly market overview, we will focus on UK gas and electricity prices and key drivers behind their movements.
UK Natural Gas Prices
Natural gas in the UK comes mainly from three sources; UK Continental Shelf natural deposits of gas in the North Sea, imports from Norway and Continental Europe and Liquified Natural Gas (LNG) arriving from further afield in tankers.
Natural gas prices have been falling over the last 3 months. Gas prices continued the bearish trend which started in the last quarter of 2018. After a short spike, at the beginning of April, long term seasonal natural gas prices consolidated just under 50p/therm.
Last year, natural gas prices in Q2'18 gained bullish momentum and edged up towards the 60p/th mark. This bullish momentum was supported by three key drivers: tightening oil production by OPEC (Organization of the Petroleum Exporting Countries) and Russia, sanctions imposed on Iran and their partners and finally escalation and sanctions on Venezuela.
While last year, natural gas prices were driven higher by rising oil prices and tightening global oil markets, in Q2'19 we observed an opposite trend. Brent Crude dropped over 20% between April and June'19. The key driver behind this bearish price movement was a confirmation that Saudi Arabia, Russia and other countries have committed to offset potential sanction related losses of Iranian oil exports. In addition, US shale oil production has gained further momentum. As a result, the demand for OPEC oil dropped across the globe.
Tumbling oil prices have influenced gas and electricity in the UK, which fell more than 9% during the first 3 months of the year.
The UK gas market was flooded by LNG from Qatar, Russia, the USA and other countries. In the UK, net LNG imports in the first half of 2019 reached almost 9 BCM (billion cubic meters), this is almost five times more LNG than at the same time last year. While Qatar was the main exporter of LNG to the UK, we observed an increase of LNG shipped from USA and Russia this year.
Source: Reuters
UK Electricity Prices
Electricity prices mirrored the UK gas trend and they edged lower over the first 3 months of the year. Front season (Winter-19) dropped over 10% between April and May, while month ahead dropped over 30% in the same period. The month ahead prices were consolidating around £40/MWh while Winter-19 was at £55/MWh.
Tumbling gas prices and healthy supplies from Norway and Qatar were not the only key drivers behind falling electricity prices. The bearish momentum was also supported by healthy renewables generation, mainly from wind and solar. In early May'19, the National Grid recorded 14 days without coal generation. This is the longest period without any usage of coal in the power generation mix since the beginning of the industrial revolution. The drop-in coal usage was offset by gas-fired power stations and increases in renewables production.
At the beginning of April, there was a sudden turnaround in prices, driven by rising Carbon prices. Carbon contracts rocketed to over €26/tonne in mid-April-19, despite the overall energy landscape trading downwards. This supported electricity prices, especially Winter-19, which spiked by over 10% within three days. Further rises were capped by political and economic news.
Uncertainty around a no-deal Brexit following Theresa May's resignation announcement and the trade war between China and the USA also had an impact on Carbon prices. Subsequently, carbon prices started losing ground amid fears about a global economic slowdown and fell 4% over the last week of May.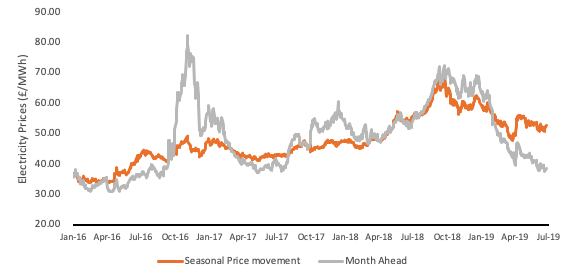 Source: Reuters
Global Macroeconomics
In April 2019, the IMF (International Monetary Fund) cut the global growth outlook to the slowest pace since the last financial crisis. The downgrade was based on the prosperity of the most advanced economies and implications of the trade war between the two biggest global economies; China and the USA.
According to the IMF – which is responsible for the stability of the International monetary system – global economic growth was downgraded by 0.2% from 3.5% to 3.3%. Growth in 2019 would be considered as the weakest since the last financial crisis.
While the IMF cut its outlook for U.K. and US growth to 1.2% and 2.3 % this year respectively, they increased their forecast for China to 6.3% from 6.2%.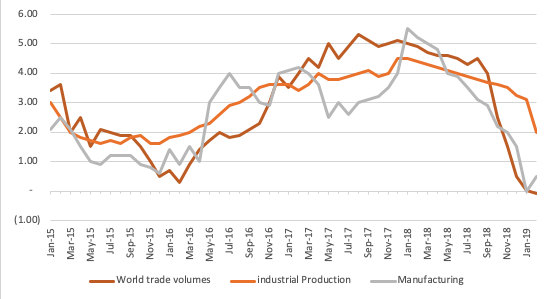 Source: IMF World Economic outlook
While economic forecasts were being revised down, the unpredictability of geopolitics was gaining momentum. Trade tariffs, the escalations of conflict in the Middle East and uncertainty around Brexit added additional volatility to the financial markets. Global industrial production has slowed down compared to 2018 and the number of new trade deals has significantly dropped in the last three years.
Summary
Energy markets once again proved that there is no such thing as steady commodity prices. Energy economics is an important factor in calculating the overall cost of energy.
Gas and electricity month ahead contracts dropped significantly in Q2'19 reaching a new three year low.
In the last three months, UK energy prices were sensitive to the movement of other commodities such as oil, LNG and carbon, but are also a reflection of global macroeconomics.
Contact us to learn more about how our expertise could help your business save on energy. We are experts at managing energy for businesses with multi-site portfolios. Learn more about our experience and who we've helped.