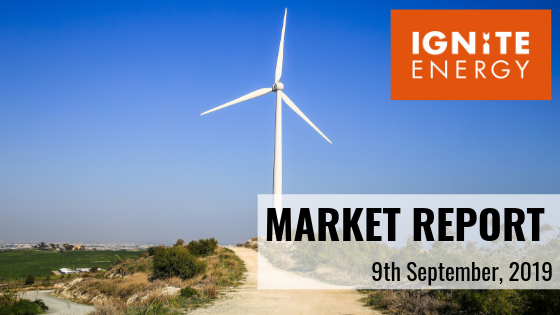 WEEKLY ENERGY MARKET REPORT: 9th SEPTEMBER 2019
September 9, 2019
Ignite bring you the latest energy news across the UK and Europe. We track and analyse changes in the energy market to keep you informed and up to date. Here's the latest news from the UK, Europe and the rest of the world.
British wholesale power prices moved on upwards last week influenced by cooler-than-previously-forecast weather.
Renewables generation remained strong last week and contributed more than 8GW to the power generation mix during most days.
Natural gas prices mirrored the power price movement as we are currently in the middle of the yearly maintenance period with reduced flows from Norway to the UK.
On the wider energy commodity complex, oil prices saw continued bullish movement and closed the week at $61.50/bbl following the reopening of the trade talks between the USA and China thus sending an optimistic message to global markets.
The Pound gained strength against the Euro following the latest developments on Brexit. It is currently trading at €1.114.
The UK energy market last week:
The British wholesale natural gas market moved upwards last week by 1.2% on average.
Wind generation averaged more than 8GW during most days of the week, which reduced reliance on CCGT generation however, power prices increased as we approach the Win-19 delivery date.
As of this morning, power prices opened higher as demand levels jump due to cooler than previously forecast weather and lower wind generation.
UK Natural Gas prices:  
The British wholesale natural gas prices increased by 1.2% on the curve contracts on average, during last week amid higher levels of demand and a bullish commodity complex.
Day-ahead closed the week at 25.10 p/th, that is 28.7% higher, week-on-week, while month-ahead increased by 4% within-week and settled at 32.10 p/th.
In terms of curve contracts, Win-19 rose by 1.2% before settling at 45.31 p/th whereas Sum-20 increased by 1.6% at 42.41 p/th.
UK Electricity Prices:
British wholesale power prices rose during the previous week as the weather fell below seasonal normal temperatures.
Day-ahead dropped by 10% and closed at £31/MWh while month ahead increased by 2.6% and settled at £41.30/MWh.
Win-19 settled at £50.82/MWh and Sum-20 at £46.67/MWh, a tick up of 0.2% and 0.9% within-week, respectively.
Macroeconomics:
On the macro front, we saw the release of the US job data. The US gained 130 thousand jobs in August, that's 18% below July's job gain and below market expectations of 159 thousand.
What to watch this week
Outlook: We should expect to see a firmer start this week both in the prompt and curve contracts as we approach the Win-19 delivery period.
Thursday September 12: Germany's YoY inflation rate for August will be announced with the current rate at 1.7%.
Contact us to see how we can help your business reduce energy consumption.