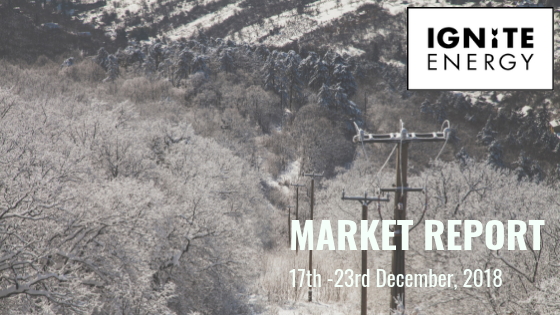 Weekly Energy Market Report: 17th – 23rd December 2018
December 18, 2018
Ignite bring you the latest energy news across the UK and Europe. We have the expertise when it comes to translating energy industry consumption trends. Here's the latest news from the UK, Europe and the rest of the world.
Natural gas and power prices in the UK have experienced bullish movement amid cold average UK temperatures, mixed renewables generation and increased heating demand. Wind generation was weak during the start of last week, thus CCGT generation and coal-fired generation contributed more to the generation mix, however on Thursday wind supply peaked at 11GW and contributed almost a quarter of the overall stack.
Flows from Norway have been at adequate levels and increased throughout the week, especially from Langeled and Vesterled, despite an unplanned outage at Sleipner. LNG nominations remain consistent, with two cargoes expected to arrive on the 19th and the 24th of December to Dragon and South Hook ports respectively. UK system opened undersupplied most of the week according to National Grid, mainly due to demand being above seasonal normal levels.
In addition, oil price was fairly flat throughout last week, with Brent Crude trading at around $61/bbl levels despite recent OPEC decision with Russia to reduce supply. This due to the increasing US oil inventories and concerns over global economic growth; US Commercial Crude oil was almost 442m barrels as of last Wednesday (as published by EIA U.S. Energy Information Administration), which is pretty close to previous week's levels.
In terms of macroeconomic views, the "No Confidence" vote that ended with Theresa May remaining the government's leader had an impact on currency pairs. The pound lost almost 0.24% against the euro during the week but strengthened on Friday and is now currently trading at 1.112 per euro. Brexit is still one of the most important topics and will remain like that until a final agreement between the UK and the EU is achieved.
The UK energy market last week
Last week's bullish commodity complex resulted in UK natural gas and power prices moving upwards. The weak pound and the cold weather outlook contributed to this bullish price movement.
Pound was unstable during last week. It fell to 1.102 per euro but came back later on at 1.11 per euro levels, amid poor German PMI results and UK prime minister's win over a "No confidence" vote.
UK Natural Gas prices
UK natural gas prices closed firmer week on week amid increasing heating demand and a cold weather outlook, despite healthy Norwegian flows. Wind generation was relatively low for most of the week but increased significantly and reached a peak level pf 11GW during last Thursday.
Prompt contracts prices increased; Day-head closed the week at 67.00p/th and month-ahead at 68.00p/th, an upwards movement of 6.2% and 5.3% respectively, week on week.
Front-curve contracts followed the increase in prompt prices with Sum-19 closing at 58.91p/th last Friday, that is an upwards moment of 4.8% week on week. Long-term Win-19 increased by 3.8% between last Monday and Friday and closed at 66.96p/th.
UK Electricity prices
The bullish commodity complex, including the increasing gas prices, contributed to UK power prices gaining ground last week. The bullish carbon and coal markets put further pressure on prices, particularly EU carbon allowances contracts which surged by 11.83% on a weekly on week,  closing at €23.72/t.
Day-ahead prices settled at £65.25/MWh and month-ahead at £67.30/MWh, a weekly uplift of 6.6% and 5.5% respectively.
Curve contracts; Sum-19 increased by 4.7% on a weekly basis and closed at £59.23/MWh and Win-19 increased by 4% week on week and closed on Friday at £64.93/MWh.
Macroeconomics
The vote for "No Confidence" on Theresa May had a negative impact on the pound against the euro however the currency managed to recover due to Germany's poor PMI results. The German PMI dropped to 51.5 in December 2018 which is the lowest level since March 2016. Currently, the pound is at 1.112 per euro.
Regulatory Updates
Almost 200 countries agreed on the rules of the Paris climate change act during UN climate talks that were held in Katowice, Poland last Saturday. The rules indicate that all countries developed and developing ones, will share the same commitments over implementing emission targets. The final deal, however, does not include any provisions on the global carbon mechanism.
The Paris agreement takes effect in 2020 and the rules agreed last Saturday will be put into force in 2024.
What to watch this week
Prices on Monday opened softer amid strong imports from Norway and revised forecasts for higher temperatures.
An unplanned outage occurred at Torness nuclear power plant with a capacity of 64MW.
The YoY UK inflation rate for November will be announced on Thursday at 09.30 UK time.
Latest data on the GfK consumer confidence index in the UK is scheduled for announcement on Friday at 12.01 UK time.
To find out more contact us to see how we can help your business reduce energy consumption.