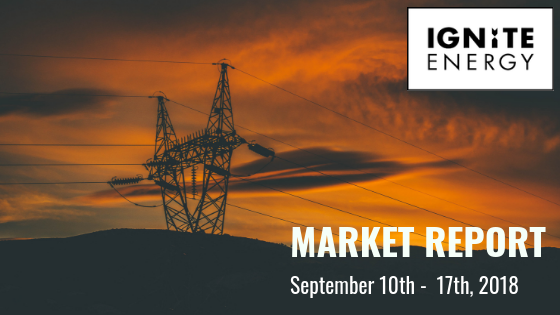 Weekly Energy Market Report: 10th – 17th September 2018
September 11, 2018
Ignite bring you the latest energy news across the UK and Europe. We have the expertise when it comes to translating energy industry consumption trends. Here's the latest news from the UK, Europe and the rest of the world.
Gas and electricity prices continue to move higher in the spot and in the Long-Term contract markets.
Last week has been bullish as we head into maintenance period for the gas system, it has added pressure on power and gas prices, with further bullish sentiment from underlying fuels. The global crude oil prices climbed on expectations that falling Iranian output will tighten global supplies once the second round of U.S. sanctions starts on 4th November.
The UK baseload electricity prices maintain their strong correlation to European carbon, gaining on a significant 7.5 % jump in EUA price – currently at €25.00/tonne.
The UK Energy Market Last Week
The UK Natural seasonal gas prices edged up higher, as the gas system is still undersupplied. Number of planned (maintenance period) and new unplanned outages saw a reduction in Norwegian flow which contributed to soaring prices. Consequently, the gas spot prices hit six-month highs at the end of last week.
The power system has been reasonably comfortable despite some low wind generation.
Sterling saw a big spike last week, this was in response to the news that Germany officials indicated they were willing to work on the Brexit negotiations.
Global crude oil prices fall more than 1 percent on Thursday after U.S. data showed gasoline inventories rose unexpectedly last week, overshadowing a bullish drawdown in crude (amid U.S sanctions limiting Iran oil exports), whereas global prices of oil continue soaring.
UK Electricity Prices
Month ahead settled at £69.95/MWh (3.9 % up week on week), while day ahead consolidated around £67.50/MWh (1.6% wow). Wind generation stands for about 5% of the stock, which is a relatively low share of power generation stock, most of the power is generated from gas today.
Long-term UK electricity contract Win-19 was trading higher by 4.4 % since Monday and settled at £60.73/MWh on Friday, Sum-20 closed at £53.40/MWh, up by 2.5%. Win-19 and Sum-20 are currently about £19.96/MWh and £15.15/MWh respectively trading higher than the same time last year. The strengthening of long-term contracts was driven by the rising cost of coal and gas prices.
After fears over French nuclear availability, we saw French nuclear capacity increase to 69% following a period of maintenance. Whereas the French interconnector has been reduced to half its capacity, reducing the capacity import to the UK and putting pressure on the price. The front curve contracts such as Win-18 and Sum-19 contracts were also trading up. Win-18 settled at £73.65/MWh and Sum-19 was at £60.73/MWh on Friday. Win-18 and Sum-19 are currently about £25.74/MWh and £20.02/MWh respectively trading higher than the same time last year.
UK Natural Gas Prices  
The gas system remained short all week, although moved back to just below balanced on Wednesday and Thursday.
The day ahead settled at 74.70p/th, up by 5.7 % on Friday, while month ahead was up by 6.5% and closed at 74.50p/th. The front winter contract (Win-18) finished at 78.72p/th, up by 5.7% week on week, while Win-19 was at 68.97p/th, up by 3.9%.
The front summer contract prices gained about 4.5% week on week, whilst further contract such as Sum-20 moved up by 2.6 %.
Macroeconomics
The best-performing country from an emissions reduction perspective is the UK, with a 29% drop across the last decade. The UK has had steady policy support for renewables, but this has not been the primary driver of emissions reductions. The heavy lifting has been done by the UK carbon price floor, which has effectively driven coal out of the generation mix.
Germany has led the renewables investment charge. The renewable share of German generation output has increased from 15% to 33% across the last decade, a huge rise given the scale of capacity roll out required. Yet Germany is one of Europe's worst-performing countries when it comes to emissions reductions, with only a 5% decline (2008-17).
Germany's poor emissions performance is about to make its mark. Domestic and international pressure to address emissions is driving a shift in Germany policy focus. This will have important implications for the German power market and knock-on effects across neighbouring power markets.
What To Watch This Week
Weather:

Temperatures in the UK are currently below averages, however, this is expected to pick up into next week, before again trailing off, later in the month.
Although still very early to be of any real significance, the current weather situation heading into winter suggests some risk of a temperature swing through November, likely to have cold blocking conditions.
Still relevant:

Both gas and electricity prices are set to remain strong and continue soaring. The gas maintenance period will contribute to tightening the UK gas supply market.
Upcoming sanctions on Iran will push the global oil up, so the overall cost of energy in the UK will rise.
To find out more contact us to see how we can help your business reduce energy consumption.