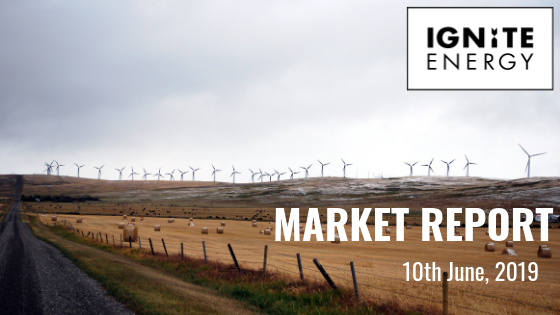 WEEKLY ENERGY MARKET REPORT: 10th JUNE 2019
June 11, 2019
Ignite bring you the latest energy news across the UK and Europe.
The British wholesale natural gas market closed the week firmer despite the bearishness of the market for the most part of the week. Norwegian flows started strong, however, two outages at Kollsnes plant and Kristin gas field caused import reductions. LNG nominations remained relatively low, around 15mcm.
British power prices moved higher, week on week, by 2.1% on average on the front of the curve. Wind generation started strong and comfortable on Monday with 7-8GW of flows before dropping to levels below 3GW on Tuesday. As a result, CCGT reliance was more than 50% during most days. Imports from the Continent were steady while coal generation came back online on Wednesday at 0.20GW.
In the wider energy complex, the US oil inventories increased once again. At the same time, the global economic outlook looks less promising, in terms of demand, thus we see oil prices trading around $61-$63/bbl all week. On the other hand, carbon prices closed the week firmer at €24.50/t and seem to be well supported in today's opening as well.
The UK energy market last week
The British natural gas market closed the week firmer by 4.00% amid high levels of demand and reduced flows from Norway from Thursday onwards.
Coal generation came online on Wednesday, thus setting a new record of coal-free generation that lasted for more than two weeks.
The average UK temperature remained below seasonal normal levels throughout the week and is expected to drop slightly further in the following days.
UK Natural Gas prices 
The British wholesale natural gas prices moved by 4.20% on the upside, on average, as we saw outages affecting imports from Norway. On top of that, the cooler-than-previously anticipated weather increased demand levels which remained consistently high throughout the week. LNG send-out was considerably low while we saw some storage withdrawals.
Day-ahead closed at 28.50p/th, that is 9.20% lower from last week whereas month-ahead settled 8.10% higher from last week at 28.80p/th.
In terms of curve contracts, Win-19 settled at 52.79p/th and Sum-20 at 45.12p/th, an increase of 2.70% and 3.30% within-week for both contracts respectively.
UK Electricity prices
Power prices increased, week-on-week mainly amid a decrease in renewables generation. Also, coal generation came back online while the stronger carbon market lent support to the curve contracts.
Day-ahead moved on the downside, however, by 9.40%, at £34.75/MWh whereas month ahead increased by 1.80%, at £38.75MWh.
Win-19 settled at 56.28 % and Sum-20 at £48.13/MWh, an increase of 2.00% and 2.40% within-week for both contracts respectively.
Macroeconomics
In terms of macroeconomic news, last week was not very active, however, Germany's Balance of Trade for April was announced at €17.90b, thus the surplus was reduced by €2.5b from March. Imports outpaced exports at a rate of 2.10% against 0.50%.
 What to watch this week
Outlook: Prices most likely to be supported by the carbon market this week. Temperatures are expected to stay in line with seasonal norms in the UK whereas the weather outlook is forecast milder in the Continent.
Wednesday June 12 & Thursday June 13: Inflation rate data will be released this week. US and German actual inflation rate for May will be announced.
To find out more contact us to see how we can help your business reduce energy consumption.