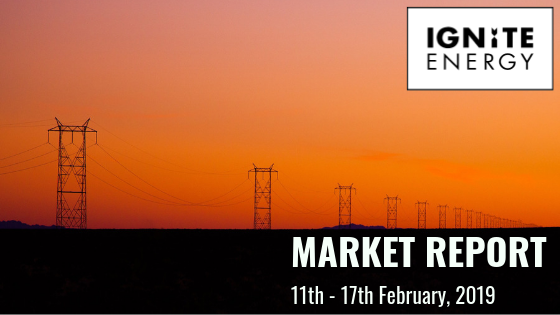 WEEKLY ENERGY MARKET REPORT: 11TH – 17TH FEBRUARY 2019
February 12, 2019
Ignite bring you the latest energy news across the UK and Europe. We have the expertise when it comes to translating energy industry consumption trends. Here's the latest news from the UK, Europe and the rest of the world.
UK natural gas and power prices moved lower week on week as a result of relatively mild temperatures and low heating demand that fell below seasonal normal levels. On top of that, high LNG flows to Western Europe weighed on power prices both in the UK and the Continent.
In the general energy complex, oil moved sideways settling at $62.10/bbl indicating a minor movement of less than 1% on the downside. Trade talks between China and the USA are still one of the most significant drivers in the oil market. Coal had a bearish two-week period before finding support last week and it is now at one of its lowest levels since April last year.
Carbon traded rangebound during the past week amid no auctions on the EEX (European Energy Exchange) on Wednesday that resulted in low liquidity levels. European allowances for delivery in December 2019 are currently priced at €22.13/t.
The UK energy market last week
Power market in the UK has retreated by more than 2.5% on average due to mild weather, relatively high import flows from the Continent and LNG supply influx.
Demand levels dropped below seasonal normal levels for the first time in weeks.
BoE kept interest rates at 0.75% due to weak UK economic growth.
UK Natural Gas Prices
UK natural gas prices fell last week amid consistently high imports from Norway, strong LNG flows and mild temperatures. Prices also declined despite poor wind generation that moved between 2GW and 5GW during most days before reaching a high of 12GW on Friday morning.
Day-ahead closed at 48.55p/th and month-ahead at 48.70p/th, a decrease of 5.5% and 3.9% respectively, week on week.
In terms of curve contracts, Sum-19 settled at 45.88p/th on Friday, that is 4.9% lower week on week while Win-19 settled at 58.04p/th, that is 2.8% lower during the same period.
UK Electricity Prices
Power prices mirrored the natural gas movement and plunged following increasing levels of supply and lower heating demand compared to a few weeks ago. Carbon and coal markets moved on the downside thus driving the power prices in the UK and the Continent. Both these commodities are important drivers in the European and the UK power market.
Day-ahead closed the week at £50.80/MWh and month-ahead at £52.20/MWh, that is 4.6% and 2.3% lower week on week for both contracts respectively.
Sum-19 contract settled at £50.20/MWh on Friday while Win-19 closed at £58.84/MWh. Both curve contracts declined by 2.9% and 1.8% on a weekly basis respectively.
Macroeconomics
The BoE decided not to increase the interest rates further up from the current level of 0.75% amid weakest UK economic growth in a decade as Brexit remains an important factor in the overall macroeconomic outlook.
What to watch this week
UK gas and power markets opened softer on Monday as temperatures are forecast to stay above seasonal average levels for the upcoming weeks.
The YoY UK inflation rate for January will be released on Wednesday 13 February.
To find out more contact us to see how we can help your business reduce energy consumption.