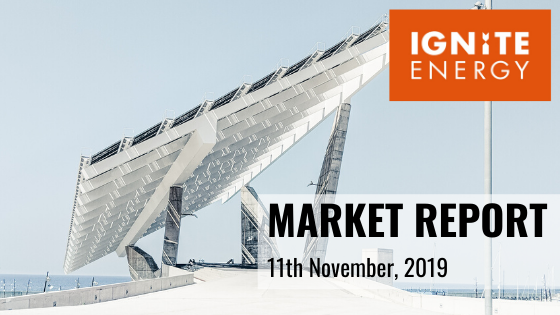 WEEKLY ENERGY MARKET REPORT: 11th NOVEMBER 2019
November 11, 2019
Ignite bring you the latest energy news across the UK and Europe. We track and analyse changes in the energy market to keep you informed and up to date. Here's the latest news from the UK, Europe and the rest of the world.
The British wholesale natural gas market dropped by 2.3% on average, on the curve contracts, in the last week. An increase in Norwegian flows, from Wednesday onwards, weighed on natural gas prices. On top of that, there was an influx of LNG flows in Britain, with nine LNG cargoes having been fully discharged, in the last seven days, thus contributing a total volume of 1.5mcm.
At the same time, gas storage levels operate at full capacity. As a result, some of the excess capacity was released in previous days. In particular 4.1mcm and 3.5mcm were withdrawn from the Medium Range Storage (MRS) and injected into the gas system during the beginning of last week.
The British wholesale power market mirrored the natural gas price movement over the last few days. Power prices were mainly influenced by a generally well-supplied market. An increase in renewables generation at the end of the week added further pressure on the curve. EU spot carbon permits fell by 1.78% in the last week and settled at €24.84/t on Friday thus contributing to the downward price movement.
In the wider energy commodity complex, the oil benchmark, Brent Crude, moved by 1.33% on the upside, on a week to week basis. This then settled at $62.51/bbl on Friday. Oil prices rose on the back of a positive momentum that was recently built in regard to the Chino-US trade negotiations. The long dispute has caused major concerns over the global economic growth and has weighed on demand for fuel.
The UK energy market last week
British wholesale power prices softened by 3.1% on the curve contracts, on average. Strong renewables generation towards the end of the previous week as well as the relatively soft energy complex pushed prices on the downside.
The natural gas market softened throughout the previous week mainly due to a well-supplied market while storage levels remain at full capacity, an unusual occurrence for this time of the year.
Oil prices settled on Friday at $62.51/bbl amid hopes that a trade deal between the world's two largest economies might be achieved. However, Brent Crude prices dropped below $61/bbl as there is no trade deal between the USA and China in place yet, while the global market seems to be oversupplied.
UK Natural Gas prices
Gas prices softened over the past week as the market maintains strong levels of supply. Tt the same time, storage levels are close to capacity. LNG arrivals keep contributing significant flows to the overall supply side. Three LNG tankers are expected to have arrived in the UK by Saturday; two from the USA and one from Russia.
Day-ahead closed the week at 38.00p/th, that is 20.6% higher, week-on-week, while month-ahead dropped by 4.8% within-week before settling at 41.89p/th.
In terms of curve contracts, Sum-20 fell by 4.4% before settling at 38.85p/th while Win-20 decreased by 2.6% at 49.15p/th.
UK Electricity Prices
The UK power market moved on the downside last week both on the curve and the prompt contracts. Renewables generation has picked up from Thursday onwards and we see it opening strong this morning by contributing more than 26% to the overall power generation mix. In addition, the weak and relatively stable wider energy complex acted as a bearish driver for power prices last week.
Day-ahead increased by 3.5% and closed on Friday at £41.90/MWh while month-ahead fell by 3.1% before settling at £48.14/MWh.
Sum-20 settled at £44.97/MWh and Win-20 at £52.41/MWh, a downwards movement for both contracts by 3.1% and 2.1% respectively.
Energy Macroeconomics
On the macroeconomic front, the Bank of England kept interest rates unchanged at 0.75% during its early November meeting. The decision is in line with market expectations as we enter a period of uncertainty due to global geopolitical trade tensions, including Brexit.
The UK trade deficit for September widened by £1.6b from the previous month and reached £3.36b. This is the largest deficit in the UK since May. Imports of goods rose by 3.9% between August and September with the greatest increase being spotted in chemicals, material manufactures, fuels and vegetable oil. In terms of the most important trading partners, imports from the EU rose by 5.7% with Germany and the Netherlands coming on top with 7.4% and 5.6% respectively.
what to watch this week
Outlook:
We expect to see an increase in consumption this week that will be heavily driven by the cold weather outlook, the forecast is to be 2o Celsius degrees lower than seasonal normal temperatures in Britain.
However, wind generation is expected to pick up during the week thus it might result in lower gas-for-power demand. Norwegian flows through Langeled are forecast to operate at capacity levels whereas there is a risk for a slowdown in LNG send out this week.
We also have inflation-related data coming out this week.
Wednesday 13th November: UK's YoY inflation rate for October will be published. Last month's inflation rate was 1.7% due to a slowdown in transportation and fuel costs.
Wednesday 13th November: Germany's YoY inflation rate for October will be published. The inflation rate for September was at 1.2% while market expectations suggest the inflation rate will drop to 1.1%.
Wednesday 13th November:  USA's YoY inflation rate for October will be published. Currently, the inflation rate is at 1.7% while preliminary forecasts indicate a slight decrease to a rate of 1.6% for October.
Contact us to see how we can help your business reduce energy consumption.