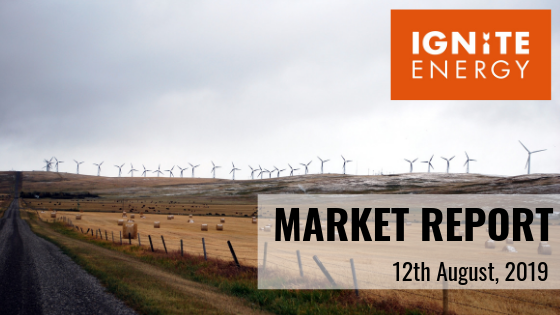 WEEKLY ENERGY MARKET REPORT: 12th AUGUST 2019
August 12, 2019
Ignite bring you the latest energy news from across the UK and Europe. We track and analyse changes in the energy market to keep you informed and up to date. Here's the latest news from the UK, Europe and the rest of the world.
British wholesale power and natural gas prices moved sideways during the previous week.
We observed comfortable fundamentals and healthy renewables, however, the picture remained more uncertain in the wider energy commodity complex with oil prices changing direction within-week. The accusations of currency manipulation on China from the US president added to tensions over the continuing trade war between the world's two largest economies.
Oil prices started dropping after EIA's publication that oil production dropped by 2.4 billion barrels (less than the markets expected). Prices, however, rebounded temporarily on Thursday following news that Saudi Arabia will step in and cut oil production further.
The UK energy market last week
The wholesale power market in Britain moved sideways during the previous week and closed almost flat compared to the week before.
Healthy renewables generation contributed more than 30% in the overall generation mix in Britain during most days.
British wholesale power started trading on the front foot today as wind output dropped from recent highs and a new weather forecast suggested a cooler-than-previously expected outlook.
UK Natural Gas prices
The British wholesale natural gas prices dropped by 0.5% on the curve contracts, on average during last week.
Day-ahead closed the week at 30.50p/th, that was 8.3% higher, week-on-week, while month-ahead increased by 6.6% within-week and settled at 33.60p/th.
In terms of curve contracts, Win-19 increased by 0.6% before settling at 50.60p/th whereas Sum-20 dropped by 1.1% at 45.50p/th.
UK Electricity Prices
British wholesale power prices mirrored the natural gas movement. Sideways movement within-week led to an almost flat close on Friday.
Day-ahead slipped by 0.1% and closed at £42.00/MWh while month ahead increased by 2.3% and settled at £44.40/MWh.
Win-19 settled at £55.49/MWh and Sum-20 at £49.69/MWh, a decrease of 0.5% and 0.9% within-week for both contracts respectively.
Macroeconomics
The Pound is currently losing strength against both the Euro and the Dollar under Boris Johnson's administration. Currently, the exchange rate is €1.07 and $1.206. Based on FT, the short bets against the Pound have risen lately as the likelihood of a No Deal scenario seems more possible than ever before.
what to watch this week
Outlook: Temperatures are expected to drop this week thus adding more support for an increase in gas-for-power demand.
Wednesday August 14: UK's YoY inflation rate for July will be published. The inflation rate is currently at 2% and the forecasts suggest it will not change.
Wednesday August 14: The QoQ estimated growth rate for Q2 2019 in the European Area will be published with current forecasts suggesting a 0.2% increase.
Contact us to see how we can help your business reduce energy consumption.