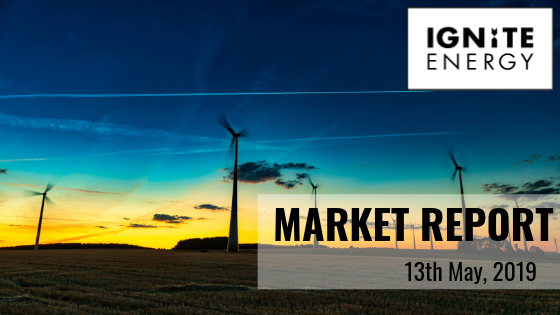 WEEKLY ENERGY MARKET REPORT: 13th MAY 2019
May 13, 2019
Ignite bring you the latest energy news across the UK and Europe. We track and analyse changes in the energy market to keep you informed and up to date. Here's the latest news from the UK, Europe and the rest of the world.
UK gas demand remained high during the previous week as a result of the colder (than previously expected) temperatures. Supply levels were comfortable at the beginning of the week however, they dropped as we progressed towards the weekend due to reduced flows from Norway. Renewables generation was relatively poor with an exception on Wednesday, during which wind supply reached 7GW. One thing to notice is that during the previous week we saw the longest period with no coal generation; the previous record was 90 hours.
In terms of the wider energy complex, carbon prices started the week around €25.30/t. We saw a rally in carbon permits that reached €27.00/t on Wednesday before retreating to €25.50/t on Friday's closing. Oil prices increased gradually throughout the week and settled above 70.00/bbl on Friday despite the new US tariffs on Chinese goods.
The Pound keeps trading near the €1.157 to €1.163 area as no major progress has been made in Brexit.
The UK energy market last week
Power prices in the UK fell by 2% on average, on the curve contracts during last week, as a result of weak renewables generation and lower supply flows from the continent towards the end of the week.
Carbon prices moved sideways and settled at €50/t while there was no coal generation throughout the week.
Prices softened this morning as revised forecasts suggest milder weather while demand is forecast to be close to seasonal normal levels.
UK Natural Gas prices
British wholesale natural gas prices softened during the previous week as there were some outages due to the yearly maintenances which caused reductions in flows through Langeled. The gas system was short on Thursday thus we saw an increase in MRS withdrawals in order to provide support.
Day-ahead closed at 36.35p/th, nearly 12% higher from last week whereas month-ahead ticked up by 1.70% from last week at 32.45p/th.
In terms of curve contracts, Win-19 settled at 54.25p/th, that is a 1.90% lower, week on week, while Sum-20 fell by 2.40% during the same period and settled at 44.45p/th.
UK Electricity prices
Power prices mirrored the natural gas price movement with prompt prices closing higher and curve contracts moving downwards. Wind generation was below 2GW during most days of the week while carbon prices fluctuated thus showing the way on the curve contracts.
Day-ahead closed on Friday at £46.40/MWh and month ahead at £42.71/MWh, an increase of 11% and 1.10% respectively, on a weekly basis.
Win-19 contract dropped by 1.60%, within-week, before settling at £57.54/MWh while Sum-20 changed by 2.7% in the same direction during the same period, at a price of £48.16/MWh.
 Macroeconomics
The US balance of trade for March showed a deficit of nearly $50b compared to the $49.30b in February. The trade deficit in politically sensitive goods, between the USA and China, decreased to a five-year low.
The balance of trade for the UK at the same period dropped to a deficit £5.41b that is £0.81b lower from February. Exports outpaced imports; 2.70% export increase, month on month, against 1.1% import increase.
What to watch this week
Outlook: according to revised forecasts, temperatures are expected to be around seasonal normal levels this week thus reducing demand for gas. Wind supply is expected to remain relatively low while flows from the Continent might decrease due to a cooler weather outlook in the rest of Europe.
Tuesday May 14: YoY inflation rate for Germany, in April, will be announced with markets expecting an increase to the level of 2%.
To find out more contact us to see how we can help your business reduce energy consumption.