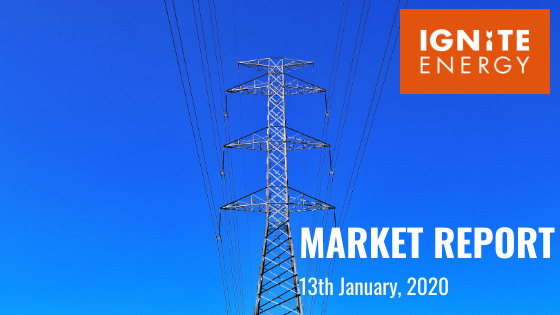 WEEKLY ENERGY MARKET REPORT: 13th January 2020
January 14, 2020
Ignite bring you the latest energy news across the UK and Europe. We track and analyse changes in the energy market to keep you informed and up to date. Here's the latest news from the UK, Europe and the rest of the world.
British wholesale power prices started the week high due to firmness in the oil market, as a result of the conflict between Iran and the USA. Front-season, Sum-20 contracts started last week at £39/MWh, however they dropped by almost 2% as the week progressed. Wind generation was strong during most days and averaged 12GW until Thursday but gradually dropped below 6GW towards the weekend.
Natural gas prices followed a similar price development as that of power contracts, however the firmness caused by a few unplanned Norwegian outages have had a stronger bullish effect on a few contracts on the back of the curve. For instance, Sum-21 contract moved 0.3% higher week on week. Demand has been consistency lower than season normal levels since the beginning of the year while temperatures remain relatively mild for that time of the year.
In the wider energy complex, Brent Crude prices surged following the assassination of the Iranian general Soleimani by a US drone. Fears over a retaliation from Iran caused oil prices to move higher than $70/bbl. Nevertheless, a few hours later both countries expressed their will to avoid a full military confrontation hence we saw oil dropping to $65/bbl where it remained until last week's settlement.
The UK energy market last week:
UK power curve contracts dropped by 1% on average in the previous week as the bullish effects from the oil market have slowly weakened.
The natural gas market experienced a firmer start to the week as a few outages caused tightness in the UK gas system, however the strong fundamentals once again prevailed at the end of last week.
Oil prices closed flat at $65/bbl as the Iran-USA tensions eased off. However, the market's focus is now back on the USA-China trade deal. The two countries are expected to sign Phase 1 of their trade deal this week.
UK Natural Gas prices:  
The natural gas market started the week strong however the mild weather outlook caused demand levels to remain well-below season normal and along with the high levels of LNG flows added further pressure on prices. Three tankers arrived last week in the UK while LNG sendout was not very strong (around 70mcm).
In terms of price movement, month – ahead moved by 1.1% on the downside at 30.65p/th while front-curve, Sum-20 dropped by 3.3% at 29.29p/th and Win-20 by 2.3% at 43.18p/th during the previous week.
UK Electricity Prices:
UK power prices mirrored the gas price movement however the price movement was more moderate than that of gas. Prompt – contracts decreased by 1.9% and closed the week at £39.50/MWh despite the Troll outage with 25mcm overall flow impact. The outage at Asgard was lower in magnitude but added some support on pricing.
Front-season and Win-20 dropped by 1.8% before settling at £38.36/MWh and £48.14/MWh respectively.
Macroeconomics:
The UK Balance of Trade illustrated a surplus of £4.3b in November 2019 compared to previous months of successive deficits. Exports in November rose by 1.1%, which is an all-time high. The increase in exports is attributed to sales of non-monetary gold goods and fuels whereas imports dropped by 7.8%, a two-year low.
Non-farm payrolls in the USA increased in December 2019, by 145 thousand jobs, lower than the 165 thousand job-gain the markets expected.
What to watch this week
Outlook: Temperatures are set to be mild up to Thursday and well above seasonal normal levels. As we move towards the weekend weather might get cooler and less wet, thus we might see demand levels picking up.  Supply forces remain strong with 3 LNG tankers expected today in the ports of South Hook and Dragon while 5 more cargoes are scheduled for arrival until Sunday.
Tuesday, January 14: US inflation rate YoY for December will be published. Last month's rate was 2.1% while the consensus for December is set to 2.3%.
Wednesday, January 15: UK inflation rate YoY for December will be published. Last month's rate was 1.5% and is expected to remain unchanged.
Contact us to see how we can help your business reduce energy consumption.