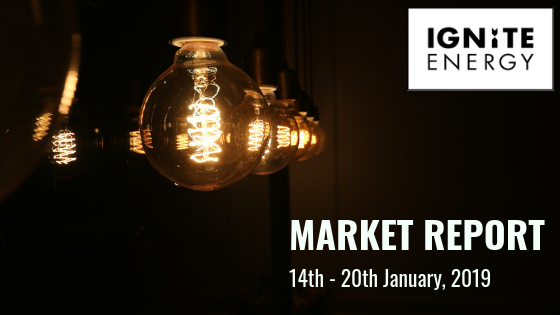 WEEKLY ENERGY MARKET REPORT: 14TH – 20TH JANUARY 2019
January 14, 2019
Ignite bring you the latest energy news across the UK and Europe. We have the expertise when it comes to translating energy industry consumption trends. Here's the latest news from the UK, Europe and the rest of the world.
UK power and natural gas markets closed by almost 2.5% on average on Friday for a second consecutive week. Demand increased well above seasonal normal levels towards the end of last week despite being at low levels at the start of the week. Temperatures moved in low levels for most of the week and dropped below seasonal normal levels on Thursday, resulting in increased heating demand.
The macroeconomic outlook revolves around Brexit this week. The UK parliament's vote on the Brexit withdrawal deal will take place tomorrow. In a final attempt to persuade MPs, Theresa May stated that "it is more possible to stop Brexit than leaving from the EU without a deal". The Pound has moved steadily between, 1.108 and 1.116 against the Euro during last week and is expected to move in a similar way until the vote tomorrow.
The UK energy market last week
Temperatures have fallen below seasonal normal levels and renewables generation was weak towards the end of the week. As a result, natural gas and power markets in the UK closed firmer on Friday.
The Pound is trading close to 1.11 against the Euro as we approach the UK parliament's vote on the Brexit withdrawal deal tomorrow.
UK Natural Gas prices
UK natural gas prices moved lower week on week amid falling temperatures and demand being above seasonal normal levels. An outage occurred at St.Fergus causing a shortage of flows through Vesterled by around 9mcm on Tuesday. Another unplanned outage occurred at Kollsnes plant but did not have significant impact on the UK gas system. Wind generation was strong at the beginning of last week and close to 10GW but ended up low from Wednesday onwards and close to 3GW levels, thus contributing in high CCGT generation.
In terms of price movement, day-ahead increased by 3.4% week on week and settled at 58.20p/th while month-ahead increased by 4.0% during the same timeframe and settled at 61.30p/th on Friday. In terms of curve contracts, Sum-19 moved upwards by 1.3% and Win-19 by 1.7% week on week, with a closing price on Friday of 53.06p/th and 62.23p/th respectively.
UK Electricity prices
UK power prices mirrored the gas price movement and the overall upwards trend in the energy complex. Weak renewables generation and low temperatures were the main drivers that resulted in firmer power prices last week. The carbon market moved between €22/t and €23/t.
Day-ahead raised by 4.4%, whereas month-ahead went up by 3.8% during last week. Both contracts ended last week at £60.05/MWh and £62.95/MWh respectively. Sum-19 moved up by 1.1% and settled at £55.08/MWh, while Win-19 moved up 1.2% and closed at £61.49/MWh.
Macroeconomics
The optimism around the China-USA trade talks in Beijing last week have resulted in oil prices moving above the $60/bbl threshold. However, there are increasing concerns over a global economic slowdown following today's news that Chinese exports have seen the biggest fall in two years in December.
Data about the UK trade deficit released last week showed that the deficit narrowed by 4.6% month on month to £2.90bn in November 2018. Data show that during November, exports increased by 0.4% while imports increased only by 0.1%.
What to watch this week
UK gas and power prices opened softer this morning amid an oversupplied natural gas system and adequate wind generation that is expected to peak 6GW for the day.
Demand today is up by around 10mcm compared to seasonal normal levels.
Parliamentary vote on Brexit withdrawal deal is scheduled for Tuesday January 15.
YoY inflation rate data for the UK and Germany are expected to be released on Wednesday 16 January.
To find out more contact us to see how we can help your business reduce energy consumption.