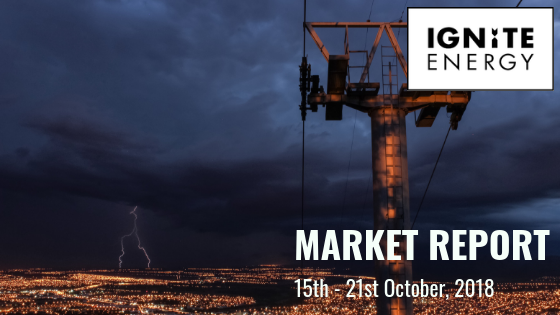 WEEKLY ENERGY MARKET REPORT: 15TH – 21ST OCTOBER 2018
October 16, 2018
Ignite bring you the latest energy news across the UK and Europe. We have the expertise when it comes to translating energy industry consumption trends. Here's the latest news from the UK, Europe and the rest of the world.
UK Gas and electricity prices dropped at the end of the last week, however, the correction came on Monday. The bearish momentum weighed on natural gas and electricity prices last Thursday and Friday. Bearish Crude oil, coal and carbon prices and strengthening in the Pound's value, pushed the UK commodity lower.
 The UK Energy Market Last Week
UK gas and electricity prices moved lower on Friday, as Storm Calum brought strong winds with milder temperatures, giving an extra boost to renewable generation.
Healthy flows from Norway via Lanagaled and St Fergus meant UK gas demand was well supplied.
Expectations of LNG tankers arriving this week to the UK also contributed to bearish sentiment and a feeling of supply security.
The pound strengthened last week reaching as high as 1.33 against the dollar, amid positive talks about Brexit.
UK Electricity Prices
UK day ahead prices are following a decreasing trend in-line with healthy renewable generation. Friday closed setting a bearish tone and day ahead closed the session 5.2% lower than a week ago and consolidating at £59/MWh, while month ahead was at £68.52/MWh, 1.6% down week on week.
The front season, Sum-19, has settled at £58.60/MWh, while the long-term UK electricity contract Win-19 closed at £63.89/MWh, higher by 3.7 % . Sum-20 closed at £52.00/MWh, down by 5.1%. Win-19 and Sum-20 are currently about £13.03/MWh and £13.72/MWh respectively trading higher than the same time last year.
UK Natural Gas Prices
British wholesale gas prices are up on month on month. After a relatively relaxed week, prices for a short term delivery bounced back. The gas demand system is undersupplied at the moment by about 5.51 mcm/d. An expectation of cooler weather impacted on the supply forecast this week.
Day-ahead settled at 67.25p/th, down by 1.1 % week on week, while month ahead was slightly down week on week by 1.9% and closed at 71.70p/th. The mild temperatures seen last week largely contributed to falling prices. While the short-term contracts were trading lower, the long-term contracts such as Win-19 were up. Win-19 has closed last week at 69.76p/th, up by 8.9%.
Macroeconomics
Earnest and Young published a GDP forecast for the UK with the expectations of lower growth for another 3 years. Unsuccessful negations on Brexit may contribute to an even longer period of recovery. The Macroeconomic landscape of the global economy has started changing. The retail sector is becoming dominated by online shoppers, many companies like Sears (in the US) and Claire's (in the UK) are struggling with financial stability. Potential recession and problems with Brexit negotiations may contribute to the austerity of many European economies.
What To Watch This Week
Weather: We would expect a couple of cooler days, hence the demand for gas and electricity is expected to rise. Rising wind will contribute to higher wind generation output.
On Wednesday, the European Council will meet on a new Brexit proposition.
To find out more contact us to see how we can help your business reduce energy consumption.