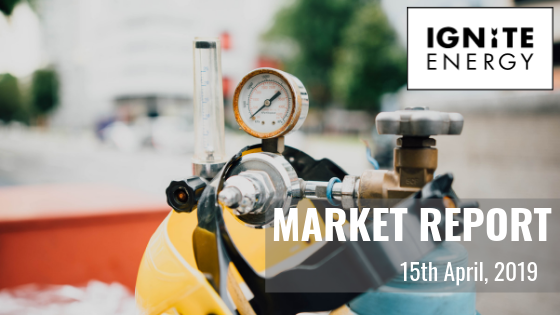 WEEKLY ENERGY MARKET REPORT: 15th APRIL 2019
April 15, 2019
Ignite bring you the latest energy news across the UK and Europe. We track and analyse changes in the energy market to keep you informed and up to date. Here's the latest news from the UK, Europe and the rest of the world.
UK natural gas and power prices closed the week firmer as the price rally that started on Friday 5th and continued further until last Wednesday. The outage at Troll gas field was followed by an unplanned outage at Aasta Hansteen that caused significant flow reductions from Norway to the UK. However, from Thursday onwards Norwegian imports ramped up, thus weighing on natural gas prices.
In terms of the wider energy commodity complex, EU carbon allowances surged by more than 9% within-week and exceeded what was considered by many analysts as the key resistant level at €25.00/t. Carbon prices reached an 11-year high on Thursday's settlement at €27.32/t thus lending support to power curve contracts.
Oil prices traded sideways, in the range of $71/bbl amid increasing optimism in the USA-China trade talks. In addition, the recent conflicts in Libya, an OPEC member, raised concerns that oil supplies from the country might reduce in the near future.
Learn more about what we could do for your business now.
The UK energy market last week
UK power prices moved on the upside by 2.5% on average amid high levels of demand and low wind generation during most days. The carbon rally added further support on curve contracts.
The natural gas market closed the week firmer following the unplanned outage at Aasta Hansteen field that caused reductions to Norwegian flows, thus supporting prices.
Carbon prices reached an 11-year high on Thursday, at €27.32/t, thus breaking what some analysts considered as the key resistant level at €25.00/t
Prices softened on Monday morning as early trading suggests a bearish movement within-day.
UK Natural Gas prices
British wholesale natural gas prices increased during the previous week. The outage at Aasta Hansteen gas field impacted more than 23mcm during the first days and prevailed against the strong LNG flows.
Day-ahead closed at 39.53p/th, 2.70% higher from last week and month-ahead settled at 38.10p/th, a tick up of 0.70% within-week.
In terms of curve contracts, Win-19 settled at 58.62p/th on Friday, that is a 2.70% movement on the upside, week on week, while Sum-20 increased by 1.00% during the same period and settled at 47.67p/th.
UK Electricity prices
UK power prices increased throughout last week as the rally in the carbon market gave direction to the curve contracts. On top of that, poor renewables generation and high levels of demand contributed to the upward price movement.
Day-ahead closed on Friday 5.60% higher from the previous week, at £47.00/MWh whereas month-ahead settled 1.00% higher, week-on-week, at £45.60/MWh.
Win-19 contract increased by 3.00%, within-week, and settled at £60.83/MWh on Friday while Sum-20 increased by 3.40% and settled at £51.52/MWh on Friday.
Macroeconomics
The EU granted a further (flexible) extension to the UK, by the 31st October 2019, however in the case that a deal is reached before the deadline, the end date might move earlier. The Pound moved on the downside and is currently trading at €1.157 as the currency pair is heavily driven by any news on Brexit.
US annual core inflation rate for March increased by 2.00% thus easing off from the 2.10% that markets expected. The core inflation rate excludes energy and food.
What to watch this week
Outlook: Wind and solar generation are expected to increase from Monday and might affect the front of the curve. Prices are expected to remain volatile as any unplanned outages might influence prices. The annual maintenance of gas fields is due to start next month but the impact on prices might be seen from earlier.
Wednesday, April 17: The UK's actual annual inflation rate for March will be announced. Last month it rose to 1.9% following price increases in food and recreational and cultural goods.
Contact us to see how we can help your business reduce energy consumption.