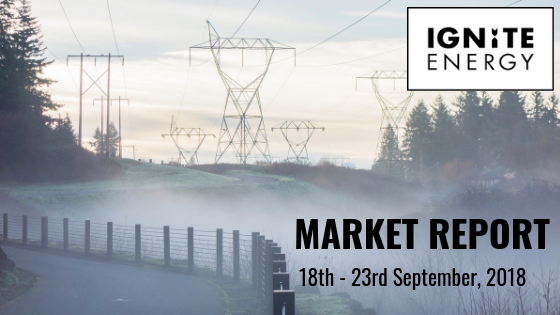 Weekly Energy Market Report: 18th – 23rd September 2018
September 18, 2018
Ignite bring you the latest energy news across the UK and Europe. We have the expertise when it comes to translating energy industry consumption trends. Here's the latest news from the UK, Europe and the rest of the world.
Carbon had a very volatile week of trading, as carbon prices increased, so has price volatility. After peaking on Monday last week, EUA prices fell 20% by Friday to close the week just under 20 €/t.
The carbon vs gas price relationship has come into focus as the result of surging carbon EUA prices. Carbon prices topped 25 €/t last Monday, a 142% move higher from the start of Q2 2018 (when prices were 13 €/t).
The mechanics of this linkage between gas and carbon prices are underpinned by gas vs coal plant switching in European power markets.
Gas and electricity prices maintained its strong correlation to the European carbon market.
The UK Energy Market Last Week
Bullish upside continued throughout the week for gas, with the market nervous about a cold winter, upside in coal and a tight prompt caused by various North Sea outages. Russian flows were also down slightly, reducing injections into Germany.
The market remains nervous, and Europe is exposed to a cold winter due to lower Dutch and UKCS production combining with weak LNG. Faltering Russian and Norwegian output in recent days has heightened nervousness and storages will open winter at historical lows (398TWh for northwest Europe).
UK Electricity Prices
Month ahead settled at £66.95/MWh (7.3% down week on week), while day ahead consolidated around £68.70/MWh (1 % up). At the end of Hurricane Helene, the Wind generation in the UK is expecting to rise to 20% of the energy-mix this week, which is going to have a bearish effect on the prices as it will ease the requirement for CCGT generation.
Long-term UK electricity contract Win-19 was trading lower by 6.6% since Monday and settled at £63.78/MWh on Friday, Sum-20 closed at £51.48/MWh, down by 7.3%. Win-19 and Sum-20 are currently about £18.44/MWh and £13.31/MWh respectively trading higher than the same time last year. The strengthening of long-term contracts compared to last year was driven by rising cost of coal, gas and carbon prices.
Spot electricity prices for day-ahead delivery fell in the European wholesale market, pressured by forecasts for increased wind power supply in Germany and higher French nuclear availability, amid a lower consumption outlook.
The front curve contracts such as Win-18 and Sum-19 contracts were also trading down. Win-18 settled at £71.32/MWh and Sum-19 was at £59.55/MWh on Friday. Win-18 and Sum-19 are currently about £23.17/MWh and £18.69/MWh respectively trading higher than the same time last year but lower than last week.
UK Natural Gas Prices
Total supply remains relatively unchanged and we should see Norwegian flows increase as the majority of maintenance is due to come to an end by the end of the month.
The day ahead settled at 72p/th, down by 6.9% on Friday, while month ahead was down by 6.5% and closed at 71.30p/th. The front winter contract (Win-18) finished at 75.96p/th, down by 6.9% week on week, while Win-19 was at 68.01p/th, down by 4.7%.
The front summer contract prices lost about 5.3 % week on week, whilst further contract such as Sum-20 moved down by 4.6 %.
Macroeconomics
U.S. President Donald Trump is likely to announce new tariffs on about $200 billion on Chinese imports. The escalating trade row is raising concerns about the potential for slower growth in oil consumption, offsetting supply concerns stemming from upcoming U.S. sanctions on Iran over its nuclear programme.
As we have entered the hurricane seasons, disruptions in the US oil industry are likely, boosting oil prices, depending on the extent of any possible disruptions. Additionally, refineries are likely to start ramping down operations as the turn-over season approaches, reducing crude demand, possibly offsetting any spikes.
To find out more contact us to see how we can help your business reduce energy consumption.