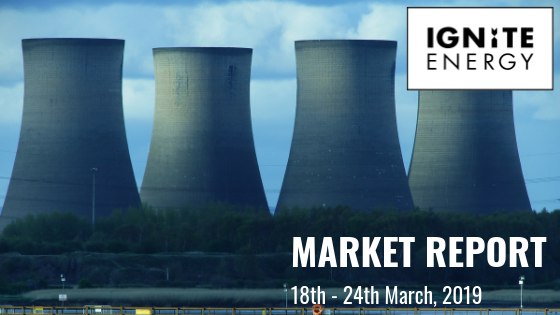 WEEKLY ENERGY MARKET REPORT: 18TH – 24TH MARCH 2019
March 18, 2019
Ignite bring you the latest energy news across the UK and Europe. We track and analyse changes in the energy market to keep you informed and up to date. Here's the latest news from the UK, Europe and the rest of the world.
Power and natural gas markets in the UK and the Continent experienced another bearish movement. Strong fundamentals, healthy renewables and increasing flows of LNG arrivals contributed to prices moving lower last week. It was only during Thursday morning that an uplift in oil prices added support on curve contracts, but the change did not last for long as wind generation persisted.
The strong wind supply was one of the main drivers last week, contributing almost 11GW during all days, thus easing off pressure on other sources of generation i.e. CCGT or carbon.
Oil prices continued moving on the upside amid tightening Venezuelan and Saudi oil supplies as well as the OPEC-led supply cuts. Benchmark, Brent Crude oil, closed the week 0.85% up from last week and settled at $67.16/bbl on Friday.
Brexit headlines dominated the news last week. The UK Parliament rejected Theresa May's deal for a second time during Tuesday's vote. The following day, MPs rejected a No Deal, however this scenario is still possible in case nothing changes by the end of the month. On Thursday, the MPs voted in favour of extending Article 50 but it is this week that the picture might get a bit clearer. Thresa May is planning on bringing her deal back to vote this Wednesday in order to avoid a huge delay on delivering Brexit.
The Pound was driven by the news and traded rangebound 1.17 per Euro and 1.32 per US Dollar during most days. We should expect to see some volatility this week.
The UK energy market last week
Power prices dropped by 4.8% on average last week.
Wind generation weighed on both natural gas and power prices by averaging out 11GW during last week.
The UK Balance of Trade for January illustrated a deficit of £3.82b as import rates outpaced exports.
Prices opened softer on Monday morning, despite demand opening 30mcm above seasonal normal levels.
As of Monday morning, the EU has auctioned 2.495 carbon permits at a price of €21.50/t on EEX (European Energy Exchange), thus pulling power curve contracts lower during the morning session.

UK Natural Gas prices 
UK natural gas prices dipped heavily during the previous week. The strong wind flows, the increasing levels of LNG supplies and the mild weather outlook contributed to the bearish price movement. The wind supply eased off gas for power demand.
Day-ahead closed at 38.30p/th and month-ahead at 37.60p/th, a fall of 9.7% and 9.5% respectively, week on week.
UK Electricity prices
UK power prices mirrored the gas price movement amid strong fundamentals. Strong wind generation, increasing supply flows and mild and wet weather were the main drivers for the drop in power prices last week.
Day-ahead closed the week at £48.45/MWh and month-ahead at £47.50/MWh, that is 1.8% and 1.1% down week on week for both contracts respectively.
Sum-19 contract declined by 6% week on week and settled at £44.59/MWh on Friday while Win-19 closed the week 4.9% lower, at £54.20/MWh.
Macroeconomics
Brexit is at the forefront of global news with currency pairs being affected by what has taken place in the UK Parliament over the last days. Any further developments this week are expected to give direction to the Pound.
The UK Balance of Trade for January was announced last week. The £3.82b deficit was above market expectations of £3.5b as imports rose at a monthly rate of 2.8% whereas exports increased by 2.3%.
What to watch this week
We should expect to see the energy market moving in the same direction, however not as much as we have seen it moving over the last week. Wind generation has dropped significantly today, below 2GW, and is likely to remain at low levels throughout the week. However, temperatures are expected to pick up as we move towards the weekend.
Wednesday March 20: The annual inflation rate in the UK for February will be published at 09.30am UK time. The YoY inflation rate for January was 1.8%, the lowest in two years. This decline is attributed to slow decreases in energy costs.
Wednesday March 20: The UK Parliament is expected to vote on Theresa May's deal for a third time.
Thursday March 21: A decision on interest rates by BoE's policymakers is scheduled to take place. Interest rates are currently at 0.75%.
Thursday March 21: The EU Council will hold a meeting. Then, the EU leaders will vote on whether they wish Article 50 to be extended.
To find out more contact us to see how we can help your business reduce energy consumption.