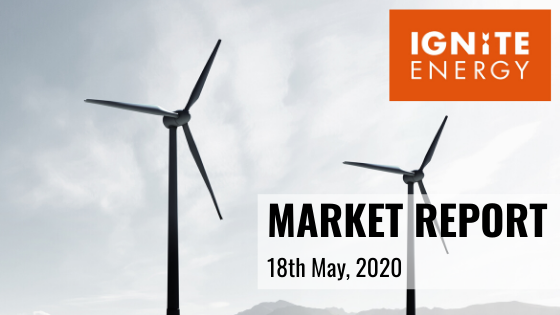 WEEKLY ENERGY MARKET REPORT: 18th May 2020
May 18, 2020
Ignite bring you the latest energy news across the UK and Europe. We track and analyse changes in the energy market to keep you informed and up to date. Here's the latest news from the UK, Europe and the rest of the world.
The UK natural gas forward curve moved sideways during the previous week, as weather fundamentals weighed on prices. The wholesale power prices followed suit, with a comfortable start in renewables generation that was lessened later on as the week progressed.
In the broader energy complex, last month's negative WTI oil prices, i.e. the first time we see oil moving to a negative territory, have added further concerns to an already flooded market, with no storage space left. However, since then, oil prices have rebounded higher than $35/bbl on Brent and around $31/bbl on WTI, as the OPEC+ supply cuts started to take effect in May.
In the Forex front, the Pound signalled extended losses against the Euro amid hurdles in the most recent Brexit negotiations between the UK and the EU. It is currently priced at €1.11.
The UK energy market last week:
UK wholesale power prices dropped by 13% in the front month, whereas the forward curve moved upwards as the market remains well supplied.
Natural gas prices spiked by 3% at the back of the curve, amid cooler weather over the previous days that added reliance on CCGT generation.
Temperatures are forecasted to rise in the upcoming weeks.
Oil prices have now rebounded with oil Benchmark currently priced above £35.00/bbl, as more economies start lifting restriction measures in transportation.
UK Natural Gas prices:  
British wholesale natural gas prices had a mixed week in terms of pricing. Weather fundamentals suggested low temperatures and on top of that, weak renewables generation added further reliance on gas fired generation. Furthermore, the LNG terminal of Dragon closed for maintenance, while five more cargoes are scheduled for delivery in the UK until the end of May.
Month ahead settled on Friday at 11.40p/th on Friday, 13.30% lower from last week. In terms of curve contracts, Win-20 settled at 32.62p/th, that is 0.1% higher, week on week, while Sum-21 rose by 2.5% weekly, at 30.05p/th.
UK Electricity Prices:
UK power prices continued trading at a low-price territory amid correlation with other fuels that advanced in a bearish direction.
Month-ahead closed on Thursday at £24.95/MWh, that is 1.8% lower, week on week, despite a tick up in forward prices. Win-20 increased by 0.7%, week on week, before settling at £41.91/MWh, while Sum-21 closed 1.7% higher than last week, at a price of £37.14/MWh.
Macroeconomics:
Unemployment claims in the UK rose by 856 thousand during the last month, thus totalling 2.097 million in April 2020. This is a record monthly increase for jobless claims in the UK, higher than the market expectations of 650 thousand.
In other macroeconomic news, Britain's GDP dropped by 1.6% YoY in Q1 2020. This is the greatest quarterly decrease in Britain's gross domestic product since Q4 2009.
The US EIA (Energy Information Administration) published the weekly changes in US crude stocks on Wednesday. The inventory levels slowed down by 0.745 million barrels against forecasts for 4.147 million barrels increase. 
What to watch this week
Outlook: Wind generation started slow on Monday and is not expected to pick up significantly this week. Weather fundamentals suggest a mild outlook for the upcoming weeks, thus reducing some reliance on gas demand for fire generation. The spike in the oil markets, after one of the most volatile periods in the energy market, might provide some firmness across other underlying fuels.
Wednesday May 20: YoY inflation rate in the UK will be published with the current rate standing at 1.5% and markets expect an inflation level of 0.8%.
Wednesday May 20: The US EIA (Energy Information Administration) will publish the weekly changes in US crude stocks. Last week's change was a negative 0.745 million barrels.
Monday May 25: Eurozone's strongest economy, Germany, will announce its Q1 2020 GDP YoY growth rate. Last quarter's change was a 0.1% contraction with estimates suggesting a 2.2% drop as we enter into a recession.
Contact us to see how we can help your business reduce energy consumption.