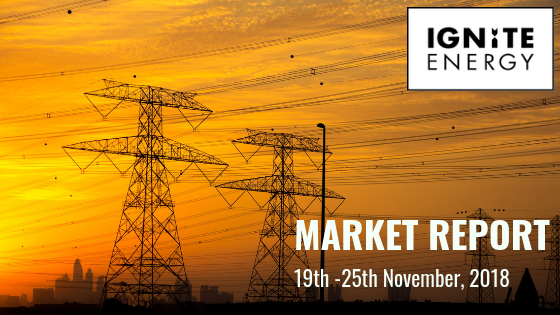 WEEKLY ENERGY MARKET REPORT: 19th – 25th NOVEMBER 2018
November 19, 2018
Ignite bring you the latest energy news across the UK and Europe. We have the expertise when it comes to translating energy industry consumption trends. Here's the latest news from the UK, Europe and the rest of the world.
During last week, natural gas and electricity markets experienced a mixed movement in both directions. Forecast revisions during the start of the week pushed prices higher but later on lowered due to a weak commodity complex.
Oil prices fell for a fourth consecutive week amid waivers issued by the USA to eight major Iranian oil importers. Although these beneficiaries have not been named, analysts believe they include major buyers from Asia and the Mediterranean. Brent Crude moved downwards by 4.79% during the last week and settled at $66.76/bbl on Friday.
Carbon and coal prices moved lower during the end of the week due to a sell-off from one of Germany's biggest electricity producers and due to speculation around a potential UK exit from the EU carbon market in case of a no deal Brexit.
The Pound fell significantly during Thursday, by 1.92% against the euro, on a weekly basis, after the resignation of key members of the government, but stabilised on Friday. It is currently trading at 1.13 per euro, at 09.53 UK time.
The UK Energy Market Last Week
UK natural gas prices moved sideways for another week. Prompt-prices increased slightly due to unplanned outages in Norway, whereas the curve was mainly impacted by the mild expected weather and expected LNG cargos.
UK electricity prices mirrored the gas price movement with long-term contracts declining amid lowering coal and carbon prices.
Oil prices continued falling during the last week on the back of the sanction waivers issued by the USA to Iranian oil importers. However, prices are expected to come back up amid expectation of a cut in supply from OPEC.
UK Natural Gas Prices
The UK natural gas market saw prices moving sideways during the last week.  A decrease in Norwegian flows due to outages at a gas processing plant moved front curve prices higher but expected LNG arrivals and mild weather forecasts for the weeks to come contributed to prices closing lower on Friday, week on week. In terms of prompt prices, the expectation of a cold spell during last weekend was a main factor for the upwards weekly price movement.
Sum-19 contract moved lower by 1.19%, week on week, and closed at 58.31p/th whereas, day-head closed at 67.00p/th, higher by 1.67% during the same timeframe. Month ahead closed at 72.35p/th, up by 0.5% week on week whereas Win-19 decreased by 1.14% at the level of 66.37p/th, week on week.
UK Electricity Prices
In UK power, the trend was similar to that of gas. Prompt-prices increased mainly due to expectations of a weaker wind generation, thus driving demand up. On the other hand, the back of the curve and the longer-term contracts experienced a decrease driven by a lower coal demand in Asia, that occurred last Thursday, and it has eased off prices.
Sum-19 contract closed at £57.40/MWh, lower by 0.86% from last Monday and Win-19 decreased by 0.8% at £63.22/MWh. On the other hand, day ahead increased substantially by 6.6% at a level of £65.25/MWh week on week, and month ahead closed at £68.21/MWh, up by 0.8% from last Monday.
Macroeconomics
Brexit has dominated the global news, after the resignation of key government members, causing even more uncertainty for a Deal between the UK and the EU. The Pound fell sharply following the news last Thursday, by about 1.83% against the Euro and 1.69% against the dollar from Wednesday's closing prices.
The QoQ Unemployment rate in UK was announced at 4.1% for the third quarter. This was slightly higher to 4% expected by the market.  In addition, the inflation rate remained stable at 2.4% for October, YoY. More precisely, prices increased faster in the utilities and housing sectors compared to a slower price growth in food and transportation.
What To Watch This Week
The prices on Monday softened with a 2% downwards movement on average. We may see a recovery later this week.
Weather is expected to fall below seasonal norms at the start of the week but is expected to recover at the end of the week.
Two LNG cargos are expected in the UK this week.
Unemployment rates for Q3 for a key member of the EU, France, are due to be announced on Tuesday.
A meeting of the European Council on Brexit is scheduled for Sunday 25th of November.
To find out more contact us to see how we can help your business reduce energy consumption.