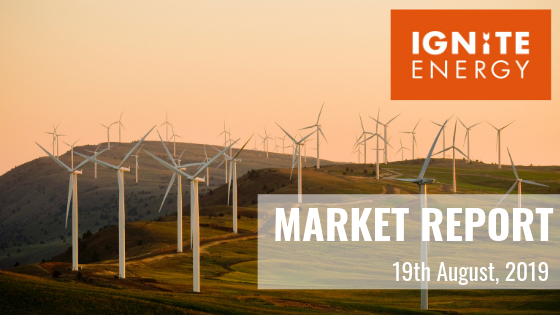 WEEKLY ENERGY MARKET REPORT: 19th AUGUST 2019
August 19, 2019
Ignite bring you the latest energy news from across the UK and Europe. We track and analyse changes in the energy market to keep you informed and up to date. Here's the latest news from the UK, Europe and the rest of the world.
British wholesale power and natural gas prices moved aggressively on the downside in the last week.
Renewables generation picked up with wind supply reaching 10GW on Thursday and Friday, thus reducing reliance on other forms of power generation such as CCGT.  The natural gas market started on the front foot during the last week amid an extension to the outage at Nyhamna gas plant. However, from Thursday onwards prices started dropping due to the overall weakening in the energy commodity complex.
Carbon prices fell by more than 2.5% within-week and EU spot carbon permits are currently trading below €26.50/t. The oil benchmark, Brent Crude dropped below $60/bbl due to increasing concerns over global economic growth, while the US treasury yields are more favourable for the nearer term that the longer term, something that is considered as a strong signal of recession in the global markets.
At the same time, Brexit uncertainty and the increasing fear of a No Deal Brexit under Boris Johnson's premiership are keeping the Pound at €1.092 and $1.212 against the Euro and the US Dollar respectively.
The UK energy market last week
The wholesale power market in Britain fell by 1.5% on the curve contracts, on average, in the last week.
Strong wind generation contributed more than 30% of the overall generation mix in Britain during most days.
As of this morning, wind generation is strong with more than 8GW contribution to the generation mix thus adding more to the bearish start we see today.
UK Natural Gas prices
The British wholesale natural gas prices dropped by 1.5% on the curve contracts, on average during last week.
Day-ahead closed the week at 26.05p/th, that was 12.0% lower, week-on-week, while month-ahead decreased by 9.3% within-week and settled at 30.49p/th.
In terms of curve contracts, Win-19 fell by 2.2% before settling at 48.19p/th whereas Sum-20 dropped by 1.8% at 44.39p/th.
UK Electricity Prices
British wholesale power prices mirrored the natural gas movement. Prices dropped due to strong wind generation and a drop in underlying fuels.
Day-ahead dipped by 21.4% and closed at £33.00/MWh while month ahead decreased by 3.8% and settled at £41.58/MWh.
Win-19 settled at £53.42/MWh and Sum-20 at £48.43/MWh, a decrease of 2.0% and 1.3% within-week for both contracts respectively.
Macroeconomics
The UK inflation rate has risen to 2.1% in July 2019 (announced last Wednesday), that is 0.1% higher from June and 0.2% higher than the Bank of England anticipated (markets expected a 1.9% inflation for July). The 2.1% inflation reflects a fast pace increase in prices mainly in recreation and culture and restaurants and hotels.
what to watch this week
Outlook: We would expect similar levels of wind generation this week that will put downward pressure on power prices. Average UK temperatures are forecast to stay close to seasonally normal temperatures.
Thursday August 22: The Euro Area consumer confidence index for August will be published. The consumer confidence index gives a good idea about households' views on the overall economy and their financial situation.
Contact us to see how we can help your business reduce energy consumption.