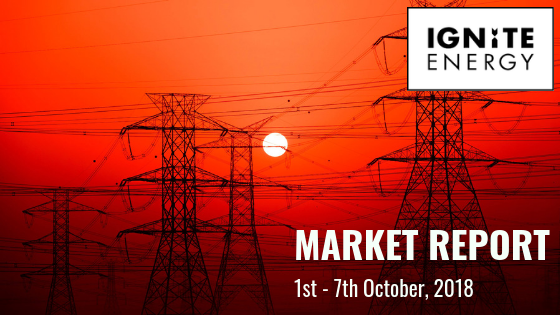 Weekly Energy Market Report: 1st – 7th October 2018
October 2, 2018
Ignite bring you the latest energy news across the UK and Europe. We have the expertise when it comes to translating energy industry consumption trends. Here's the latest news from the UK, Europe and the rest of the world.
Oil prices rallied at the start of this week and are now trading over $82/bbl since OPEC is not increasing its production despite American pressure. This is the highest since November 2014.
In Belgium, there is an unexpected long-term unavailability of the nuclear plants which means a 3,000 MW capacity shortfall until mid-December (the equivalent of 25% of total installed manageable generation capacity in Belgium). Without an additional 1,600 to 1,700 MW of capacity, system operator Elia cannot always guarantee the security of supply without a load-shedding plan. Elia is working actively with the relevant parties to examine and develop appropriate solutions.
The UK Energy Market Last Week
A strong performance from renewables followed by warmer than average UK temperatures has led to an easing of pressure on the gas system, causing prices to drop off this week.
The power system has been reasonably comfortable thanks to some healthy renewable generation. The power generated through wind has reduced the pressure on carbon generation such as CCGT.
From Tuesday onwards the gas system has been oversupplied, driven by a strong performance from renewables which has eased the gas demand for gas-fired power plant.
Whereas at the beginning of last the week the gas system was short due to unplanned outages in one of the Norwegian fields.
UK Electricity Prices
UK spot and day-ahead markets are following a decreasing trend in line with the German spot electricity prices for day-ahead, where the wind power generation was higher than forecasted. Meanwhile, the French and Belgium markets are rising, supported by an increase in demand and a low nuclear power availability.
Month-ahead settled at £70.40/MWh while day ahead consolidated around £69.10/MWh (4.8% down compared to last week).  For the spot market, this trend down is mainly due to wind generation in the UK. This had a bearish effect on the prices as it has eased the requirement for CCGT generation.
The long-term UK electricity contract Win-19 was trading lower by 3.7 % since Monday and settled at £64.79/MWh on Friday. Sum-20 closed at £52.28/MWh, down by 2.7%. Win-19 and Sum-20 are currently about £19.89/MWh and £14.21/MWh respectively trading higher than the same time last year. The strengthening of long-term contracts compared to last year was driven by the rising cost of coal, gas and carbon prices and oil.
The front curve contracts such as the Sum-19 contracts were also trading down. Sum-19 settled at £59.89/MWh.
UK Natural Gas Prices  
British wholesale gas prices are falling as the system is oversupplied at the moment. This is because supplies from Norway increased at the end of last week. this results in a lower gas demand.
Flows from Norway, which nearly tripled on Friday, and forecasts for milder weather on Tuesday caused the decline of prompt gas prices.
The day ahead settled at 72p/th, down by 8.9% on Friday, while month ahead was down by 7.4% and closed at 72.10p/th. The average daily temperatures in Britain have been higher than expected and have lowered the demand for gas. The Win-19 was at 62.55p/th, down by 5.0%.
The front summer contract prices lost about 6.4 % week on week, whilst further contracts such as Sum-20 moved down by 4.3%.
Macroeconomics
Higher oil prices and Dollar strength, which has battered the currencies of several big crude importers, could hit demand growth next year.
But for now, the focus is U.S. sanctions on Iran's energy industry, which come into force on November 4th and are designed to cut crude exports from the third-biggest producer in the Organization of the Petroleum Exporting Countries (OPEC).
What To Watch This Week
Carbon: We expect higher auction volumes to weigh on EUA prices this week, as the UK and German auction will both carry additional volumes from the previously canceled ones. Signals from technical indicators and gas markets are not supportive either. The nearest support is seen at €20/t.
Manufacturing, construction, and services PMI data is to be released next week. These are leading indicators of economic health and therefore could affect the Pounds volatility. However, the Euro may also be vulnerable to volatility depending on how Brussels react to Italy's deficit decision, meaning the pound could make gains.
To find out more contact us to see how we can help your business reduce energy consumption.