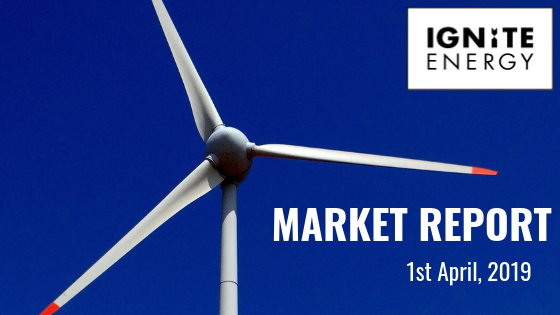 WEEKLY ENERGY MARKET REPORT: 1ST APRIL 2019
April 1, 2019
Ignite bring you the latest energy news across the UK and Europe. We track and analyse changes in the energy market to keep you informed and up to date. Here's the latest news from the UK, Europe and the rest of the world.
UK natural gas prices closed the last week of March firmer as we moved towards the Sum-19 delivery period. The price uplift is attributed to an increase in the overall energy commodity complex despite a significant increase in supply flows. On top of that, an unplanned outage at Oseberg field caused reduced flows mainly through St Fergus during most days of the week. In terms of the power market, the average increase in a weekly basis was 2% however day-ahead prices decreased by 1.6% in the same period.
Oil prices reached a new high amid increased optimism around the USA-China trade talks as well as the ongoing supply cuts by OPEC. On top of that, positive signs of the global economic outlook added further support to prices. The benchmark, Brent Crude oil, increased by nearly 2% within-week before settling at $68.52/bbl on Friday. It is currently trading at $68.57/bbl.
In terms of Brexit, the PM's plan was rejected for a third time by the MPs. The Pound fell to €1.155 but since then it came back up as MPs prepare to vote on different Brexit options later today. The Pound is currently trading at €1.167 and $1.312 respectively.
The UK energy market last week
UK natural gas prices increased by 1.5% on average as we moved towards the summer delivery period.
Wind generation remained below 5GW during most days of the week.
Prices opened softer on Monday morning due to increased LNG flows and strong solar generation that contributes more than 9GW to the generation mix. Six LNG tankers are expected to arrive in Britain by Sunday.
UK Natural Gas prices
British wholesale natural gas prices moved on the upside during last week. Reduced flows from Norway and low levels of wind generation pushed prices lower. The $1.18/bbl increase in oil prices within-week supported the contracts mainly on the back end of the curve.
Day-ahead closed at 35.50p/th and month-ahead at 35.75p/th, a slight drop of 0.80% for the former and a tick up of 0.40% for the latter, week on week.
In terms of curve contracts, Sum-19 settled at 36.74p/th on Friday, that is a 1.70% movement on the upside, week on week, while Win-19 increased by 2.00% during the same period, at 51.09p/th.
UK Electricity prices
UK power prices closed the week firmer, mainly driven by a strengthened energy commodity complex while renewables generation was poor for another week. Wind generation averaged out 5GW during last week.
Day-ahead closed on Friday 1.60% lower from the previous week, at £42.05/MWh whereas month-ahead settled 1.9% higher, week-on-week, at £43.21/MWh.
Sum-19 contract increased by 2.50%, week-on-week and settled at £43.90/MWh on Friday. The increase in Win-19 was of similar magnitude, 2.50% on the upside, with a settlement prices of £54.16/MWh.
Macroeconomics
In the global markets, the US trade deficit narrowed to $51.1b in January 2019. The previous month's deficit was $59.9b, the largest since the financial crisis of 2008.
Preliminary estimates for Germany's YoY inflation rate, suggest a rate of 1.3%, lower from the 1.5% in February. The main influential factor behind those expectations is a potential slowdown in price increases in the food and services sectors.
What to watch this week
Outlook: We should expect to see an adjustment of flows to the UK and the Continent. The short-term weather forecast suggests higher temperatures as we progress throughout the week. Wind generation is likely to remain at relatively low levels as seen in the last few weeks but solar generation most likely to pick up as is the case today.
Monday April 01: The MPs of the UK Parliament will be asked to vote on eight possible Brexit options this evening, as part of the indicative votes. Voting is expected to begin at 20.00pm UK time.
Friday April 5: US Non-Farm Payroll data for March will be announced at 12.30 am UK time. Non-farm payrolls in January revealed the lowest job gain since February 2017, that is 20 thousand jobs.
To find out more contact us to see how we can help your business reduce energy consumption.