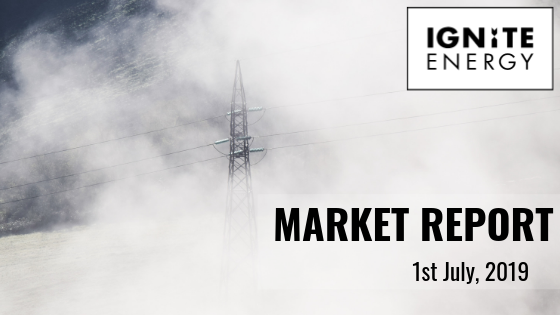 WEEKLY ENERGY MARKET REPORT: 1st JULY 2019
July 1, 2019
Ignite bring you the latest energy news across the UK and Europe. We track and analyse changes in the energy market to keep you informed and up to date. Here's the latest news from the UK, Europe and the rest of the world.
The UK electricity and gas markets have been dominated by bearish momentum over the last week. Gas and electricity prices dropped about 5% across the curves, amid plenty of nat gas from LNG and Norway and falling demand for gas and electricity. Renewables generation, especially wind and solar provided healthy input to the electricity supply system.
While gas and electricity prices were plummeting, Brent Crude prices kept steady above $60/BBL. Uncertainty in the Middle East and discussions between OPEC and Russia on further cuts of global oil production contributed to a high level of Brent Crude prices.
The UK energy market last week
The British power market moved lower last week, as wind generation provided healthy input with almost 1 MW more than required daily.
Gas contracts softened across the curve at the end of last week, amid plenty of gas flowing from Norway to the UK.
Another LNG tanker, Al Samriya, arrived to South Hook from Qatar last Friday, bringing more than 250k cubic meters of LNG to the UK supply system.
UK Natural Gas prices
British wholesale natural gas prices for near delivery softened by 5.2% on average. Norwegian flows kept the system comfortable during most days and an additional 250k cubic meters of gas arrived from Qatar to South Hook. At the same time, the UK Shelf Curve(UKCS) production was about 88-90 mcm.
Day-ahead closed the week at 24.30 p/th, that was 10.3% lower from last week whereas month-ahead settled 9.1% lower from last week at 24.00p/th.
In terms of curve contracts, Win-19 settled at 49.85p/th and Sum-20 at 44.00p/th, a decrease of 3.8% and 3.50% within-week for both contracts respectively.
 UK Electricity Prices
Power prices dropped during last week, following the gas curve direction. The drop in price was also supported by a healthy wind production. Day-ahead dropped by 21.1 %, and closed last week at £37.25/MWh whereas month ahead decreased by 4.00%, and closed at £36.94MWh.
Win-19 settled at £55.08/MWh and Sum-20 at £48.26/MWh, a decrease of 2.2% and 2.0% within-week for both contracts respectively.
Macroeconomics
Recent statistics from the Department of international Trade show that the number of foreign investments in the UK dropped by 14% in 2018/2019. The number of jobs created fell by 24%, reaching the lowest level for seven years.
What to watch this week
Outlook: Following a relatively strong opening this week, we would anticipate gas and electricity curves trading higher for the rest of this week. OPEC and Russia are in talks about further limits on oil production for the next 9 months. If the production curve is successfully accepted, we may see a gradual increase in prices, as we saw last year.
Monday July 01 2019: US PMI Index to be published and the growth in manufacturing is expected.
Wednesday July 3: The UK Balance of Trade is expected to be released with a forecast of -£2.6 bn
Contact us to see how we can help your business reduce energy consumption.