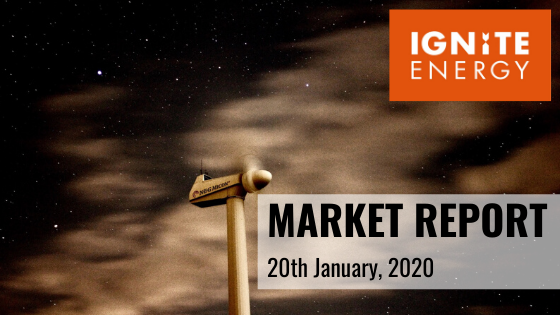 WEEKLY ENERGY MARKET REPORT: 20th January 2020
January 20, 2020
Ignite bring you the latest energy news across the UK and Europe. We track and analyse changes in the energy market to keep you informed and up to date. Here's the latest news from the UK, Europe and the rest of the world.
British wholesale power prices dropped significantly in the last week due to support from wind generation that peaked at 12GW and reduced reliance from gas-fired power generation. Front-season contracts started the week at 38.62/MWh before settling at 37.05/MWh on Friday.
Natural gas prices followed a similar price development as that of power contracts on the back of the mild winter that resulted in lower levels of demand. Strong LNG imports added further flexibility to the system, however, we saw a decrease in LNG send out on Thursday as strong winds from Storm Brenda have prevented cargoes from docking at the scheduled time.
In the wider energy complex, Oil closed the week 1% higher at $64.85/bbl and currently trading above $65/bbl. The uplift coincided with the release of the US oil inventory level data on Wednesday that showed a draw on stock levels thus adding price support.
The UK energy market last week
UK power curve contracts dropped by 4.1% on average in the last week as the mild weather outlook prevailed.
The natural gas market dropped by 7.4% within-week as healthy supply flows cancelled out any effects caused by unplanned outages at Norway's oil and gas fields.
Oil prices ticked up above $65/bbl as an unexpected draw in US stock levels added a factor of bullishness in the oil market.
UK Natural Gas prices
The natural gas market started the week strong however, the ongoing mild weather outlook contributed to lower pressure on demand-for-gas.
Gas inventory levels depleted last week due to storm Brenda but managed to increase later on with the arrivals of new LNG cargoes that led to LNG storage levels reaching their maximum capacity. An unplanned outage at Oseberg last night and planned maintenance at Gullfaks has resulted in a decrease in flows from Norway however, the effects have been cancelled out by the comfortable fundamentals.
In terms of price movement, month-ahead prices dropped by 10% throughout the last week and closed at 28.31p/th. Sum-20 and Win-20 settled at 26.96p/th and 39.87p/th a considerable drop by 9.7% and 8.6% respectively.
UK Electricity Prices
UK power prices weakened further during the previous week. Wind generation added pressure on prices at the start of the week before gas-fired turbines took dominance of the overall power stack on Wednesday. An unplanned outage at Heysham reactor 2 has added some uncertainty to the fundamentals but nuclear generation remained constant at 15%.
Prompt contracts dropped by 5.1% at £38.10/MWh while Sum-20 and Win-20 dropped by 4.1% and 4.7% and settled at £37.05/MWh and £46.25/MWh respectively.
Macroeconomics
Phase 1 of the trade deal was signed last Wednesday between the USA and China. The markets, however, remained intact, in terms of pricing, because the USA has not agreed to remove any of its tariffs on Chinese goods until a Phase 2 is agreed.
YoY inflation rate for the UK has slowed down to 1.3% in December 2019, as prices on restaurants, hotels, transport, food and non-alcoholic beverages have increased at a soft pace and below the consensus of 1.5%.
what to watch this week
Outlook: Temperatures are set to be slightly colder the next couple of days but most likely to return to mild and windy weather before the end of the week, thus we do not expect a significant drop in average temperature levels.
LNG imports to the UK look comfortable with 7 LNG tankers scheduled to dock in the UK by the end of the week while LNG storage levels are close to maximum capacity and they will be able to restore any imbalance in case of unplanned outages.
Thursday 30th January. The Bank of England's interest rate decision will be made. The Bank of England's Monetary Policy Committee voted by a majority of 7-2 to hold Bank Rate at 0.75% during its December policy meeting. January holds some uncertainty.
Friday 31tst January. The UK's consumer confidence index for January will be announced. The GfK consumer confidence in the United Kingdom remained at -11 in December 2019 from -14 in November 2019, which was the lowest level in the last seven years.
Contact us to see how we can help your business reduce energy consumption.