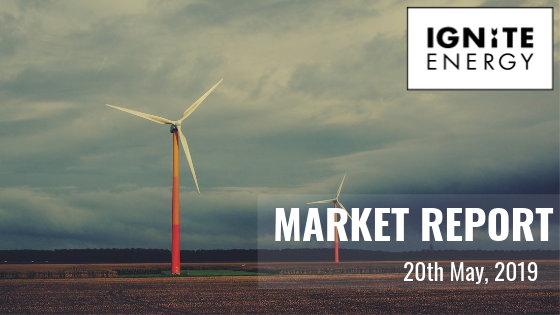 WEEKLY ENERGY MARKET REPORT: 20th MAY 2019
May 20, 2019
Ignite bring you the latest energy news across the UK and Europe. We track and analyse changes in the energy market to keep you informed and up to date. Here's the latest news from the UK, Europe and the rest of the world.
Last week we saw power prices move sideways. Intermittent wind generation was largely counterbalanced by comfortable fundamentals. The overall strengthening in the carbon market added support to far-curve contracts that settled higher within-week.
The picture is similar in the natural gas market, with prompt contracts softening as healthy supplies, mainly through high levels of LNG arrivals, have kept the system flexible at all times.
In the wider energy commodity complex, carbon prices rose as we saw some speculation in the market as to how many EU carbon permits would be removed by the EU. Following the announcement on Thursday, that almost 400m permits would be taken out of circulation in the next period until August 2020, prices softened and retreated around €25.00/t.
The oil market keeps rallying as the US sanctions on Iran started taking place. Another driving force is the ongoing trade dispute between the USA and China. Brent Crude closed the week at $72.20/bbl while this morning we saw it opening higher at $73.00/bbl.
The UK energy market last week
Intermittent wind generation was largely counterbalanced by comfortable fundamentals and relatively low levels of demand during most days.
Carbon prices increased due to anticipation and speculation as to how many EU permits would be removed by the EU in the upcoming period. Following the result on Thursday, that was in line with market expectations, the carbon prices retreated to the area of €50/t.
Prices opened firmer today as low wind generation continues while we see another reduction n Norwegian flows.
UK natural gas prices  
British wholesale natural gas prices also moved sideways last week. Prompt prices moved downward, week on week, as healthy supply flows from LNG arrivals and a healthy weather outlook that kept demand levels relatively low. The curve contracts were mainly impacted by the wider energy complex with geopolitical tensions leading the way in the ongoing oil rally.
Day-ahead closed at 30.25p/th, nearly 7.00% lower from last week whereas month-ahead decreased by 5.80% from last week before settling at 30.20p/th.
In terms of curve contracts, Win-19 settled almost flat at 54.20p/th, week on week, while Sum-20 rose by 1.60% during the same period, at 45.17p/th.
UK electricity prices
Power prices traded sideways in the last week. An overall strengthening in the carbon market up until Wednesday led to an overall increase in the curve contracts whereas mild weather conditions have kept the prompt prices lower from week to week.
Day-ahead closed on Friday at £41.20/MWh and month ahead at £40.62/MWh, a downward movement of 1.90% and 3.90% respectively, on a weekly basis.
Win-19 contract closed the week only 0.6% lower from last week's close, at 57.23%, while Sum-20 rose by 0.50% during the same period, at a price of £48.39/MWh.
Macroeconomics
Germany's YoY inflation rate in April announced at 2.00%. That is above the 1.30% of the previous month as energy, food and services prices increased at a faster pace.
What to watch this week
Outlook: The weather outlook for the week is expected to be in line with seasonal normal levels. LNG arrivals look strong for the rest of the month while storage levels are close to 50.00%
Tuesday May 21: The consumer confidence indicator in the Euro area, for May, will be published. April's result was at -7.9 due to households' negative outlook on their finances and the overall macroeconomic conditions.
Wednesday May 22: UK's YoY inflation rate for April will be announced. Last month's inflation rate was at 1.90%.
Thursday May 23: The EU Parliamentary elections will take place and depending on the outcome we might see some volatility on the FX market.
To find out more contact us to see how we can help your business reduce energy consumption.