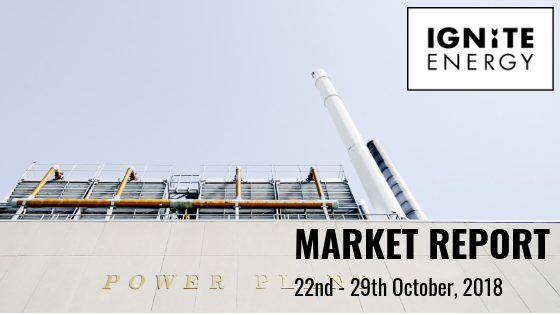 WEEKLY ENERGY MARKET REPORT: 22nd – 29th OCTOBER 2018
October 22, 2018
Ignite bring you the latest energy news across the UK and Europe. We have the expertise when it comes to translating energy industry consumption trends. Here's the latest news from the UK, Europe and the rest of the world.
UK Gas and Electricity prices lost their bullish momentum over the last week. It became quite apparent that prices were slowing down and started trading sideways. However, it is still too early to confirm whether there is a change in the curve direction. According to the US weather forecast stations, this winter will bring periods with very cold spells, which may lift gas and electricity prices up. The lack of gas storage in the UK will contribute to a bigger reliance on LNG imports over the winter period.
The UK Energy Market Last Week
UK Gas and electricity prices opened lower this morning than last Friday, despite Brent Crude trading above $80/bbl.
Healthy gas flows from Norway keep the UK demand system oversupplied for the fifth day in a row.
Electricity prices mirrored the gas sentiment and they are trading lower as well, despite coal and Crude Oil prices trading higher than last Friday.
The pound falls to €1.33 as Brexit negations ended last week without a deal.
UK Electricity Prices
UK day-ahead prices are following a decreasing trend in-line with healthy renewable generation and healthy gas supplies. The day ahead contract closed at £65.20/MWh on Friday, 2.5% lower than a week ago. Month-ahead closed at £68.41/MWh, 1.3% up week on week, however prices for the next month delivery continue falling.
The front season, Sum-19, has settled at £59.00/MWh, up by 3%. The long-term UK electricity contract Win-19 closed at £63.79/MWh, higher by 2.3%. Sum-20 closed at £51.43/MWh, up by 2.0%. Win-19 and Sum-20 are currently about £18.01/MWh and £12.18/MWh respectively trading higher than the same time last year.
UK Natural Gas Prices
After a relatively well supplied week, the day ahead contract closed higher amid rising gas demand before the weekend. Since the maintenance period was completed, no major outages were reported.
Day-ahead settled at 68.00p/th, up by 0.4% week on week, while month ahead was up by 1.5% and closed at 72.60p/th. The mild temperatures that were seen last week, healthy supplies, and no significant outages largely contributed to prices moving sideways. Sum-19 finished last week at 62.07p/th, up by 1% week on week.  The longer-dated contract – Win-19 closed at 69.91p/th, almost at the same level as a week before.
Macroeconomics
The UK Budget for the next financial year is due to be announced next week (29th October). The key points to be mentioned are:
NHS financial support – Theresa May promised to find additional £20bn by 2023 to support the National Health Service.
"Austerity comes to an end" – according to BBC news, Theresa May is looking to announce the end of austerity measures.
From the global economic perspective, China recorded lower than expected economic growth. GDP growth between July and September was recorded at 6.5% – this is the slowest pace since 2009. The main reason behind the slow down is the trade war between China and the US, and high levels of national debt.
What To Watch This Week
Weather: We would expect a couple of cooler days, hence the demand for gas and electricity is expected to rise.
Due to the high LNG demand in Asia, no cargoes were scheduled for next week. We would expect the gas system to be relatively tight.
Thursday 25th October, European Central Bank (ECB) is going to announce the decision on interest rates.
To find out more contact us to see how we can help your business reduce energy consumption.