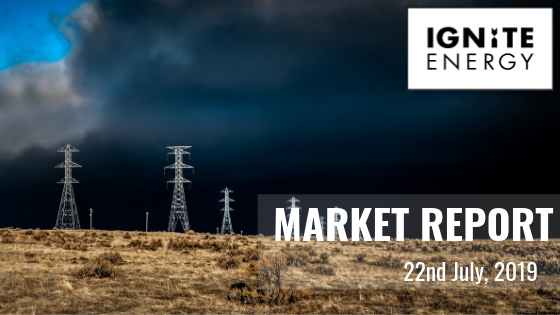 WEEKLY ENERGY MARKET REPORT: 22nd JULY 2019
July 22, 2019
Ignite bring you the latest energy news across the UK and Europe. We track and analyse changes in the energy market to keep you informed and up to date. Here's the latest news from the UK, Europe and the rest of the world.
British wholesale Power and Natural Gas markets dipped during the previous week due to an oversupplied market and a softening in underlying fuels.
In the natural gas market, levels of demand have been higher than seasonal normal levels throughout the week while there were relatively comfortable fundamentals. A few unplanned outages at a couple of Norwegian oil and gas fields caused flow disruptions to the UK but only temporarily.
The British power generation mix has been CCGT dominated however renewable generations and mainly wind supply increased gradually up until Thursday.
The carbon market reached fresh 11-year highs last Monday but immediately dropped below €29/t and stayed above €28/t.
There was a bearishness in the oil market as the global economic growth outlook looks less promising due to the ongoing trade tensions between the USA and China. However, on Friday we saw oil prices picking up as tensions in the Middle East escalated following the news that the US Navy shot down an Iranian drone. However, Iran denied the existence of the drone.
The UK energy market last week
The British wholesale power market fell by more than 2% last week on the curve contracts, on average, due to a softening in the underlying fuels.
Carbon started last week at fresh 11-year highs before retreating to slightly above €28/t.
Wind generation opened up strong on Monday morning at 9GW, or 30% of the power generation mix thus reducing reliance on CCGT that contributes almost 10GW.
As of this morning, power prices opened slightly on the upside despite healthy renewables.
UK Natural Gas prices
The British wholesale natural gas prices dropped by 3.1% on average from the previous week due to comfortable fundamentals. There were a few unplanned outages at Troll and Aasta Hansteen gas fields but with low impact.
Day-ahead closed the week at 28.80p/th, that was 16.8% lower, week-on-week, while month-decreased by 16.5% within-week and settled at 28.67p/th.
In terms of curve contracts, Win-19 settled at 53.23p/th and Sum-20 at 47.08p/th, a decrease of 2.9% and 2.4% for the two contracts respectively.
UK Electricity Prices
Power prices dropped last week as the main drivers of the energy complex, oil and carbon, started retreating from Monday afternoon. On top of that, an increase in renewable generation weighed on power prices last week.
Day-ahead dropped by 15.5% and closed at £41.60/MWh while month ahead fell by 8.9% and settled at £40.52/MWh.
Win-19 settled at £58.39/MWh and Sum-20 at £51.06/MWh, a drop of 2% within-week for both contracts respectively.
Macroeconomics
UK's inflation rate for June remained at 2% and in line with market expectations. Prices in food and non-alcoholic drinks increased whereas price increases in transportation and housing and utilities slowed down.
what to watch this week
Outlook: Temperatures are expected to be warmer this week with comfortable wind and solar generation. We might see some action in the Euro as there are few events in the Euro Area. ECB's interest rated decision on Thursday followed by the press conference are the most important events from a macroeconomic point of view.
Tuesday July 23: The consumer confidence indicator in the Euro Area for July will be announced. June's indicator was at -7.2 which reflected households' negatives views on their financial situation and the overall economic conditions.
Thursday July 25: The ECB is expected to announce their decision on interest rates.
Contact us to see how we can help your business reduce energy consumption.