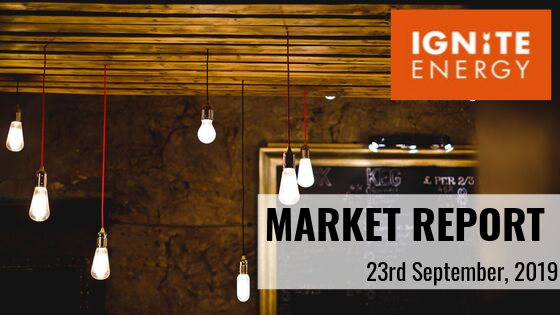 WEEKLY ENERGY MARKET REPORT: 23rd SEPTEMBER 2019
September 23, 2019
Ignite bring you the latest energy news across the UK and Europe. We track and analyse changes in the energy market to keep you informed and up to date. Here's the latest news from the UK, Europe and the rest of the world.
The British wholesale power market started trading on the front foot last week on the back of EDF's report that a few French nuclear reactors might contain substandard parts. However, later in the week, EDF stated that no maintenance works will be required at the affected facilities, thus easing off prices. The issues reported by EDF had an impact on gas prices as well. The gas system remained relatively tight while demand exceeded seasonal normal levels by more than 50mcm during most days of the week.
In the wider energy complex, oil prices jumped after the drone attacks at Saudi Aramco's facilities. However, the company suggested that they will be back in full production by the end of the month thus sending the markets on a downward movement.
The UK energy market last week
British wholesale power prices settled 4% lower week-on-week during a very volatile week in the global energy markets.
British wholesale natural gas prices had a jump start on Monday but retreated during the following days due to a lack of bullish drivers and despite a relatively high level of demand for gas.
As of this morning, power and natural gas prices softened despite a drop in Norwegian flows.
UK Natural Gas prices
The British wholesale natural gas prices decreased by 4.1% on the curve contracts on average, during last week.
Day-ahead closed the week at 25.40 p/th, that is 17.4% higher, week-on-week, while month-ahead dropped by 15.2% within-week and settled at 33.33p/th.
In terms of curve contracts, Win-19 plunged by 6.4% before settling at 49.02 p/th whereas Sum-20 decreased by 3.1% at 46.07 p/th.
UK Electricity Prices
British wholesale power prices mirrored the natural gas movement during the previous week.
Day-ahead fell by 1.3% and closed at £38.00/MWh while month ahead decreased by 10.10% and settled at £42.90/MWh.
Win-19 settled at £54.28/MWh and Sum-20 at £49.87/MWh, 5.5% and 3.1% lower within-week, respectively.
Macroeconomics
On the macroeconomic front, the Federal Reserve has lowered its key interest rate (federal funds rate) by 25 basis points from the 2%-2.25% range to the 1.75%-2% range. In their statement, the FED mentioned that the fall in the interest rate will serve the primary goal of the US economy, that is a 2% inflation rate target and a strong labour market in order to sustain expansion.
The UK's YoY inflation rate for August announced at 1.7%, down from 2.1% in July. That is below market expectations of 1.9%. This is the lowest inflation rate in 32 months.  The decrease is attributed to a slowdown in clothing prices and transportation costs.
The Pound strengthened against the Euro during the weekend and is currently priced at €1.134.
what to watch this week
Outlook: Higher wind generation and warmer temperatures are expected this week. However, prices will be affected by any potential shutdown of French nuclear reactors. Furthermore, any geopolitical tensions in the Middle East are expected to provide direction to markets.
Week: Monday 23 September – Friday 27 September : Consumer confidence index data for Germany and the UK are expected to be released this week.
Contact us to see how we can help your business reduce energy consumption.