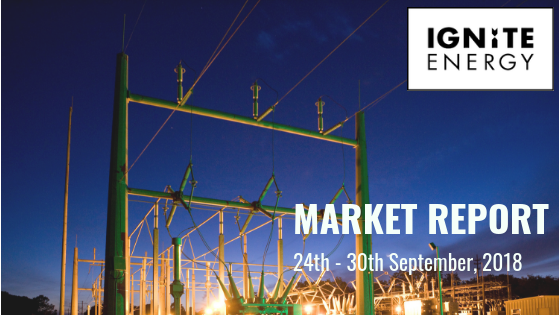 Weekly Energy Market Report: 24th – 30th September 2018
September 27, 2018
Ignite bring you the latest energy news across the UK and Europe. We have the expertise when it comes to translating energy industry consumption trends. Here's the latest news from the UK, Europe and the rest of the world.
The UK Energy Market Last Week
Gas and electricity prices continue to move higher in the spot and in the long-term contract markets. The gas system was tight last week due to lower imports from Norway and low storage in the market which has created nervousness in the market.
On one hand, natural gas prices again pushed higher as forecasts for approaching cooler weather helped the bullish outlook with the wind output being lower and the carbon trading strongly.
European carbon has not fully recovered from the sharp drop on 13 September. Two of five EUA governmental auctions failed last week and could be a sign of lower demand.
A colder than normal end to September has required storage withdrawals in the UK, giving additional support to gas via the front of the curve. For several weeks, upward momentum has come from the WIN18 contracts. However, Asian LNG prices for NOV18 have fallen and LNG may be attractive to Europe in October, reducing tightness and perhaps indicating that OCT18 is reaching a ceiling.
On one hand, Power prices gained value driven by bullish trading within the NBP gas market and strengthening coal and oil prices. Wind output accounted for 33% of UK's generation, more than double that of CCGT's this output is expected to fall dramatically from the start of the week.
UK Electricity Prices
Month ahead settled at £71.20 /MWh (4.3% up week on week), while day ahead consolidated around £65.70/MWh (2.7 % up).
Bullish upside continued throughout the week due to a cooler weather outlook, the fear over Belgian and French nuclear availability which will reduce the UK import via the interconnectors.
Long term UK electricity contract Win-19 was trading lower by 6.6 % since Monday and settled at £63.78/MWh on Friday, Sum-20 closed at £51.48/MWh, down by 7.3%. The strengthening of long-term contracts compared to last year was driven by rising cost of coal, gas and carbon prices.
UK Natural Gas Prices
The system was tight last week due to lower imports from Norway and low storage in the market which has created nervousness in the market. The demand in the UK remains above seasonal normal driven by colder temperatures compared to last year.
The day ahead settled at 77.45p/th, up by 8.3 % on Friday, while month ahead was up by 6% and closed at 76.45p/th. The front winter contract (Win-18) finished at 80.72p/th, up by 2.8 % week on week, while Win-19 was at 72.00p/th, up by 3.5%. The gas demand for Europe and the low level of storage for this period of the year have causes prices to remain strong.
Macroeconomics
Following the OPEC meeting, Saudi Arabia and Russia won't add significantly more oil to the market. The move helped push crude prices to a four-year high near $81 a barrel on Monday. Also underpinning the market is the prospect of lower exports from Iran, OPEC's third-largest producer, due to U.S. sanctions.
The next meeting of the conference – the full group of OPEC and non-OPEC ministers, is not until December.
What To Watch This Week
U.S. tariffs on $200 billion worth of Chinese goods and retaliatory taxes by Beijing on $60 billion worth of U.S. products including liquefied natural gas (LNG) kicked in on Monday, unnerving global financial markets.
Certain forces in the United States have been making groundless criticisms against China about trade and security issues, which has poisoned the atmosphere for Sino-U.S. ties and is highly irresponsible, State Councillor Wang Yi was quoted as saying, without naming anyone.
U.S. exporters including LNG suppliers would certainly be hurt, but Beijing's retaliation would provide opportunities to other LNG-exporting countries, adding that Australia is an important source of the fuel for China.
o Weather
o Shortage of capacity in Europe
o Carbon
To find out more contact us to see how we can help your business reduce energy consumption.
https://www.igniteenergy.co.uk/contact-us/