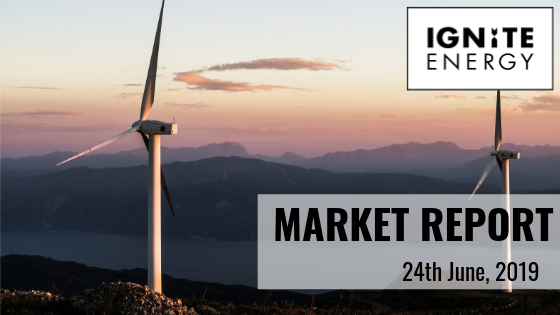 WEEKLY ENERGY MARKET REPORT: 24th JUNE 2019
June 24, 2019
Ignite bring you the latest energy news across the UK and Europe. We track and analyse changes in the energy market to keep you informed and up to date. Here's the latest news from the UK, Europe and the rest of the world.
The last week opened with relatively lower prices across the gas and electricity curve. From Wednesday prices edged up higher, due to rising oil prices and an extended outage of the nuclear plant at Hunterstone.
It was a tumultuous week in the oil markets. Potential military escalation of conflict between Iran and the US pushed the oil prices up. As a result, the wider energy complex edged higher. Oil, LNG and coal prices moved higher. Carbon price also crept upwards. As a result, the UK electricity curve closed the week higher than it opened.
Natural gas prices also edged higher. The front curve was supported by curtailed gas flows from Norway and France. The further curve was supported by shadowed other commodities such as oil and LNG.
The UK energy market last week
The British power market moved higher from Wednesday last week by 3.1% on average across the prompt and curve contracts.
Gas contracts for near delivery softened, as the new LNG cargo was docked at Dragon, however, the rest of the curve moved up, amid rising prices of global commodities.
Brent Crude prices moved up by 6.2% week on week due to rising military tension between Tehran and Washington.
UK natural gas prices
The British wholesale natural gas prices for near delivery softened by 7.5% on average thus as Norwegian flows kept the system length comfortable during most days and additional 212k of cubic meters of gas arrived from Qatar.
Day-ahead closed at 28.05p/th, that is 9.7% lower from last week whereas month-ahead settled 5.50% lower from last week at 27.35p/th.
In terms of curve contracts, Win-19 settled at 51.64p/th and Sum-20 at 44.40p/th, an increase of 0.70% and 3.30% within-week for both contracts respectively.
UK electricity prices
Power prices increased during last week as renewable generation, especially wind, dropped production. In addition, a few additional cracks were reported at Hunterson nuclear plant. As a result, 480 MW of nuclear capacity has been switched off until July 22nd.
Day-ahead rose by 13.70%, at £47.40/MWh whereas month ahead decreased by 1.80%, at £39.02MWh.
Win-19 settled at £56.40/MWh and Sum-20 at £48.54/MWh, an increase of 1.3% and 1.6% within-week for both contracts respectively.
Macroeconomics
The Pound continued losing against the basket of major currencies. The British currency closed the last week at 1.17 against the Euro 1.253 against the Dollar.
What to watch this week
Outlook: Following a relatively strong opening this week, we would anticipate gas and electricity curve trading higher for another a couple of days. Providing the geopolitical tension will ease off at the end of the week, we would expect to see gas and electricity prices softening at the end of the week. The Bank's Monetary Policy Committee (MPC) had previously predicted growth of 0.2% over the period.
Wednesday, June 24: UK Finance Mortgage Approvals will be published.
Thursday, June 27: Gfk Consumer Confidence will be announced.
Contact us to see how we can help your business reduce energy consumption.