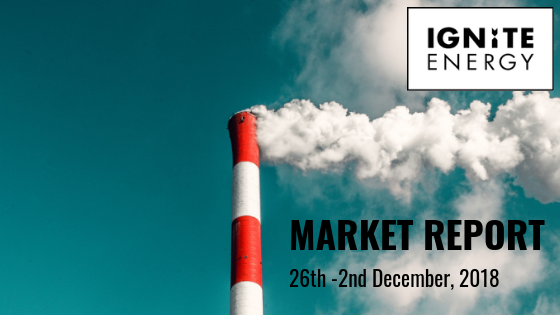 WEEKLY ENERGY MARKET REPORT: 26th – 2nd DECEMBER 2018
November 26, 2018
Ignite bring you the latest energy news across the UK and Europe. We have the expertise when it comes to translating energy industry consumption trends. Here's the latest news from the UK, Europe and the rest of the world.
During last week, natural gas and electricity markets saw prompt prices and long-term contracts moving in opposite directions. Low wind generation in the UK and Continental Europe along with a cold short-term weather outlook followed by the nuclear strikes in France weighed on day-ahead and month-ahead prices for both electricity and natural gas. On the other hand, both the front and back-end of the curve mainly saw losses due to high supply, strong LNG arrivals and a mild weather forecast for the next few weeks.
Oil Benchmark, Brent Crude has closed on Friday at a one-year-low, at a price of $58.80/bbl. The last time it settled at a price level below that was back in October 2017. Brent Crude oil has moved 11.96% down week on week amid oil oversupply and growing US stockpiles. News about the upcoming OPEC meeting, on 6 December suggests that a cut in production will be discussed.
Carbon illustrated a bullish price behavior during last week and closed above €20/tCO2e whereas coal prices are moving downwards due to weak demand from Asia amid China's policy to impose import restrictions.
The Pound saw some gains against the Euro after yesterday's European Council meeting on Brexit that ended with optimism around a deal. Now Theresa May needs to convince the UK parliament to support the deal. The Pound is currently trading at 1.13 to the Euro compared to 1.12 to the Euro during last week.
The UK Energy Market Last Week
UK natural gas prices moved further down during last week. Prompt-prices increased due to a cooler than expected weather outlook, low wind generation and strikes at nuclear power plants in France, but high LNG expected arrivals and a well-supplied gas system pushed longer-term contracts down.
UK electricity prices mirrored the gas price movement with long-term contracts declining amid weak gas and coal prices.
Oil prices fell to a one year low on Friday with Brent Crude oil closing at levels below $60/bbl.
UK Natural Gas Prices  
The UK natural gas market saw prompt prices moving in opposite direction to the curve prices, during last week. Low wind generation and a cold spell during last weekend supported day-ahead and month-ahead gas prices that closed at a price level of 66.50p/th and 67.35p/th respectively. That was an uplift of 1.8% for the former and 0.4% for the latter, week on week.
Contrary to the short-term prices, the longer-term contracts were impacted by a well-supplied gas system during most days of the week, strong LNG arrivals where 2 tankers arrived during the weekend and 3 more are expected to come until the end of the month. In addition, the mild weather outlook for the upcoming weeks pushed prices further down. Front- season, Sum-19 closed at 55.25p/th and Win-19 closed at 63.34p/th on Friday, thus both contracts moved down by 2.4% week on week.
UK Electricity Prices
 UK power prices mirrored the gas price movement. Last week saw prompt prices increasing due to a bullish carbon market and low wind generation but longer-term contracts moved downwards amid weak gas and coal prices.
The day-ahead contract moved up by 6.6% and closed at £65.25/MWh week on week and month-ahead saw a slight uplift of 0.2% week on week with a close price on Friday of £64.24/MWh. Sum-19 and Win-19 prices both declined by 1.1% week on week and settled on Friday at a price level of £55.58/MWh and £61.19/MWh respectively.
Macroeconomics
Following Sunday's EU Council meeting on Brexit, the EU member states have approved the terms of the exit deal, however, Theresa May still needs to find support in the UK parliament in order to pass the deal. The Pound gained almost 0.7% against the Euro in the last week and is currently trading at 1.13 per Euro.
Q3 results for unemployment in France were announced last week, with the unemployment rate remaining unchanged to that of the previous period at a level of 9.1% YoY.
What To Watch This Week
The prices on Monday softened even further following the downward trend from last week. UK natural gas system opened oversupplied today by 21mcm according to National Grid.
Temperatures are expected to increase as we approach the end of the week.
Three LNG cargos are expected in the UK on Friday.
The US GDP growth rate (QoQ) for Q3 will be announced on Wednesday.
Data about Germany's unemployment rates will be released on Thursday.
To find out more contact us to see how we can help your business reduce energy consumption.