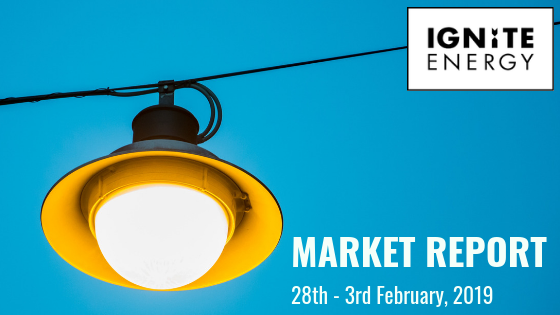 WEEKLY ENERGY MARKET REPORT: 28TH – 3RD FEBRUARY 2019
January 29, 2019
Ignite bring you the latest energy news across the UK and Europe. We have the expertise when it comes to translating energy industry consumption trends. Here's the latest news from the UK, Europe and the rest of the world.
Last week saw the UK natural gas and power markets closing lower by around 4% on average compared to a week earlier. Despite the cold weather and the high levels of demand, the week has started with mixed prices due to increasing supply flows from the Continent and through strong LNG imports. The picture became clearer towards the end of the week where prices eased off amid forecast revisions on milder weather for the short term.
The overall energy complex moved downwards with oil benchmark Brent Crude oil settling $1.1 lower week on week amid ongoing concerns over a global economic slowdown. On top of that, the benchmark for the carbon market, the European allowances contracts for delivery in December 2019, lost 2.21% on a weekly basis.
The Pound strengthened significantly during last week by more than 2% and settled at 1.157 per Euro on Friday. Brexit plays a key role in the currency pair and the consensus is positive for the time being.
The UK energy market last week
The UK power and natural gas markets moved nearly 4% lower on average during last week due to increasing supply flow that exceeded increasing demand levels and low wind output.
Norwegian flows through Langeled were at maximum for most days of the week.
UK Natural Gas prices 
The UK natural gas system closed lower on Friday. Forecasted demand was above seasonal normal levels during the week while wind generation started at adequate levels before dropping to low levels on Wednesday and Thursday. However, wind output came back up strong on Friday at 10 GW. Supply was very strong throughout the week, with flows through Langeled and Vesterled close to capacity levels for most days. No major outages were reported during last week.
Day-ahead closed at 55.20p/th and month-ahead at 55.90p/th, a decline of 5.8% and 5.7% respectively, week on week.
In terms of curve contracts, Sum-19 settled at 50.76p/th on Friday, that is 4.5% lower week on week while Win-19 settled at 61.1p/th, 2.9% lower for the same period.
UK Electricity prices
UK power prices have come off in the previous week due to revisions in the weather forecast that suggested milder temperatures for the weekend ahead.  The general downwards movement in the energy complex contributed to softer prices in the UK power market.
Day-ahead closed the week at £59.30/MWh and month-ahead at £59.10/MWh, that is 6% and 4.7% lower week on week for both contracts respectively.
Sum-19 contract settled at £53.82/MWh on Friday while Win-19 closed at £61.10/MWh. Therefore, both curve contracts declined by 3.4% and 2.8% on a weekly basis respectively.
 Macroeconomics
During last week Theresa May announced her Pan B for Brexit after the UK parliament rejected her initial plan at 14 January. Markets view the situation as favourable for the Pound against the Euro and this is reflected on the current exchange rate, that is 1.153 per Euro.
The German PMI fell to 49.9 this month from 51.1 in last December indicating that the manufacturing output in Germany rose at the lowest rate for 69 months.
 What to watch this week
UK gas and power opened softer on Monday amid strong imports and significant wind generation.
The UK parliament will vote on the Brexit plan proposed by the PM on Tuesday, 29 January at 7pm UK time.
Germany's preliminary YoY inflation rate for January will be released on Wednesday, 30 January, following an eight-month low of 1.7% in December.
To find out more contact us to see how we can help your business reduce energy consumption.