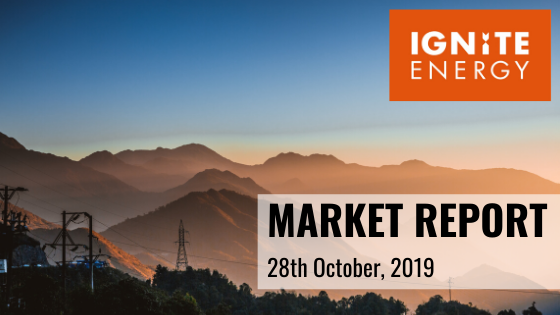 WEEKLY ENERGY MARKET REPORT: 28th OCTOBER 2019
October 28, 2019
Ignite bring you the latest energy news across the UK and Europe. We track and analyse changes in the energy market to keep you informed and up to date. Here's the latest news from the UK, Europe and the rest of the world.
The British wholesale power market softened during the past week, by around 1.4% on the forward curve. Wind generation is below expected normal levels but has still been on the increase throughout last week, starting at 5.2GW and ending the week at 10.5GW
On the gas front, demand levels have exceeded season normal levels as we saw high flow levels coming to the UK from Langeled. We saw a ramp-up which has weighed on UK natural gas prices. We are expecting 6 LNG imports this week along with another 5 for earlier November.
In the wider energy commodity complex, EU carbon pricing slid to €25/t mainly due to weak demand, weaker energy prices and uncertainty with Brexit.
The UK energy market last week
British wholesale power prices dropped by 1.2% on the curve contracts with the day ahead dropping by 4.6%.
The natural gas market fell by 1.8% on the prompt and by 5.5% on the forward curve due to an increase in flows from Forties and Langeled
The Pound has decreased by 0.42% over the last week and dropped back to €1.15. Upon recent news of the EU granting an extension Brexit, has now risen to €1.16
UK Natural Gas prices  
Gas-for-power-demand acted as a bullish catalyst for day-ahead and prompt prices, after an increase of 20%. Day-ahead prices remained bullish during the last week mainly due to higher LNG imports and high levels of flow from Langeled throughout last week. Seasonal contracts remained bearish due to an unexpected outage at the forty's pipelines along with higher temperatures than the seasonal normal.
Day-ahead closed the week at 28.25p/th, that is 14.8% higher, week-on-week, while month-ahead dropped by 5.4% within-week and settled at 40.00p/th.
In terms of curve contracts, Sum-20 decreased by 1.4% before settling at 40.60p/th whereas Win-20 also dropped by 1.5% at 50.70p/th.
UK Electricity Prices
In the power market, we see the front-month still trading at a wide premium against the day-ahead market that is trading around £37/MWh. The month-ahead contract is trading at £47.55/MWh a drop of 6.6% since last week. Month-ahead is currently 36.6% lower compared to a year ago, due to higher than forecasted temperatures along with the rising levels of LNG storage.
Day-ahead increased by 8.3% and closed at £37.50/MWh while month ahead decreased by 4.3% and finished £47.55/MWh.
Sum-20 settled at £46.02/MWh and Win-20 at £53.30/MWh, a downwards move for both contracts by 1.2% and 1.6%.
Macroeconomics
On the macroeconomic front, the European Union stated last week that they would agree to give the UK an extension until the 31st of January, however, French President Emmanuel Macron will not agree to this and further stated he will only agree to 15 days.
The Pound firmed last week and reached back to €1.15. We are approaching Boris Johnsons Brexit deadline date of the 31st of October, however, the EU has now approved a flexible extension to the 31st January 2020 which the Prime Minister must except. MP's are scheduled to vote for or against a general election today. There are rumours that Boris Johnson may have the support needed to secure an early general election on the 12th Of December.
what to watch this week
Outlook: We expect a well-supplied market this week with Langeled operating at near capacity for the first time in a while. Bacton flows have also increased from 20mcm to 33mcm. However, LNG exports have increased from the Isle of Grain to 86mcm. There is an abundance of natural gas as temperatures are forecasted to rise above seasonal normal levels from the start of November. We are expecting 6 LNG imports this week, this will most likely act as a bullish driver.
Monday 28th October: MP's are due to vote today for or against a general election for 12/10/2019. It is looking likely that Prime Minister Boris Johnson may be successful in his efforts to call an early general election.
Wednesday 30th October: The Federal Reserve lowered the target range for the federal funds rate to 1.75-2% during its September meeting. This is the second rate cut since the financial crisis, as inflation remains subdued amid heightened concerns about the economic outlook and ongoing trade tensions with China.
Contact us to see how we can help your business reduce energy consumption.