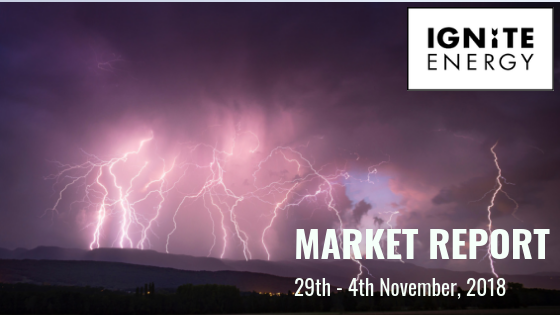 WEEKLY ENERGY MARKET REPORT: 29th – 4th NOVEMBER 2018
October 29, 2018
Ignite bring you the latest energy news across the UK and Europe. We have the expertise when it comes to translating energy industry consumption trends. Here's the latest news from the UK, Europe and the rest of the world.
The bearish momentum of UK gas and electricity prices continued even further during the previous week. Higher temperatures and an oversupply of the gas system saw prices moving downwards.
However, Monday morning started with colder than expected temperatures; around 4.4 C lower than last week's forecast. The low temperatures resulted in increased prompt prices, where the electricity day ahead was 8% higher compared to Friday's close price and gas day ahead saw a 2.6% increase in the same timeframe. Price movements across the forward curve were more relaxed. Temperature is expected to move back to expected levels from tomorrow onwards.
The UK Energy Market Last Week
Brent Crude is currently trading above $77.40/bbl due to concerns over the global economy.
UK Gas prompt prices opened higher this morning than the last week, the main reason is the that temperatures during Monday morning were lower by 4.4 C than what the forecast from the previous week suggested.
Electricity prices mirrored the gas sentiment and they are trading lower as well.
UK Electricity Prices
UK day-ahead prices continued the previous week's falling momentum as expected higher wind generation softened prompt contracts while falling coal prices resulted in bearish trading of month-ahead prices. The day ahead contract closed at £61.35/MWh on Friday, almost 6% lower compared to last Friday's price. Month-ahead closed at £63.85/MWh, that is 6.67% down from the £68.41/MWh a week ago.
The front season, Sum-19, has settled at £56.36/MWh, a 4.5% drop week on week. The long-term UK electricity contract Win-19 closed at £62.33/MWh a downwards movement of 2.3% compared to last Friday's price of £63.79/MWh. Sum-20 closed at £51.31/MWh, a slight decrease of 0.23% week on week.
UK Natural Gas Prices
The UK gas system was well supplied last week mainly due to increased Norwegian flows to the UK with no major outages reported. That caused the day ahead price to decrease to 61.35p/th, 7.2% lower week on week. Month-ahead settled at 64.95p/th, more than 10% lower on a weekly basis. Sum-19 closed at 58.65p/th whereas last Friday's closing price was at 62.07 p/th, a downwards movement of 5.5%.  The long-term Win-19 contract also saw a significant drop of 3.8% and settled at 67.22p/th.
 Macroeconomics
The latest budget is to be announced by the UK Chancellor Philip Hammond at 15.30GMT today Monday 29th October 2018.
The budget will revolve around the following key measures:
A further £2bn funding per year towards mental health services in England.
Spending of £30bn for the development and maintenance of the UK's motorway system.
£900m in business rates relief for small businesses.
In terms of environmental initiatives, the government plans to allocate £60m for planting new trees.
One of the main topics of the last week was the ECB interest rate decision. ECB kept interest rates at the same level, 0.00%.  That kept the Euro at stable levels against the US Dollar and the Pound, at $1.14 and £0.89 (per Euro) respectively. Wall Street rebounded on Friday after big losses, mainly on Thursday.
The strong results from the Tech sector, reported on Friday, helped Nasdaq to recover after a 4.4% drop on Thursday (the biggest one day drop on the index since 2011). The publication of quarterly results seemed to have pleased investors (e.g. Microsoft gained more than 5% on the DJIA).
What To Watch This Week
UK budget announcement- Monday 29th October 15.30GMT: Increase in government spending is the main theme.
We would expect the forward curve to remain close to current levels, but unexpected weather changes (if happen) might affect prompt prices, both for UK gas and electricity.
The next non-farm payroll report will be announced on Friday 2 November 2018 at 1:30pm UK time.
To find out more contact us to see how we can help your business reduce energy consumption.